Coming up in the creative theater scene, David Bruckner and his friends made theater by day and movies at night. It blurred the lines between high art and low art and led to his feature co-directorial debut, The Signal. Fourteen years after that movie's release, Nerdist sat down with the director to talk about his journey from there to the critically acclaimed The Night House via V/H/S and onto the future with his Hellraiser adaptation.
The Signal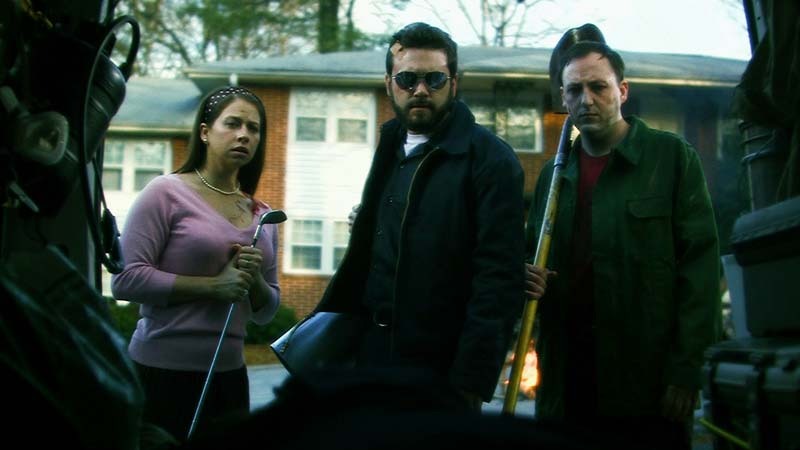 Making The Signal was half art project, half brutal genre film and it was a long time coming for Bruckner. "I had entertained the possibility of making movies for a while, even through college, but I didn't go to film school," Bruckner explained. "I met a lot of very motivated and creative people who were really pushing us to shoot something."
With a $50,000 budget, The Signal came with an unexpected caveat that gave the crew a unique challenge. "There was a foreign distribution company who had given us a breakdown and said, 'We will guarantee the finance if you have a kill every eight minutes.'" The team realized they could get weird with the demand as long as they portrayed that key act of violence. Their ambitious take on horror got them into Sundance, which set Bruckner on a new path. "Suddenly other doors were opening," he shared.
V/H/S
Magnet Releasing
While it didn't translate into producers knocking down his doors with suitcases of money, Bruckner did see a shift in the conversations he had. After a few years working on more feature scripts, he got the call for V/H/S. Bruckner helmed arguably the most memorable short from the first movie. Shot for just $25,000, "Amateur Night" follows a group of bros who aim to take a drunken girl back to a motel with them. But as is the way of horror movies—and karma—things do not go to plan.
The flick represented Bruckner's chance to dive into something he has a huge passion for. He said, "I really have a love for horror shorts because you can get in late and get out early. You can withhold a lot more for the audience. It's one of the major difficulties of feature horror films that the mystery can collapse into the expectations of the three act structure. You can be particularly abrasive with a short film and leave the audience hanging in a way that can have lasting value."
The Ritual
After another unforgettable short with "The Accident" in Southbound, Bruckner took on his first solo feature, The Ritual. Adapting Adam Neville's terrifying book of the same name, the Netflix original is a stark and spooky supernatural horror with a grounding human heart. "The Ritual was such a different experience for me," Bruckner told us. "I had this amazing piece of source material. And I really, really related to the characters, this story about men approaching middle age. I was 37/38 when we made it, so both my relationships with my friends and the kind of road map that Adam had built created a lot of supply for that."
The Night House
Searchlight Pictures
That emotionally driven kind of horror once again comes into play in Bruckner's critically acclaimed new film. After collaborating with Ben Collins and Luke Piotrowski on Siren—the feature adaptation of "Amateur Night"—the duo passed him the script for The Night House. Starring Rebecca Hall as a widowed teacher whose life gets thrown into chaos by her husband's unexpected suicide, the film flips the haunted house genre on its head. "It has everything I ever wanted to do as a film director," Bruckner enthused.
Though he hadn't thought that a straight up supernatural haunted house film was something for him, The Night House shifted that. "It has this House of Leaves quality to it. It taps into geography horror. Then there was such a complexity to it, it just had a lot to offer for a film director. And the script was troubling, it bothered me, and what better reason to throw yourself into it?"
Bruckner translated that unsettling nature to the screen. The Night House features one of the most inventive and legitimately scary haunted house visuals of this era. As Bruckner explained, that manifested from the more philosophical aspects of the script. "The house was kind of a blunt instrument, in some ways to get the point across, hopefully, without exposing it too clearly. Something I really appreciated in Ben and Luke's script is that you could have multiple interpretations of some event at the same time. I felt like the concept of a labyrinth was so clearly put on the table by the script that it kind of gave one permission as a director to carry multiple ideas in your head and in the heart at the same time."
Hellraiser
Entertainment Film Distributors
The Night House feels like a spiritual predecessor to Bruckner's next project: a new take on Clive Barker's Hellraiser. The horror classic has long had reboot rumors. Bruckner and his cohorts from The Night House are currently making that reboot a reality. "I did not know we were consciously channeling Barker," Bruckner laughed. "But apparently we were. Ben [Collins] and Luke [Piotrowski] had pitched on Hellraiser way back so they had a pitch for Hellraiser that never came through. And in some ways the script for The Night House was something that could occupy a similar space. It wasn't a Hellraiser riff, but if we wanted to do something that's very singular. The focus is on a character that fits in some of these kinds of psychosexual themes as a way to explore grief, as well as depression, anxiety, and so on and so forth."
Bruckner continued, "It seemed very fitting when it all came together. Obviously Hellraiser is its own beast and is in this much larger, more fantastical world. There's certainly a grandeur to taking on something like Hellraiser just in my own mind, because it's sacred ground in so many different ways. There's a respect. There's a caution. Can we do this justice? But I will say a lot of that falls away when you get into the work."
It's a lot to take on but it's clear Bruckner and his crew have their own vision. And it's one that they can't wait for viewers to see when they're done. "I would never try to remake the original Hellraiser. But I think, like many horror fans, would I open the box? Absolutely. Do I think there's more to be said about this? Are there more things that can be done? Absolutely," Bruckner said. "So it's kind of a dream come true to get to work on it. I don't think I've ever worked on anything that pushes everyone quite as much just on a purely creative level. There's such a regard for what they were able to achieve in '87—really all the movies—and so it's a lot to wrap your head around it. And I just couldn't be more excited."