We've been super excited for Shudder's Creepshow relaunch ever since it was first announced. Today we got our first look at the practical heavy reimagining of the classic Stephen King and George Romero cult movies with a super fun trailer from the horror streaming service.
The original Creepshow movies were groundbreaking anthology films that featured massive cult stars (like Lesley Nielsen, Ed Harris, and Tom Savini) in short horror stories that always had a chilling twist. The new Shudder series takes that beloved premise and introduces 12 episodes that look to be filled with practical effects magic and creepy tales to make us shiver.
The trailer showcases some serious genre heavyweights David Arquette (Scream) and Tobin Bell (Saw) who join other returning horror icons like The Fog's Adrienne Barbeau. The behind the camera talent is just as impressive with The Walking Dead's Greg Nicotero helming the series.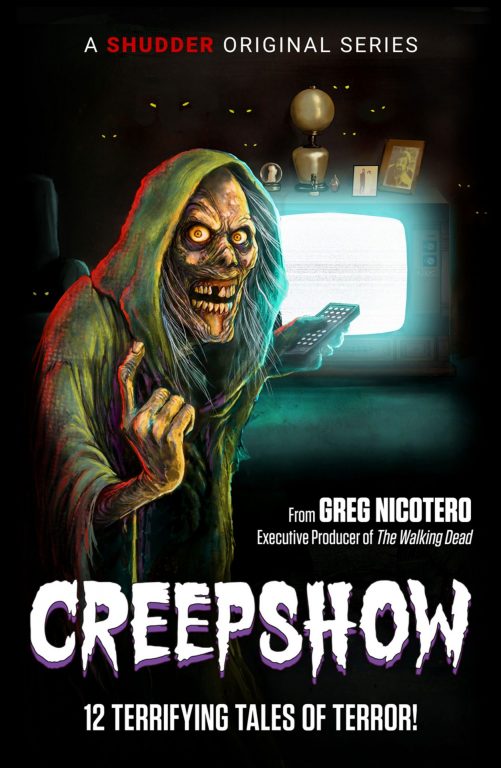 Shudder also revealed the names and creative teams behind the two episodes that will debut on the show's premiere episode: "Gray Matter," based on a story by Stephen King, will be directed by Nicotero and adapted by Byron Willinger and Philip de Blasi. That tale will be paired with "House of the Head," which will be written by Josh Malerman and directed by John Harrison, who actually worked on the original Creepshow movies!
Fans at SDCC will be able to see some of the cast and crew at a panel on Friday, July 19, which will see Nicotero and Barbeau joined by Giancarlo Esposito (Better Call Saul), Tricia Helfer (Battlestar Galactica, Lucifer), and DJ Qualls (The Man in the High Castle, Supernatural). If you can't make that panel make sure that you keep your eyes peeled here for some super cool Creepshow coverage coming soon!
Images: Shudder