Each week here at Geek & Sundry we take a look at new and upcoming exciting titles on Kickstarter! This week we're featuring Inoka by XYZ Game Labs which has exceeded its initial goal of $3K in the first 8 hours of the project.
Have you ever been among a gathering of small woodland creatures and pondered the best way to become Nature's Emissary other than eating each other?
Long ago, before the age of men, when squirrels wielded shields spears and swords (like they did back then of course), every generation of villagers sends their best and brightest to clash in a ceremonial game called the 'Achkai'. More than just eating each other and attacking with claws and fangs, the Inoka use taunts, wits, and a strategy to determine who would be Nature's Emissary and win the Leaf Totem. A powerful artifact that allows that rodent to control the ebb and flow of nature itself—and surely nothing can go wrong with infinite cosmic power.
The team at XYZ Game Labs has completed their second official Kickstarter campaign with this game Inoka in just two days! I had a chance to demo the game at Midwinter Gaming Convention in Milwaukee this January and it's adorable (and yet secretly as bloodthirsty) as it sounds. It's a tiny portable card game that you can play around with 2-4 players in about ten minutes or so. This way you can fly through rounds and deal again keeping up the pace and raise the stakes between matches.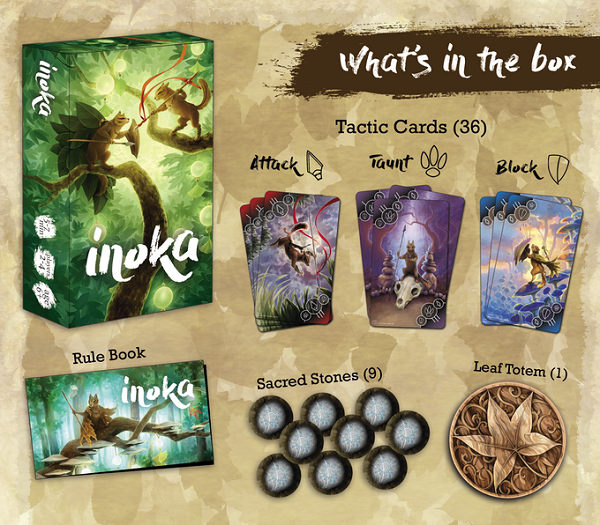 Even though the game is quick, there is a story you can follow along, featuring adorable art by Amy Nagi. It's an enjoyable read and better darned well come in the rule book of the game if the XYZ lab team is reading this article (I'm watching you).
Even though they've already funded; you can help them reach stretch goals like more artwork, expanded rules, and extra loot. Lastly, I'd be remiss if I didn't mention a favorite game my eleven-year-old and I play that they designed called Robot Lab. Just in case you've ever had a penchant for being a mad scientist and wanted to create horribly discolored abominations in the name of SCIENCE!
You can back Inoka's Kickstarter here, but you only have until July 14th to secure your copy via Kickstarter.
Have you had a chance to see the XYZ Lab team at a local anime or gaming convention? If so share your stories below!
Looking for More New Games?
Image Credits: XYZ Game Labs
Rick Heinz is the author of The Seventh Age: Dawn, and a storyteller with a focus on LARPs, Wraith: The Oblivion, Eclipse Phase, and many more. You can follow game or urban fantasy related thingies on Twitter or Facebook.