It's always interesting to hear an actor interview another actor, particularly when both actors have played the same role. And more and more, as old stories get retold in new ways, we have the opportunity to experience these fascinating chats. Recently, Christina Ricci, who played a definitional version of Wednesday Addams, sat down with the latest actress to embody Wednesday, Jenna Ortega. In an interview for Interview Magazine, the two discussed what it was like to forge a new place for Wednesday while keeping true to the roots of the character.
Ricci and Ortega on the Reimagination of Wednesday Addams' Character
Ortega begins by revealing to Ricci that she absolutely loved the Wednesday Addams of the '90s movies and was a huge fan of Ricci growing up. Ortega notes, "They're perfect films, honestly. Obviously, you're the standout. You don't always see it, but I have a very dry sense of humor to the point where I get myself in trouble because everyone thinks I'm serious. So I've gotten the comparison to Wednesday a lot, and to me, that was the greatest honor." But despite her synergy with Wednesday, reinterpreting the character was not a walk in the park. Especially given that Ortega herself viewed Christina Ricci as the iconic vision of Wednesday.
When asked by Ricci if she had an idea of how she wanted to reinterpret the role of Wednesday for Netflix, Ortega offers, "You are who people see as Wednesday, and that's just the truth. I feel like the script was very reminiscent of '90s Wednesday. It was really important to me that I wasn't doing a knockoff of your performance, and it was different. Another thing is every time we've seen Wednesday, she's been 5 years old, 10 years old. So when someone is saying really dark, twisted things out of a place of pure honesty and innocence, that naive aspect of a child, it's a bit different when you get older and become a teenager because then you just sound like a bitch. You don't want her to be nasty."
Ricci readily empathizes with this point, noting she faced a similar challenge when she was Wednesday in the second The Addams Family movie. And they both offer their insights into how difficult Wednesday, in specific, can be to play in a traditional narrative because of her lack of emotional reactions. But happily, both found a way. For Ortega and Ricci having Tim Burton as a collaborator was key to the process of creating Wednesday.
Wednesday's New Look
Of course, recreating a character involves a spiritual and literal evolution. Finding a look for Netflix's Wednesday that was both a homage to Ricci's Wednesday Addams but also an individual vision was tricky.
Ortega shares with Ricci how they landed on Wednesday's modern gothic vibes:
We went to London to do a hair and makeup test for the show. We tried everything because it was important to Tim that she look different than before. There were even little tiny braids and super long, thick braids. We tried streaks of gray hair.

Initially the bangs—I kind of wish they had been kept this way, but I don't think Tim liked them very much. They were the short, high-fashion bangs like in Fargo, just psychotic. It was weird, but he saw something there and said, "Let's push it a little bit further." He was like, "I like the way this is looking like something's off," and it was because it was a clip-in, I think. I told the hairdresser to just cut my hair because I think the clips are bugging him. If I have to grow it out, I'll grow it out—and then we tried it and Tim loved it.
Ricci is quick to praise the final look of the newest Wednesday. She notes it's an excellent modern interpretation and that she loves that Wednesday Addams wears pants and even hoodies now. This newest Wednesday is a great vision of being goth without being over the top.
Wednesday Addams as Shakespeare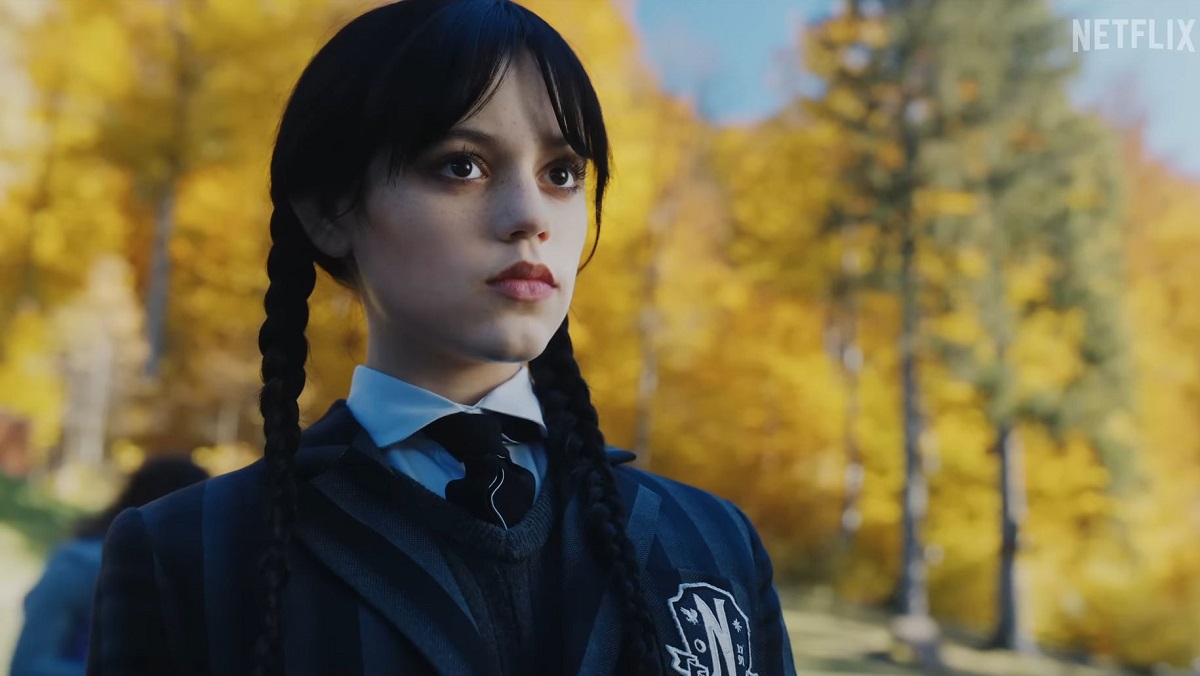 Ricci also offers this gem, capturing the spirit of the conversation between the two talented actresses who now feature in the history of Wednesday Addams. She says, "It's true to the spirit of the character. I didn't originate this character, so I'm always like, 'She's a cartoon and a TV show. It's not Shakespeare, but it's the same idea. We keep redoing the thing.'"
And every time, the character and its meaning grow a little bit more. We love Christina Ricci's version of Wednesday Addams, but we can't wait to see the latest Wednesday, Jenna Ortega hit our screens. Christina Ricci too will play a role in the series. Netflix's Wednesday premieres on November 23.