Captain Marvel just got a whole lot cooler—as if that was even possible. Thanks to folks over at Hot Toys, you can now have your very own Avengers: Endgame Captain Marvel collectible figure. Established in 2000, Hot Toys Limited is a high-end collectible brand, devoted to designing, developing and producing high quality and highly detailed collectibles with authentic likeness. We've been awed by a number of their sculpts, and this Captain Marvel figure is no different.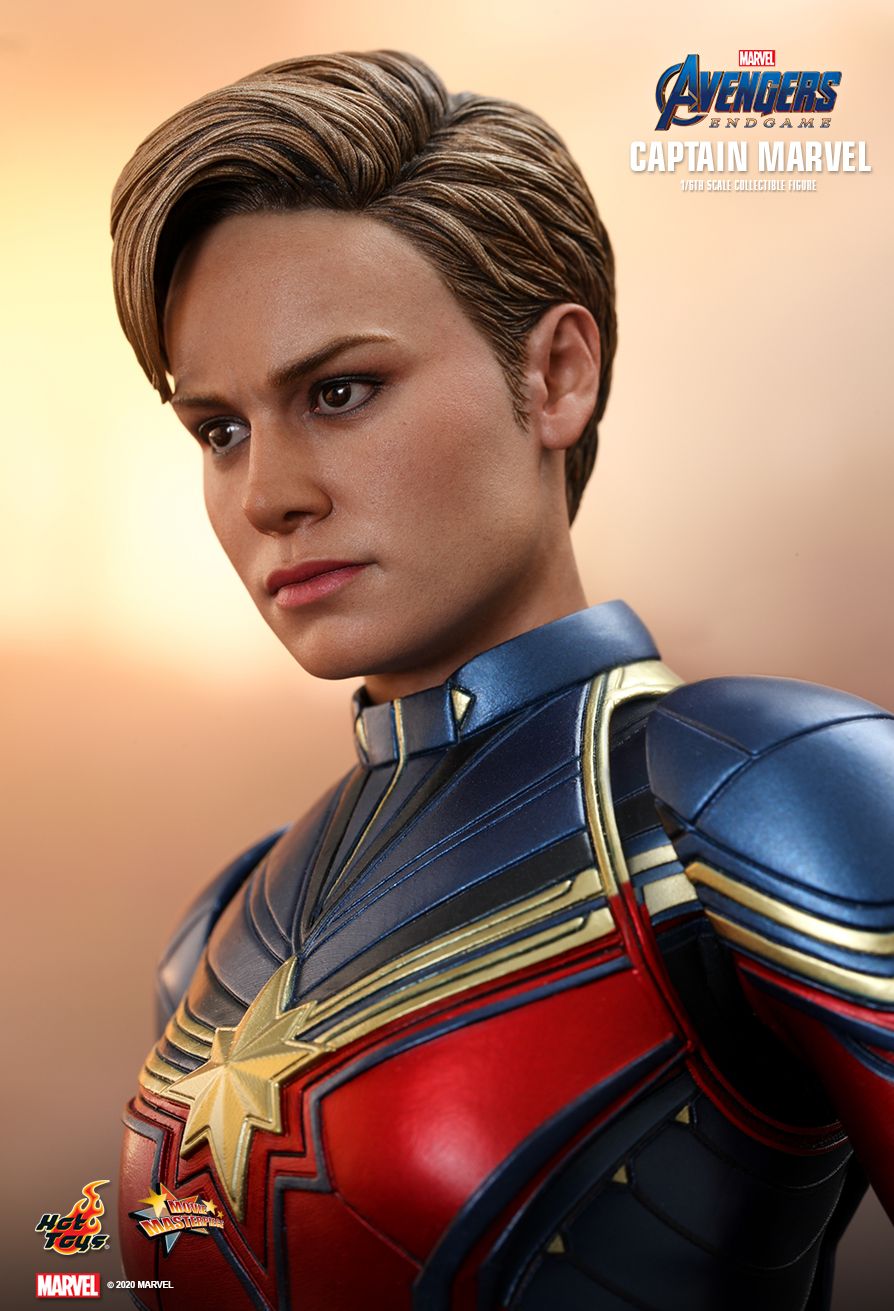 Hot Toys
The sixth scale collectible figure was sculpted by artist Jang So Young, painted by E-Lee with art direction by JC Hong. The figure matches Brie Larson, who plays Captain Marvel in the Marvel Cinematic Universe. Let's just say they did a great job. With her iconic red and blue Captain Marvel suit, cool metallic boots, and the battle damaged Nano gauntlet mounted with the six infinity stones… we're speechless. There's no other way to describe it other than freaking awesome.
Hot Toys
An extensive product overview of the figure from Hot Toys:
"As seen in the final battle between the superheroes and the warlord, Hot Toys is excited to present today the latest 1/6th scale Captain Marvel collectible figure from the incredible Avengers: Endgame collection.

Beautifully crafted based on the appearance of Brie Larson as Carol Danvers/Captain Marvel in the movie, the figure features a newly developed head sculpt with a short hairstyle, a specially designed body equipped with LED light-up function on both sides of the forearms, the iconic red and blue costume with gold star emblem on chest and sash around waist in movie-accurate perfection, multiple energy-blasting effect accessories wearable on arms and hands, LED light-up Nano Gauntlet painted and battle damaged effects, and a movie-themed dynamic figure stand for wide range of aerial poses! The new Captain Marvel figure is a sure way to show off your Marvel fandom!"
Hot Toys has made collectible items for many popular characters, including Spider-Man, The Mandalorian, Black Panther, Wonder Woman and Star Wars.
The collectible item is slated to be released sometime in Q2 or Q3 of 2021 so while we have to wait a little while longer, these pictures can hold us over until then. See more images below.
Featured Image: Hot Toys