The sentiment of "family" is a bit of a meme these days. This is partially thanks to a certain series about cars being fast and people being furious and an overall lack of sincerity in relation to superhero affairs. We've gotten all the world-ending threats, all the multiverses, and all the interconnecting stories. But, it feels as though some of these basics have been missing lately. Blue Beetle, in many ways, is a film that seems to heed those very concerns. While many DC—and, as of late, Marvel—projects seem to be mucking things up, Blue Beetle is a heartfelt romp that sets itself apart. It focuses on a lovable Mexican family while deftly handling many classic superhero story beats.
The film follows Jaime Reyes (Xolo Maridueña), a recent college graduate who returns to his hometown in Palmera City. This fictional locale serves as a cross between a futuristic Metropolis-esque hub with the cultural feel of places like Miami and El Paso. (The latter is where the character originated in the comic books.) In spite of the many technological advancements seen in the city, Jamie's family and neighbors don't see this type of growth where they live.
As a result, Jaime puts his graduation celebrations on hold in order to help provide in any way he can. This leads to him meeting Jenny Kord (Bruna Marquezine). In desperation, she hands off a mysterious Scarab device to Jaime for safe-keeping. As it turns out, the Scarab is an advanced piece of alien technology that attaches itself to Jaime, giving him access to a host of superpowers. He also has the ability to manifest, well, anything when it comes to weapons and gadgets.
It's been a little while since we got one of these types of films. No, not a superhero movie because they are everywhere, for better or worse. I mean a specifically a standalone origin story for a relatively unknown character. My oversaturated brain wants to argue that this simple premise is Blue Beetle's greatest strength. No prior DC film knowledge is necessary to enjoy it and there are hardly allusions or set-ups for a cinematic universe. (There is one small instance with Jaime rocking a "Gotham Law" hoodie.)
Blue Beetle focuses on what the genre is often best at. Jaime is a young man that acts his age with wide-eyed optimism about the future and his role in it. He understandably shows reluctance to hold such power in the first place. And, as young bucks often are, he is lovestruck. The moments when Jaime is truly aware of his newfound powerful gifts is an element of superhero movies I will never tire of. (Remember when Peter Parker began climbing the walls in 2002's Spider-Man?) These scenes are what helps it flourish.
But while the standalone and attention-to-fundamentals aspect is greatly appreciated, Blue Beetle soars when it comes to the sentiment of family alluded to earlier. Xolo Maridueña is incredibly endearing in the lead role. But it's his family—from his concerned parents, to audacious sister and paranoid uncle (played brilliantly by the always hysterical George Lopez)—that make up the film's best moments. Everything from the family's initial reaction to Jaime returning home to their …flavorful Spanish language usage when the Scarab first takes over Jaime is as charming as it is representative.
They're messy but divinely loyal. They're overbearing but equally understanding. In many ways, they remind me of my own Latino family and upbringings. I'd be lying if I said their aggressively-Hispanic attitude didn't gleam a smile out of me on more than one occasion. Plus, the family members are raucously funny in the most unapologetic way.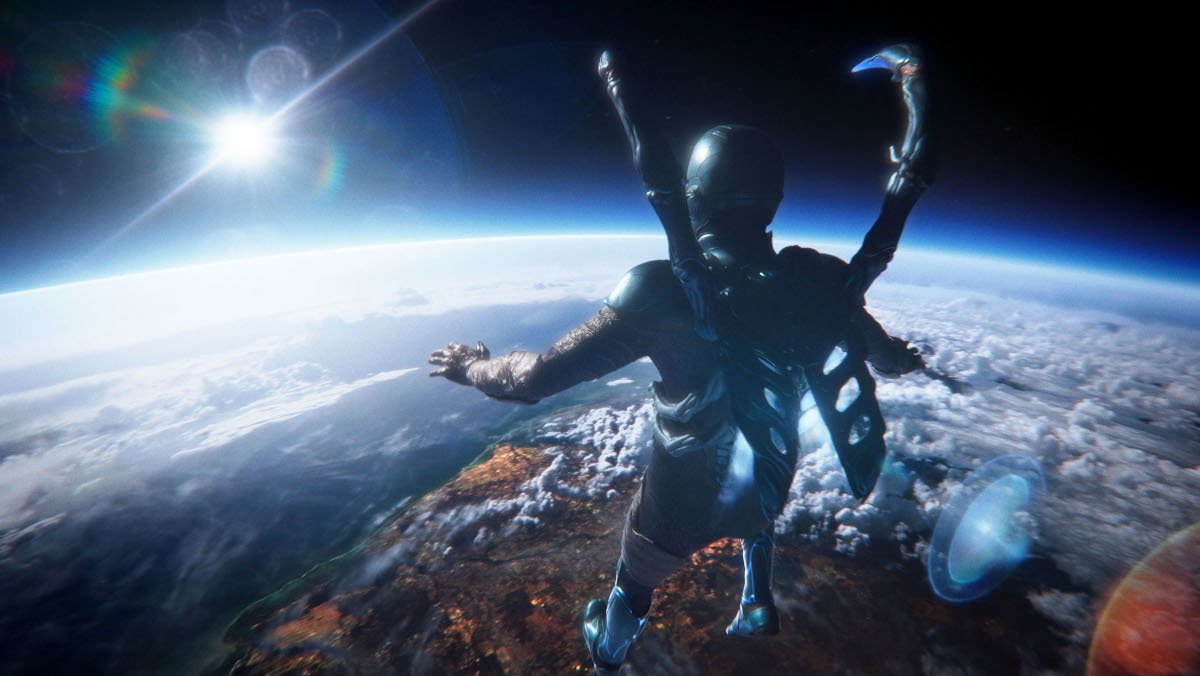 However, once the film reaches a certain point, it moves at a blistering pace. This leaves the development of many supporting characters in the rearview. The film's antagonist, Susan Sarandon's Victoria Kord, isn't given much to do outside of being a big ole' meanie. While she doesn't have much of a background, what she represents with glancing nod to ideas of gentrification, imperialism, and entitlement (i.e. "The scarab chose you, but it belongs to me.") works decently enough, especially given the Latino family and culture at the film's center.
Jenny Kord, on the other hand, gets left a bit in the background. She works fine enough as the film's love interest, and Marquezine has a fine performance. There's nothing egregiously wrong here. It just would've been nice to see her get a little bit more to do and say.
Of course, this superhero flick has plenty of bonkers heroics and action. And it is mostly decent. Occasionally, it dazzles the same way the absurdity of action anime draws you in with the sheer ludicrousness of seeing people yell and throw mountains at each other. There's some sick tech that creates sweet swords and blasters instantaneously.
Unfortunately, Blue Beetle becomes a bit of a CGI-fest, especially towards the end which gets bloated and difficult to follow. It's not Transformers level chaotic in that way but still. The onslaught of action and frenetic pace result in some serious moments not hitting as hard as they could have. In fact, the film loses itself a bit in its own orbit near the end.
There's a cheesiness in Blue Beetle throughout with its family-centric theme. Not every swing makes quality contact with your heartstrings, but rather some uneventful fouls that you quickly move past. Still, it's admirable how much it commits to being sincere. Blue Beetle will feel overly trite at times, but it (mostly) has the fortitude to step up to the plate.
Sometimes, you just need a reminder of why you like all this geeky superhero nerd stuff in the first place. Blue Beetle does that and, in a way, serves as a painful reminder of how much better DC's characters could be when they aren't tied down by the endless promise of more. And, for me, it's just as cool to see a character share my last name and Hispanic culture as it is to meet a new hero with his own lore to explore. Maybe, just maybe, a back-to-basics approach is what the genre sorely needs.
Blue Beetle hits theaters on August 18.