When Birds of Prey and the Fantabulous Emancipation of One Harley Quinn was first announced, many fans were confused about the lineup, which differed from that of the classic comic book team. Barbara Gordon was nowhere to be seen, seemingly replaced by Harley Quinn and Cassandra Cain. But executive producer and star Margot Robbie and director Cathy Yan put a lot of care into building the film's gang of five strong women. One gang member in particular served as Robbie's entry point to the film.
"It really started with Huntress," Robbie told Nerdist on the set of Birds of Prey. "I just loved Huntress, and with my initial pitch on the story, I wanted to keep it quite contained… No world ending stakes. Like, the stakes were as big as, you know, perhaps mafia-level or gang-level. That's when I started reading a lot of Huntress comics, obviously coming from the mafia family, and I found her story. Plus I do often gravitate towards a revenge story because it is so straightforward, but you're so clearly motivated. So I find myself, you know, getting on board with that mindset quite quickly."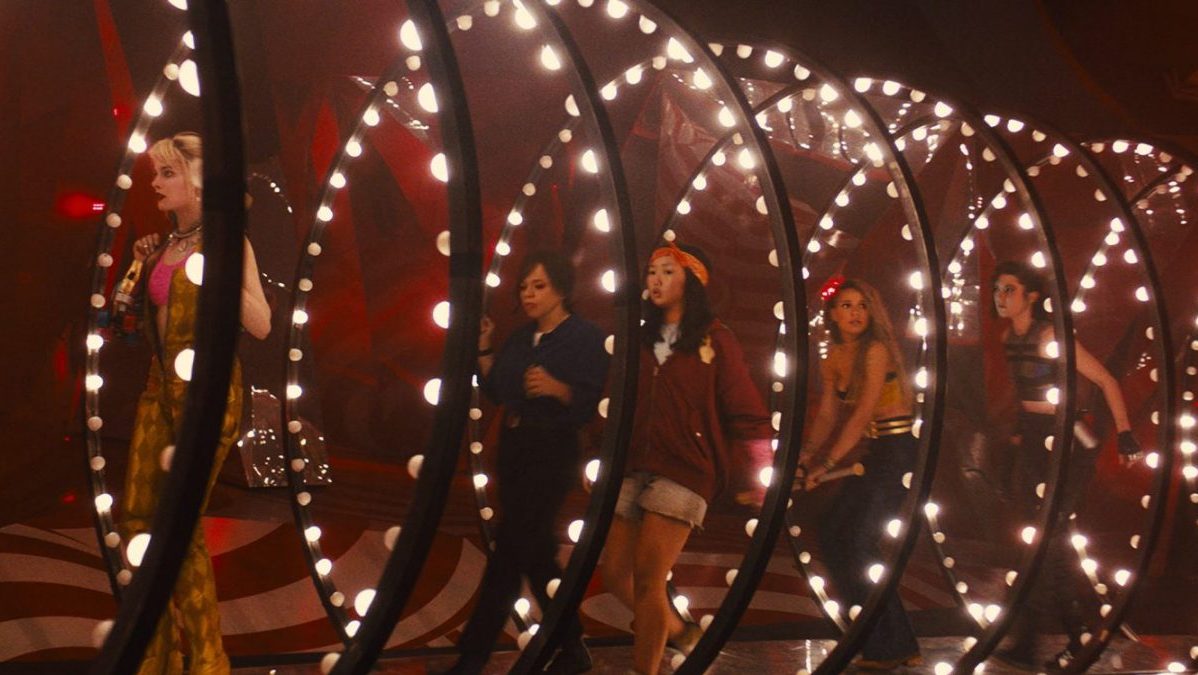 Warner Bros
Robbie continued, "After Huntress, it kind of fleshed out from there which other members kind of counterbalance her revenge story and Harley's version of what's right and wrong. That's why you need a more moral character, like Renee Montoya. Canary is obviously so crucial to the Birds of Prey, so I really wanted to introduce her as well and then Cass. Christina [Hodson], the writer, and I actually spoke about a lot of our favorite films and wanted to pay homage to a few things. Leon is one of them and we loved that relationship like the mentor and mentee—a very unexpected friendship, which we kind of found ourselves gravitating towards as well."
That variety was key to Robbie's interest in telling the story of Harley and her unexpected crew. "It's an eclectic group, which I love. Everyone kind of has distinct and different personalities and is coming from a different angle, I suppose. You've got Renee, whose set of morals and her moral compass points a very different way to Harley's and Canary's. You know everyone's kind of got their own rules and ethics that they abide by and they kind of conflict with each other, which I think is always really interesting in an ensemble."
Warner Bros
With Yan behind the camera, Birds of Prey is already standing apart from other superhero flicks. But it wasn't always certain a woman would direct. "I really wanted a woman director, but at the end of the day, it's whoever's the best person for the job," Robbie said. "We met with directors, both male and female, and Cathy gave the best pitch. She came in, she understood the pace, she elevated the ideas that we'd been working on and kind of took them to a place. That's what you need a director to do, to take what you have and then elevate it to another level… I remember writing copious notes every time we spoke to someone, and when Cathy came in, my page was just a big smiley face."
Once Robbie had selected her heroines and Yan was on board, it was time to cast. According to Yan, this was an intense process, but one that reaped great rewards when it came to the core team. "We saw everyone, we had them do chemistry reads. Both Jurnee [Smollett-Bell] and Mary [Elizabeth Winstead] gave such depth to their characters. I think that's what was really compelling about them immediately from the get-go. There's a personality to them, and when I cast a film I'm always looking to find a similar soul in the actors [and] the characters that they play."
Warner Bros
Yan walked us through just what it was that made each actress perfect for their roles. "I think with Jurnee, she's just so intelligent and deep and grounded and she manages to be both very soft, but also really street-smart and tough, which was very much Canary. Then I think with Huntress, she has such an interesting backstory and the psychology of someone who has potentially PTSD, and is just reeling from all of that. Mary was able to really understand that and bring the depth to it so that she became a real character and not just, like, a badass."
Aside from Smollet-Bell and Winstead, Birds of Prey stars icon Rosie Perez as Renee Montoya. She was an inclusion that Yan was clearly ecstatic about. "I've been a big fan of Rosie Perez for many years… When I first read the script, I always sort of imagined a bit of a more mature Renee as a nice balance with [the] other women. The way I've always described this group is like, it's a motley crew, they don't look like the typical girl gang, and I liked that. I like that they come together, kind of unconventionally, randomly. And so with Rosie, I mean, she just brings such strength to the role and such personality."
You'll be able to see how the team comes together when Birds of Prey and the Fantabulous Emancipation of One Harley Quinn hits screens on February 7, 2020.
Featured Image: Warner Bros