The Fresh Prince of Bel-Air's dramatic reboot Bel-Air is finally here! There's been quite a bit of buzz around the show. That comes from curious viewers who loved the original to people who plan to begrudgingly watch or simply hate-tweet how no one asked for this. (In fact, people did ask for Bel-Air and I think it is off to a solid start.) For those watching or on the fence about tuning in, there will undoubtedly be comparisons between the original characters and their new versions. How, exactly, are Bel-Air's characters different from their The Fresh Prince of Bel-Air counterparts?
We noted some pretty significant changes to some personalities while some things stay the same. Several Bel-Air cast members spoke to us about their version of these famous characters, offering some insight into the necessary shifts from The Fresh Prince's foundation.
Watch out for mild spoilers ahead about character changes. However, this article does not have any significant plot points that will tank your viewing experience.
Will Smith
Actors: Will Smith (The Fresh Prince) and Jabari Banks (Bel-Air)
Of course, we must start with the Fresh Prince himself. The original Will made the rapper Will an acting sensation as he brought his natural comedic timing, wit, and heart to the small screen. Jabari Banks gives Bel-Air's Will a similar charm and unapologetic West Philly aura. The latter of which feels natural considering he's a native of the city.
But, Bel-Air's Will is much more confrontational than The Fresh Prince character, willing to throw a punch and get into a profane verbal spar. This take amplifies his brashness and outspoken nature as he battles Carlton over their dueling philosophies and life experiences. All in all, you'll still want to root for this Will too. Actress Cassandra Freeman, who portrays Bel-Air's Aunt Viv, speaks further with Nerdist about empathizing with Black boys.
"There's this surrealism in Bel-Air's storytelling where there's this beautiful masterpiece talking about how treacherous it is to find the yellow brick road towards finding the prince and kingdom in you," says Freeman. "Stories that humanize the fragility of Black boys are so necessary."
Carlton Banks
Actors: Alfonso Ribeiro (The Fresh Prince) and Olly Sholotan (Bel-Air)
The Fresh Prince of Bel-Air's Carlton is known for being a "square" with a penchant for sweaters, dancing to Tom Jones' "It's Not Unusual." He has little idea of what many Black people outside of his socioeconomic class endure. He's the loveable cornball to Will's city suave and, outside of some moments of doubt, is secure in who he is. Will and Carlton's relationship is sometimes contentious. But at the end of the day they love, support, and learn from each other.
Now… Bel-Air's Carlton is on some other stuff, literally and figuratively. He's using illegal drugs to cope with anxiety. Unlike his family, Carlton is vehemently against Will encroaching on their space. Their relationship is both verbally and physically volatile, from an argument about Carlton letting his white friends use the n-word (none of them are loveable like Cornflake, sorry) to Carlton's jealousy over the attention Will gets.
On the surface, Carlton is spoiled, manipulative, and rather petty. But, Olly Sholotan wants viewers to know that Carlton's story is a vital snapshot of the Black experience too.
"Carlton is caught in this place where he's trying really hard to fit into his community but he doesn't feel like he belongs," Sholotan tells Nerdist. "And then when tries to assimilate, there's still a part of him that doesn't feel like he belongs. Then he sees his cousin come in and do the exact thing that he is unable to do and succeed and excel. On top of that, he has to deal with anxiety and the way he views success in relation to his father. Carlton has become like a little brother to me and I'm so protective over that kid."
Who knows, maybe these two Bel-Air characters will have a relationship that isn't as different as their bond on The Fresh Prince after all.
Hilary Banks
Actors: Karyn Parsons (The Fresh Prince) and Coco Jones (Bel-Air)
The original Hilary Banks provided a lot of comic relief as the rather ditzy and self-absorbed Banks kid with lots of celebrity friends. As the oldest, it took Hilary a while to build a bond with Will but their relationship became fun and unique in its own right. Bel-Air's Hilary updates her in an expected way. Here, she's a stylish social media maven with a throng of adoring followers watching her live streams.
However, Hilary speaks out against racism in the culinary industry and uses her social influence to spread the truth. She's following her dreams, which will lead to some twist and turns. "You can expect some interesting predicaments that she gets into as she explores this life as a content creator, chef, and influencer, whatever the latter really means for her," Coco Jones tells us. "There's a lot of twists and turns but she always comes back to center, even though for a moment you'll be like 'girl, how did you get here?'"
Bel-Air's Hilary is also the first child to build a positive relationship with Will whereas her character barely noticed his existence (at first) and then marginally tolerated him in The Fresh Prince.
Ashley Banks
Actors: Tatyana Ali (The Fresh Prince) and Akira Akbar (Bel-Air)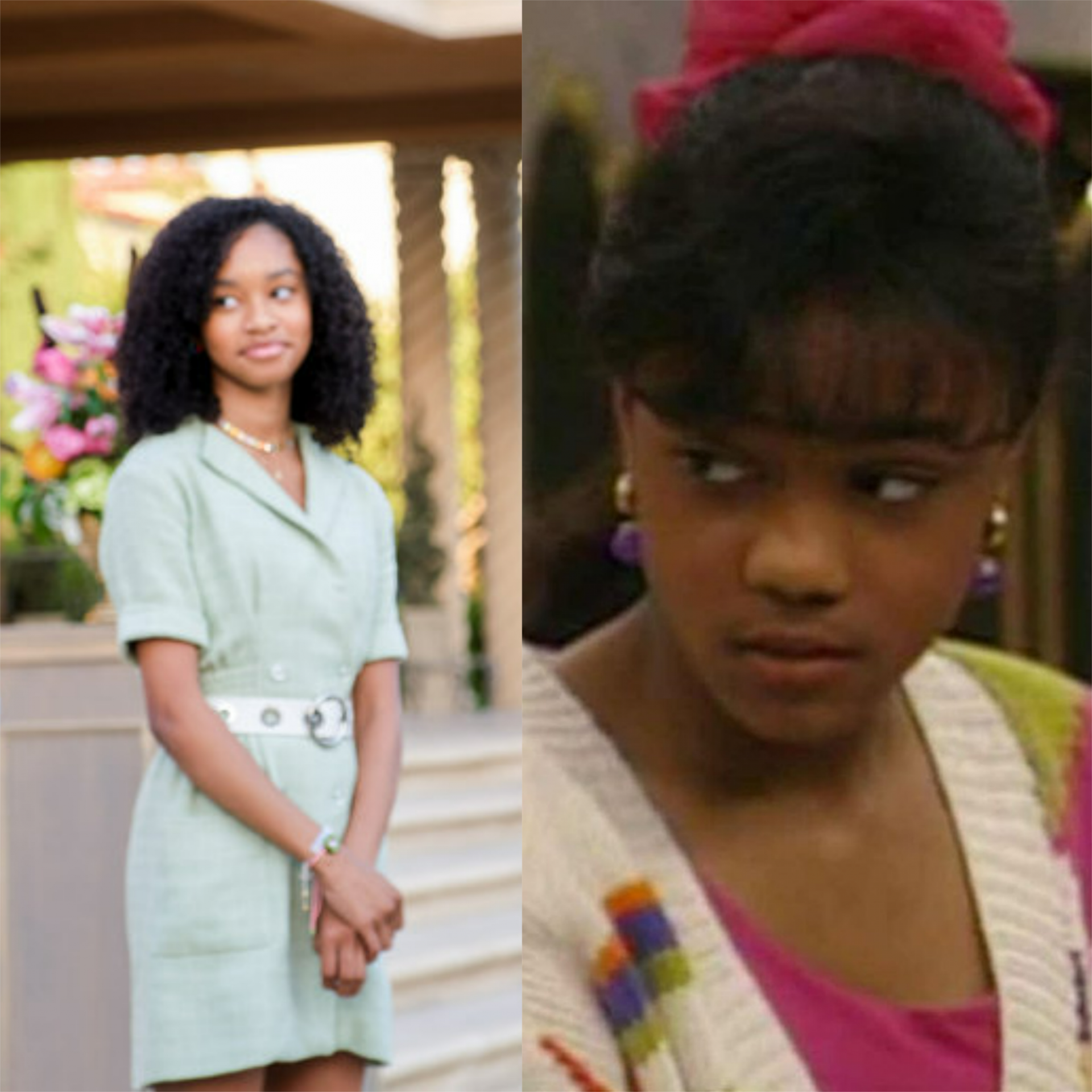 The Fresh Prince's Ashley Banks grabbed our hearts (and Will's) right away as she adorably followed in her cool big cuz's footsteps. Over the series, she came of age and discovered what she wanted out of romantic relationships and her own life. Will and Ashley's big bro/little sis relationship is one of the many wonderful things about The Fresh Prince.
Sadly, in Bel-Air's first three episodes, we barely see Ashley at all. The actress, whom we all know as the young Monica Rambeau from Captain Marvel, certainly has the goods to deliver onscreen. But Ashley takes a backseat to the Will vs. Carlton drama and his current relationship building with Aunt Viv and Uncle Phil. Yes, we know she's cute and whip smart but we are ready to see who she really is. Only time will tell what we will get from this Ashley.
Aunt Viv
Actors: Janet Hubert (The Fresh Prince seasons 1-3), Daphne Maxwell Reid (The Fresh Prince seasons 4-6) and Cassandra Freeman
Oh how we love Aunt Viv. She set a high standard from day one as a brilliant and beautiful Black woman who was educated and regal but would also come drag you out of the streets of Compton. Aunt Viv could always deliver a solid lesson to Will and her children with a good reality check and a dash of non-toxic tough love. The OG Aunt Viv was even different from her replacement halfway through the show, who became more of a housewife/new mom type who was more hugs than "hell nos."
It appears Bel-Air's Aunt Viv is in the spirit of the OG one, stepping up to the school to set things straight and advocate on her nephew's behalf. She can throw a classy party and smile for the cameras but, as Carlton says in one episode, you don't f*ck with this Black mom. She will also have her own journey of rediscovery.
"The writers were very intentional about viewers knowing who [Aunt Viv] is on an emotional level and in a much more intimate way," said Freeman. "I think we are interested in the identity of Black women at her level. She's this woman in our modern society trying to fit into this certain box. And hopefully over the season, you see her trying to step out of these set conditions."
Uncle Phil
Actors: James Avery (The Fresh Prince) and Adrian Holmes (Bel-Air)
Uncle Phil and Will's relationship is one of the most important evolutions in The Fresh Prince. Phil goes from being embarrassed/annoyed at his wild and unrefined nephew to loving him fiercely. He becomes the best father figure Will's ever had. Uncle Phil is a pillar in Black TV fatherhood, doling out a good lesson/punishment and counteracting it with love. He's not afraid to go to bat for his kids (including Will) and, for all his wealthy ways, he never forgets the struggle he came from.
There was a bit of Twitter controversy at the new Uncle Phil being slim and, well, rather hot. It is a bit silly to say that he must be a larger man considering that the '90s fat jokes will not fly in today's times for good reason. Thus far, this Uncle Phil is rather true to his original self, both unsure that Will can assimilate to this world yet defending him the moment someone tries some mess. They share solid moments and are on track to have a unique relationship of their own (to Carlton's initial chagrin).
"We had to make that relationship and relevant topics fit for today's audience," says Holmes. "We had to do something for this generation so that they had what we had [with The Fresh Prince]. It's the remix."
Geoffrey
Actors: Joseph Marcell (The Fresh Prince) and Jimmy Akingbola (Bel-Air)
The original Geoffrey is very British and hilarious. He often plays into Will's wild schemes just to see the fallout of it all. His other sides frequently came out, including his ability to woo women, create moving poetry, dance the night away, and wittily express his annoyance at the Banks family. And, who among us didn't cry when he finally called Master William plain ole Will, signifying how far their relationship had come?
Well, Bel-Air's Geoffrey is British with Jamaican roots, lots of style, and doesn't play a major role in Will's life… yet. He is the house manager but certainly not doing everything for everyone as seen in the original series. In fact, Geoffrey and Phil have a more brotherly relationship in Bel-Air. However, Akingbola affirms that the Geoffrey/Will dynamic will develop later this season due to their similarities.
"When it comes to Geoffrey, [Morgan Cooper and I] talked about him being culturally closer to Will," he says. "Geoffrey knows about that street life from London but he's a shapeshifter. He can be in the boardrooms and mansions and is book smart. When you put them together, there's a knowing. It's really nice to have those nuances."
Vy (Will's Mom)
Actors: Vernee Watson-Johnson (The Fresh Prince) and April Parker Jones (Bel-Air)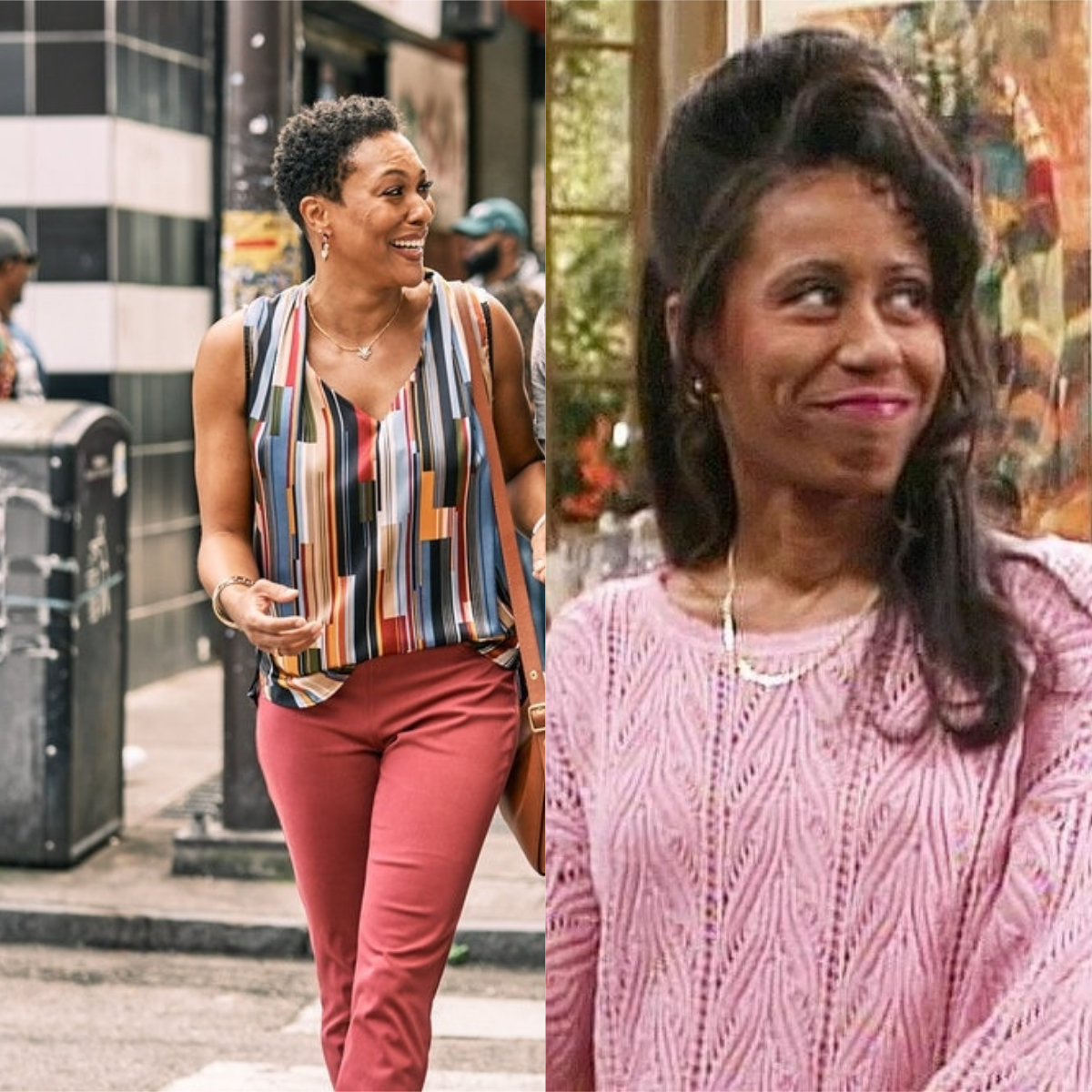 The Fresh Prince only gave us a handful of appearances from Will's mom. She even strangely ended up marrying his girlfriend's dad. Vy was no-nonsense lady who wanted Will to retain the values he had in Philly while in the land of the rich and famous. Bel-Air's Vy wants the same thing for her son but we get to see a little more of their bond.
The series forges a stronger connection between Will and the very-real complications of his "one little fight" back in Philly. We witness the emotions that a single Black mom would have in this situation: fear, distraught, and heartbreaking concern for her son's well-being.
Lisa
Actors: Nia Long (The Fresh Prince) and Simone Joy Jones (Bel-Air)
The differences between the two Lisas is quite vast. The original Lisa doesn't even come on the scene until the show's fifth season as the woman who finally makes a college-aged Will stop playing the field. They get engaged and nearly married before calling it off, eventually breaking up to become stepbrother and sister. By far one of the weirdest things about the show.
Bel-Air's Lisa is also pretty and catches Will's eye. However, the characters meet in a different way during the first episode as the Fresh Prince woos her with his charm. Will is smitten by the rare Black girl in his very-white new surroundings. She's a Bel-Air Academy student and gifted swimmer on scholarship from a working-class neighborhood, thereby building an instant connection with Will. "When we see Will with Lisa, we see a completely different side of him," Simone Jones confirms. "We see him melt. We see him in trouble and in very vulnerable moments. It's also a cool dynamic where Lisa is the hero who gets to take care of him."
Oh, and did I forget to mention that she dated Carlton? Yes, there's love triangle mess afoot.
Jazz
Actors: Jeffrey "DJ Jazzy Jeff" Townes (The Fresh Prince) and Jordan L. Jones (Bel-Air)
It can be hard to remember how Will and Jazz became friends. Will actually saw Jazz at a club and decided that he'd be a great drum instructor for Ashley. Jazz, who lives in Compton, becomes Will's new partner-in-shenanigans while harassing Hilary and periodically getting thrown out the Banks' front door.
Bel-Air's Jazz and Will aren't that different in terms of understanding each other, meeting at the airport when Jazz picks up the Fresh Prince as a rideshare driver. Their similar backgrounds give Will something familiar to grasp onto. "When Will comes to Bel-Air, he's a fish out of water," Jones says. "Jazz feels like home to him because he's an inner city kid from Compton and Will is from Philly. Will can come to him for advice that he can't necessarily get from his family in Bel-Air because they don't really know him." It will be interesting to see how much Jazz factors into Will's future in Bel-Air.
A new genre means a new approach to old faves. How will these Bel-Air characters continue to grow and be different from their Fresh Prince roots? We will have to stay tuned and see what happens next.