In her five decades as a pop culture institution, Barbie has been many things — teacher, fashion model, television news anchor, even an astronaut! And now, she's becoming a certifiable rock god. According to a report in The Guardian, Mattel is releasing a limited edition collector's Barbie in which the world-famous doll dons the appearance of the late David Bowie's iconic persona, Ziggy Stardust.
This Ziggy Stardust inspired Barbie looks almost identical to the look that David Bowie sported for his legendary 1972 album The Rise and Fall of Ziggy Stardust and the Spiders from Mars. This new Barbie doll is a dead ringer for the gender-bending singer, although we don't remember him looking quite so chipper. But hey, this is Barbie as Ziggy, not David Bowie as Ziggy. And what's Barbie without her signature smile?
In a statement, Mattel said this new Bowie inspired Barbie was "a definitive celebration of two pop culture icons. Barbie honors the ultimate pop chameleon, English singer, songwriter, and actor David Bowie, whose dramatic musical transformations continue to influence and inspire." Hopefully, if this is successful, we get Aladdin Sane, the Thin White Duke, and other later Bowie incarnations.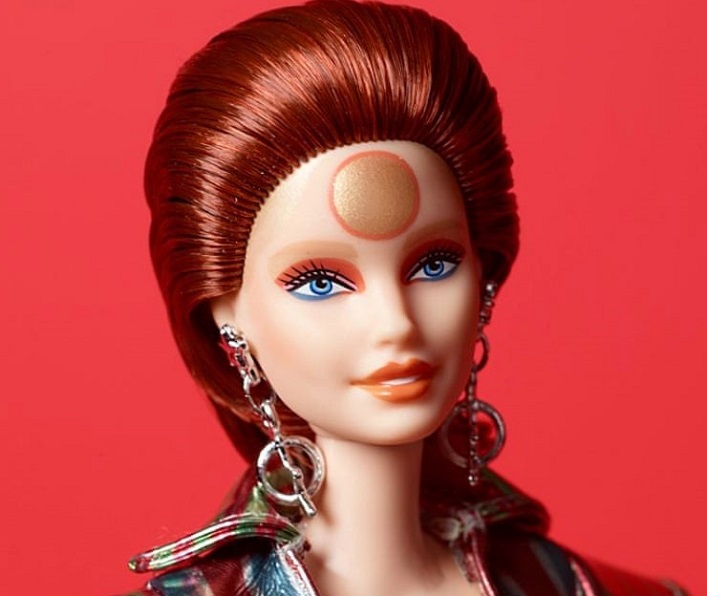 Barbie has inhabited the personas of famous rock icons before. There have been versions of her as Cher, Cyndi Lauper, Debbie Harry of Blondie, and Joan Jett. But we believe this is the first time that Barbie has ever portrayed a male rock icon. But given Bowie's penchant for gender-bending, this is hardly an ill fit. Hopefully, this isn't the last time we see a gender-bent Barbie. We think Prince could qualify for a great Barbie doll too (just give Barbie a little mustache!) He has Funko Pops, so why not a Barbie doll?
The initial run of the $50 doll sold out almost immediately. But never fear, it's already available on back order.
Images: Mattel