We're ready to go back in time again. Hot Toys' newest additions to its Movie Masterpiece lineup features two of cinema's most iconic characters. Along with one of pop culture's most famous time traveling dogs. Back to the Future's Marty McFly and Doc Brown are ready to hit 88 miles per hour to arrive in your home with their own highly-detailed sixth-scale figures.
Hot Toys
Roads? Where we're going we don't need roads. The truck delivering Hot Toys new Back to the Future collectibles will, though. What we'll need is desk space to keep them on. That includes a spot for this Marty McFly and Einstein set. It features Marty in his trademark orange vest. The 1/6th scale figure also boasts an all-new hand-painted head sculpt and over 30 points of articulation. It also features eight interchangeable hands and the rest of the unlikely time travelers clothes from the first time Doc showed him the world's most famous DeLorean. The figure's fully tailored clothing also includes Marty's blue jeans, a T-shirt, a checkered shirt, suspenders, a denim jacket, and a pair of white sneakers.
He also comes with all of the character's accessories from that fateful night that changed history forever. Marty also has: a camcorder, portable cassette player with headset, black wristwatch, skateboard, red backpack, a "Save the Clock Tower" leaflet, and three badges. The figure also comes with a display stand. It includes the with movie's logo and a character nameplate. And by his side is Doc's trusty canine companion, Einstein, who got his own all-new figure. You can pre-order yours ($285) at Sideshow. It should ship sometime between November and January.
Hot Toys
Unless you have a time machine of your own, you'll have to wait longer for Hot Toys' new 1/6th scale Doc Brown Collectible Figure. You can pre-order one ($270) at Sideshow now. But it won't ship until sometimes between January and March of 2023. But it will be worth the wait.
Christopher Lloyd's eccentric scientist also has over 30 points of articulation. The figure also includes four interchangeable hands and has him in his hazmat jumpsuit. Underneath he wears a long sleeved shirt, a Hawaiian shirt, tool belt with tools and pouches, and a pair of orange sneakers. The collectible also comes with an array of accessories. He has a remote, clipboard with notes, two watches, a portable printer, a stopwatch, a second stopwatch for Einstein, a climate graph, a notepad, a pack of pens, and a measuring ruler. He also boasts a full tool bag. Doc carries four screwdrivers, two pliers, two wrenches, a flashlight, a steel square rule, and a roll of duct tape. And the figure has his own display stand with movie logo and character nameplate.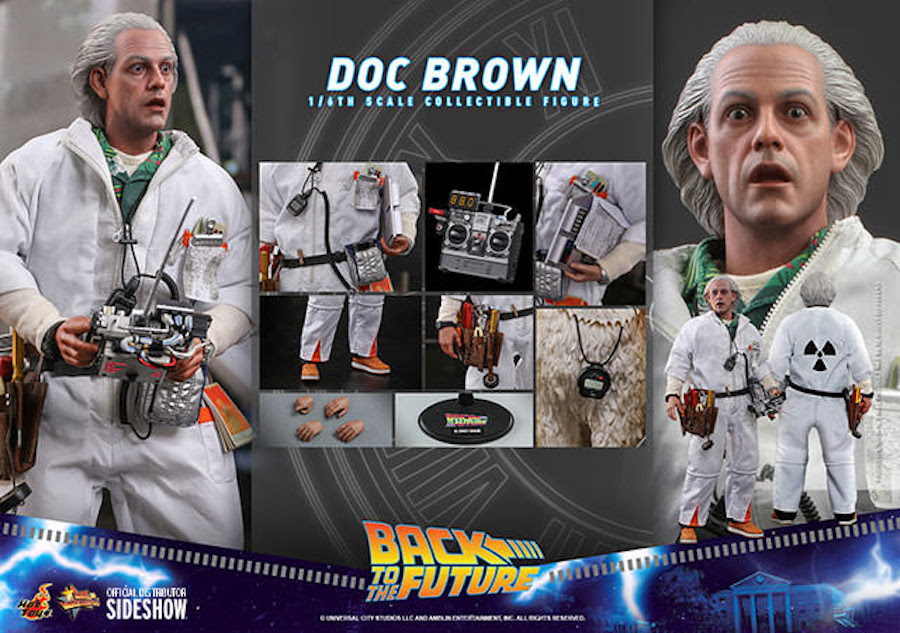 Hot Toys
But if you opt for the Deluxe Doc Brown Version ($290) you'll also get a one plutonium case. Inside is a bottle of removable plutonium. Best to keep that in the car, though. Just in case you accidentally get stuck in 1955.
If you do get stuck in the past, please do us a favor and open up a savings account for us. That way we'll have plenty of money now to keep buying all these Back to the Future collectibles.