There's a scene in the season one finale of The Mandalorian where a Stormtrooper voiced by Jason Sudeikis punches a captive Baby Yoda. It's pretty horrific, and if you're anything like me, caused for loud yells at the TV and a lifelong irrational hatred of Sudeikis. But somewhere, some toy exec saw that scene and thought, "You know what? I want to punch Baby Yoda too and I bet there are more sadistic people like me out there—better make it a thing!"
I mean, that's probably not what really happened, but it's one of the few things that can explain Hasbro's newly announced toy: A Baby Yoda edition of the popular '90s mind-game Bop It! You know, that obnoxious hunk of screaming plastic that yells commands at you to hit it and twist it at increasingly high speeds until your hands start to hurt and you're so angry you want to break it in half? Yeah, that game.
Hasbro
The good folks at Slashfilm noted that the Bop It! commands in this version come from The Mandalorian himself, and that "The Child" makes his trademark noises as a response. I'm sorry, but any command that is not "cuddle until you both puke" or "Tickle his little tummy" or "tell him what a good boy he is" are unworthy of Baby Yoda. I refuse to punch a toy and hear him scream.
The Baby Yoda Bob It! joins a long legacy of bizarre Star Wars toys, so we can't say we're totally surprised that this thing exists. But really, we have to ask: Why? Why would you create something so evil, so cruel, so maniacal that we're actually starting to order if maybe we do want one just to understand its power? Is the Baby Yoda Bop It! about to turn people to the Dark Side?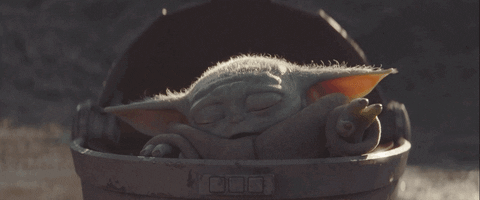 Lucasfilm
The Child edition of Bop It! is a Walmart exclusive, costs $14.99, and comes out this fall. But maybe, like, reconsider your purchase and get a Baby Yoda Build-A-Bear instead?
Featured Image: Hasbro