Author and software engineer Thomas Dimson has created an AI dictionary that generates fake words and definitions. The project, like many similar ones released online recently, uses sophisticated AI language processing algorithms. And the words the cutting-edge AI generates are, of course, hilarious.
Introducing "this word does not exist" today - AI generated English words with dictionary definitions. Be kind! https://t.co/iDSIFsykoe

— Thomas Dimson (@turtlesoupy) May 13, 2020
Dimson released his word maker, dubbed "this word does not exist," to the world on May 13. It's unclear what the impetus was for creating the AI dictionary, but it seems like a kind of standalone tech-art project. Dimson thanks both photographer Pamela Chen, and Ryan O' Rourke—who's presumably a software engineer at Facebook—for help with the project.
The source code used for "this word does not exist" was taken from GPT-2. GPT-2, which was created by the AI research organization, OpenAI, is a language modeling AI that's been "trained" on a dataset of more than 8 million web pages. In other words, GPT-2 is a series of neural networks that can generate readable text thanks to the fact that it was fed lots of real text, through which it could identify, and duplicate, language patterns.
As far as the actual tool, this AI dictionary does not disappoint. Every word the AI generates sounds like it both is, and isn't, a real word. And all of the definitions fit shockingly well. The tool also allows users to enter their own made-up words, which can then be used as jumping-off points for definitions. Each new word and definition even comes with a very plausible usage case.
A video breakdown of how GPT-2 works.
Looking forward, it's safe to say there are going to be a lot more text generating tools like this one coming online. The GPT-2 source code is enormously powerful, and enormously popular, and it's evolving at a frighteningly fast clip. Manipulated versions of the language generator have, for example, been great at nailing random tasks like coming up with new candy heart sayings, or even April Fools' jokes. Which means folks should get used to this kind of "intelligentbot" hanging around long into the future.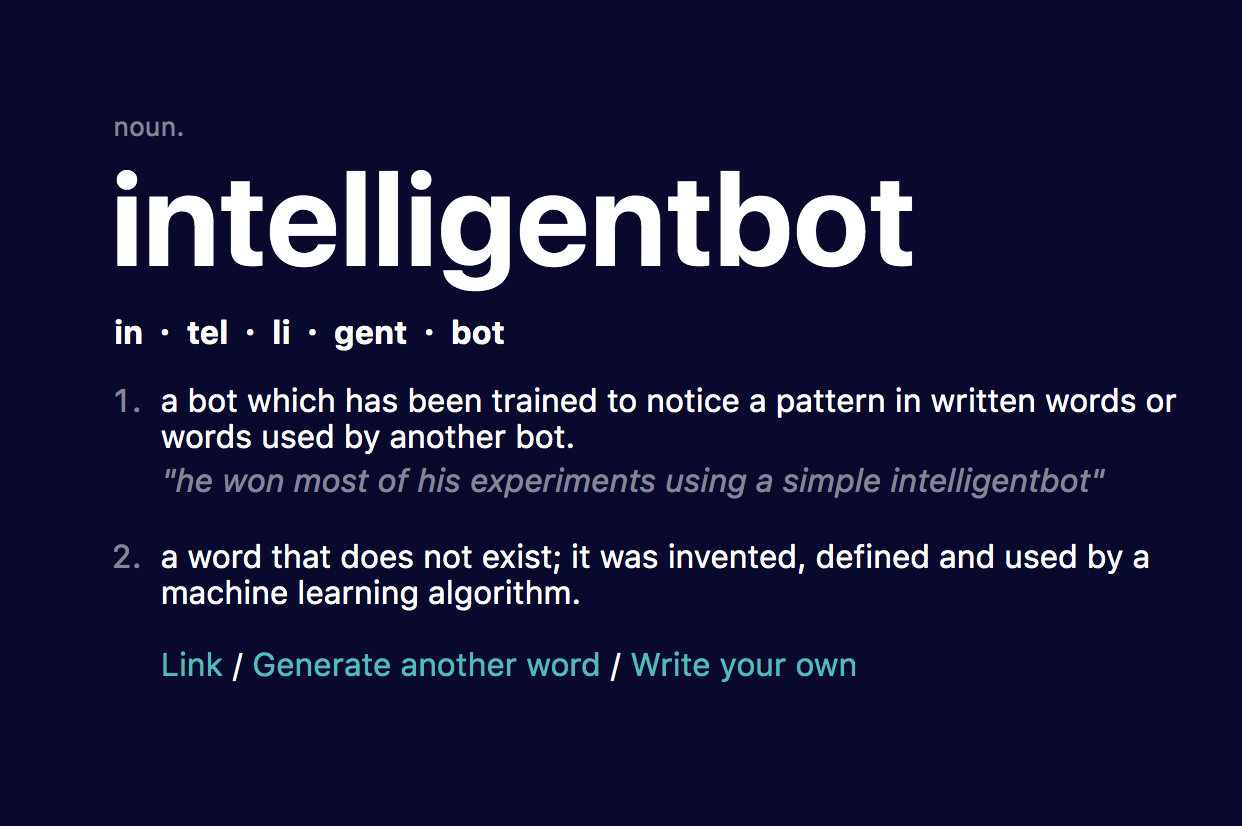 What do you think about "this word does not exist"? Is this the coolest usage of GPT-2 you've seen, or are there are other tools based on the powerful AI that are better? Let us know your thoughts—in made-up or real words—in the comments!
Feature image: Christian Colen / Flazingo Photos