What comes to mind when you think of murder mysteries? Cozy cottages? Maybe silly satire? Or the sweet and often safe crime-solving exploits of women in bygone eras? Well, we're here to suggest something a little different. You might cast Columbo in the same light as other TV sleuths, but Peter Falk's detective is so much more. The series is a stunning selection of made-for-TV movies that are filled with intrigue, shot beautifully by cinematic legends, and often laden with some of your favorite actors in guest roles. Basically, it's the perfect time to settle in and watch Columbo. And here's why:
The Directors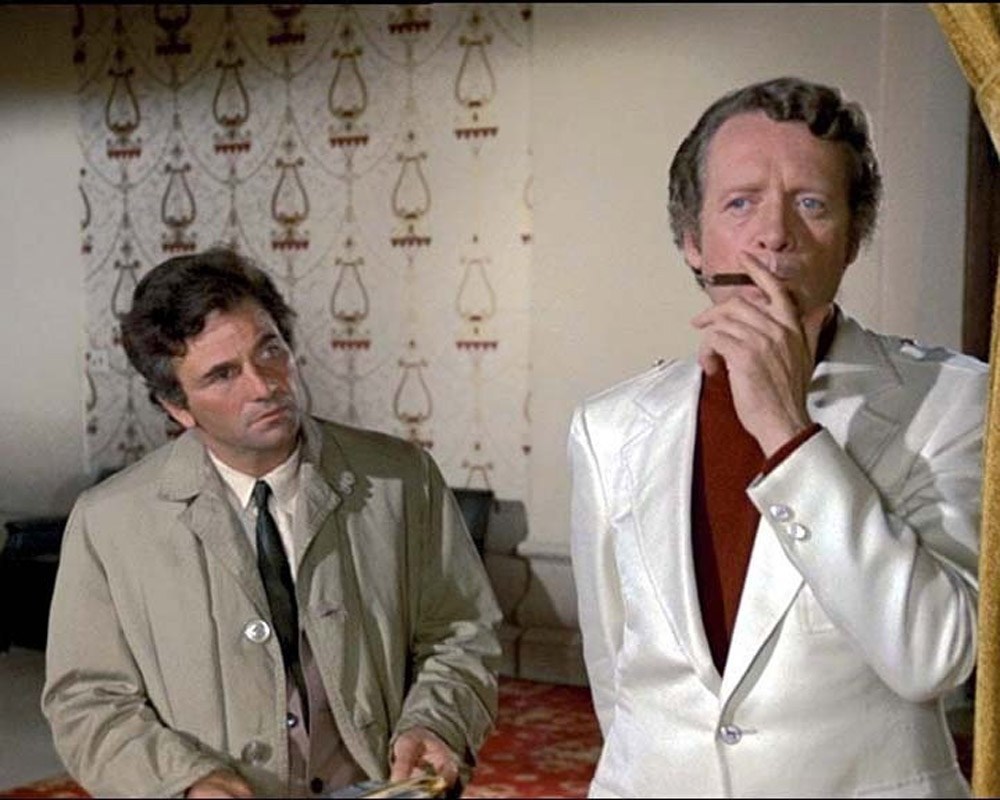 Let's start off with the big one—a young up-and-comer named Steven Spielberg directed the first ever episode of Columbo, 1971's "Murder By the Book." The dark feature-length story set the tone for the series, which was easily the most popular part of The NBC Mystery Movie series from 1971-1978. Spielberg isn't the only big name to have directed Columbo, as other big movie directors like Jonathan Demme (Silence of the Lambs) and Jeannot Szwarc (Supergirl) took on some of the show's most well memorable entries. If you're a fan of iconic TV shows like The Twilight Zone and Lost in Space, then the show's directorial credits are a who's who of incredible TV talent including actors like Patrick McGooghan and directors like Robert Butler and Robert Douglas.
The Famous Guest Stars
Almost every episode of Columbo is filled with astonishing guest stars. You've got horror icon Vincent Price! Comedy superstar Leslie Nielsen! Hollywood legends Dick Van Dyke and John Cassevetes both make sterling turns. The Prisoner star Patrick McGoohan starred in four episodes as different characters, three of which he directed himself! Roddy McDowell offers up a particularly memorable kill alongside iconic actor and director Ida Lupino. And Star Trek icon William Shatner and Zorro hunk George Hamilton both played killers on the series more than once!
Peter Falk
The series is nothing without the man at its center. Peter Falk is a truly great actor. The titular character is a play on classic detective Sherlock Holmes, but Falk brings a unique humility and humor to Columbo. His bumbling guise never gets old even though we know it's all a ruse. It's hard not to feel invigorated watching Falk work his way to the guilty party. He's smart, charming, and has a moral compass we could all learn from. It helps that Falk originated the character and stayed with him decades longer than most actors do, only leaving the role in 2003.
Every Episode Is Actually a Movie
Created by Richard Levinson and William Link, who were also behind the later cozy murder mystery hit Murder She Wrote, Columbo began as part of The NBC Mystery Movie series. This is what truly makes Columbo stand out; over nine seasons and a bunch of late-stage additions, each Columbo episode is feature length. You can immerse yourself in any of the 64 official episodes or 24 specials and enjoy a murder mystery movie filled with awesome actors, great writing, and plenty of Peter Falk magic.
It's a Whydunnit Rather Than a Whodunnit
The biggest twist here is that each episode of Columbo begins with the murderer plotting and committing their kill, meaning that the audience almost always knows who the killer is. Straying from the usual format of Whodunnit, we follow Columbo as he tries to solve the crime. Our interest comes from watching the detective as he manipulates those around him. Seemingly silly and often underestimated, Columbo's charm comes from allowing us to watch his methods. How will he fool the killer into telling him the truth? How long will it take him to suss out who it is? And will the guilty party be someone that Columbo can empathize with?
It's Surprisingly Dark and Delightful
One of the things that blew me away on my recent rewatch was the depth of style and darkness that often makes its way into Columbo. It's a show about murder, so really we shouldn't be surprised by the sinister tone. But televised murder mysteries often veer into the campy, whereas Columbo deals in noir-hued hardboiled crime. The early episodes are especially experimental with many opening in a far more cinematic and strange way than your average TV show. If you're looking for something daring, dark, and surprisingly thoughtful then this is your pick. From the ever inventive deaths to the grim greedy motivations Columbo always delivers on atmospheric and engaging entertainment.
One More Thing…
Columbo's famous catch phrase has become a cultural touchstone. And when you watch the series it's easy to see why. Whenever the gnarly criminal thinks they've gotten away with it, Columbo comes back to let them know just how he caught them. It's a technique that could become tropey but it's so enjoyable that it becomes the peak of each episode. We, the viewer, always have theories on just how he came to his conclusions but it's always electrifying to have them confirmed or upturned.
Every episode of Columbo is streaming free on IMDB TV now, or you can check out episodes on the Columbo Youtube channel.
Feature Image: NBC Universal