A little over a decade ago, we were in the middle of a vampire fiction frenzy, with the massive successes of the Twilight series, True Blood, and The CW's Vampire Diaries. But with all fads, eventually the bubble pops. Most other vampire properties crashed and burned at the box office. Movies like Dark Shadows, Abraham Lincoln: Vampire Hunter, and Vampire Academy just could not retain the vampire fanatics audience, and a stake was placed in the heart of the genre.
But five years after True Blood went off the air and six years since Twilight went away, we are seemingly on the verge of another big vampire renaissance. Tons of projects focusing on bloodsuckers are once again hitting the mainstream. In case you're having trouble keeping track, we've run down each of these recently announced vampire projects, and just what we think fans should expect from them once they rise out of their respective pop culture graves.
What We Do in the Shadows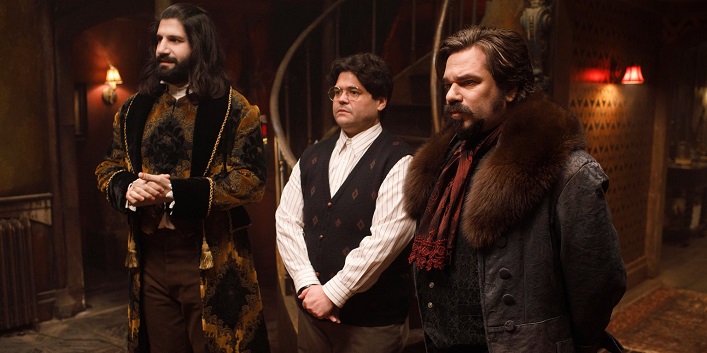 One of the bright spots during the vampire drought was Taika Waititi's hilarious mockumentary film What We Do in the Shadows, about a group of ancient vampires living together as roommates in New Zealand. Now the same creators are bringing this film to television on FX starting in March, and it looks very much in the same vein (no pun intended) as the film. Although the actors in front of the camera are different, a lot of the same people who created the original film are involved, so we have a good feeling about this one. What We Do in the Shadows hits FX on March 27, 2019.
Anne Rice's Vampire Chronicles
It was Anne Rice's character of Lestat that really got the ball rolling on modern vampires over 40 years ago when her novel Interview with the Vampire came out. Her The Vampire Chronicles series—now 15 books deep, and counting—is ripe for modern television. This one was announced as being in the works about two years ago, and more recently, it was revealed that series would be going to Hulu, with Anne Rice and her son Christopher on board as producers. No casting has been announced yet, but we expect real movement and announcements on this one this year, with a possible 2020 release date.
Dracula
It's not a true vampire renaissance unless the Big Daddy of all bloodsuckers is on the list, and yes, we are taking about Bram Stoker's Dracula himself. Sci-fi and fantasy fans are well aware of Steven Moffat, who was showrunner on Doctor Who from 2009 through 2017, not to mention the creator of BBC's Sherlock. And now, he's turning his attention to Sherlock Holmes' literary contemporary Dracula in a new BBC/Netflix mini-series, starring actor Claes Bang as the titular Count. This one will be set in 1897, the era when the book was published, and the pedigree of the creative team should have fans very excited.
The Lost Boys
The CW had huge success with The Vampire Diaries, which had two spin-offs, with one currently still airing. You could see how they'd want back in on the sexy young vampire genre. Now they've officially announced a pilot order for a show based around the 1987 cult classic The Lost Boys. This was originally pitched about two years ago from Veronica Mars' Rob Thomas, and would have been about a group of sexy young vamps, with each season representing a decade in their lives, from the '60s to modern day. It seems that this new version of the pilot is just a redo of the original movie's plot, but we hope Thomas has something more interesting in mind for it. This only has a pilot order right now, but given the name recognition of its IP, we see this one probably going to series.
Buffy the Vampire Slayer
A Buffy the Vampire Slayer "reboot" was announced last summer, with Monica Owusu-Breen announced as showrunner, with original series creator Joss Whedon on board as executive producer. Owusu-Breen has assured fans that this series is a continuation of the mythology introduced in the original Buffy and Angel, and that the titular slayer will be an African-American teenager this time. Sarah Michelle Gellar has recently said she's not involved, but seeing as the show is only in development right now, that could change. Seeing as this is a Fox property, we expect it to land on Hulu or FX. But could a more family friendly version — think original season one Buffy — actually land on Disney+, once the Disney/Fox deal goes through?
Morbius the Living Vampire
Although most of the vampire projects are for the small screen, one major vampire character is headed to theaters next year: Morbius the Living Vampire, starring Jared Leto in the title role. The Marvel Comics character started as a Spider-Man bad guy, although he moved on quickly and became a bloodsucking Punisher style anti-hero. He's been portrayed as both ugly and bat-like, and then also sexy and goth, depending on the era of comics we're talking about. Can an R-rated vampire superhero become another Venom for Sony? And could Jared Leto join Gary Oldman, Tom Cruise, and Robert Pattinson as an iconic big screen vamp? We'll find out in fall of 2020, when Morbius hits theaters.
Images: Warner Bros./20th Century Fox/Marvel Comics/FX