Let's face it: the relationship a player has with their dice is one that is quite special. Whether we're roleplayers, board gamers, miniature wargamers, or CCG'ers, we use dice in all sorts of ways. Because we invest in the gaming experience, it makes sense to invest in our dice as well – the relationship we have with our dice is what helps make our gaming experiences immersive.
Here are five reasons you should consider upgrading your gaming experience from our awesome partner, Q Workshop.
RPG GMs: Better Manage Combats & Instances
For a GM, DM or Storyteller, having several unique sets of dice can actually help you manage combats. If every NPC is represented by a different design and colour of dice, it's far easier to line up the dice in initiative, and track the combat. Moreover, if you use ornately designed dice, you can also proxy them on your gaming maps and grids to represent the NPCs on a battlefield or in a tavern. The designs can easily correspond to any given NPC, and you'll be able to get the best of both worlds showing the players where everyone is, without taking away from the mind's eye impressions of what the character looks like.

You can buy individual dice for special characters within a campaign, or sets of dice for groups of chaff combatants, and build up a collection of dice. Let's be honest: having piles of dice is very useful.
RPG Players: Immersive Experiences With Characterful Dice
If you are an RPG player, finding characterful dice to represent your character is one fantastic way to get into the headspace of that character, especially if you're playing multiple characters in multiple campaigns. A set of specific dice used for a specific character can be a totem of that character, helping you channel that persona for a more immersive experience.
It's really easy to find a set that works for your character. You can see the details as well as clearly discern the numbers on each set, like this Forest set (perfect for that druid or ranger) and Dragon set. They're both characterful and functional, which is what you really need from a good set of dice.
If you're playing specific games, you can also find game-specific dice sets, including for games like Runequest, Call of Cthulhu, Starfinder and Pathfinder.
In addition to their licensed sets and generic sets, Q Workshop is also currently running a Kickstarter for 5 new, unique designs. If you're looking for the right dice, chances are they have a set perfect for your character.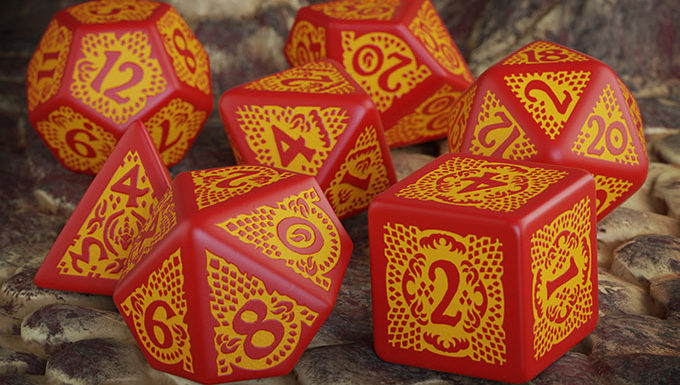 Metal Dice: Gorgeous and More Probable
If you're a miniature wargamer, spending a little bit more on weighty dice is an upgrade that brings the quality of your dice up to match the quality of your miniatures – heavy, detailed, and beautiful. After investing in buying an entire army, and lovingly assembling and painting it, investing in some quality dice to match them only seems natural. The weight also helps them roll a little more probably since slight weight differences on each face aren't throwing the weight of the dice off , meaning they're a significant upgrade to tiny budget dice with hollowed pips and rounded corners, wh.
They're not just for miniature wargamers though – every gamer can appreciate the weight of metal dice in your hand. Sets of metal dice are a beautiful gift for yourself or for that gamer who is special to you.
Whether you're picking up a metal set of RPG dice (like Cthulhu and Steampunk), or grabbing a cool metal D6 set (like Dwarven or Mythic) for a board game you adore, there's nothing that matches the feel of truly premium-quality components. Plus, metal dice are just plain cool.
Never Step On A D4 Again
If I go the rest of my life without ever stepping on a die, let alone a D4, I will probably die a happy gamer. The fact of the matter is that if you game for long enough, the chances you'll end up with a die underfoot is pretty darned high, and it's not pleasant. Save your feet, and just invest in a dice tower.
Q Workshop offers several choices, ranging from ~$19-$25, with various designs. Some come painted, some come unpainted (meaning you can personalize them with paint) and all of them have a foot-saving tray feature at the bottom. Also, there's something incredibly satisfying about just dropping dice into a tower and letting gravity take care of the rest.
Transport and Roll In Style
What do you keep your dice in? We've all seen gamers pull dice out of plastic sandwich bags and pockets, and frankly, there is no reason for that.
Dice bags are beautiful, keep dice together and organized, and are the best gaming quality of life investment dollar for dollar. If you think about the number of games you'll play using that dice bag over your life and divide the cost of one bag (Q Workshop's dice bags range from $5 to $9.50) we're talking about a quality of life improvement that costs pennies per use.
If you feel like splurging without breaking the bank, Q Workshop's dice cups are beautifully detailed at an incredible value. For between $24 and $27, you can get a beautiful leather or suede dice cup with a capacity of about 21 dice that will be the envy of your gaming group. The nice thing is you can shake in your cup and roll in the lid (which works as a mini-tray) and get extra value out of the dice cup.
You can visit Q Workshop's online store at Q-Workshop.com and check out their full line of products. Be sure to also check out Q Workshop's Top Drawer Dice Kickstarter, which is already fully funded to pick up those fancy new dice designs!

Image Credits: Q Workshop
This post is sponsored by Q Workshop.