Each week on Twitch and Alpha, hosts Erika Ishii and Trisha Hershberger talk video games with special industry guests, insightful coverage and a ton of audience interaction on our show Game Engine. Be sure to tune in every Tuesday starting at 4 PM PT to learn about what's new and cool in the world of video games.
Asmodee Digital has introduced a huge number of digital board games onto platforms like iOS, Google Play, as well as PC and Mac via Steam, but now they are setting their sights on the Nintendo Switch. Recently Asmodee announced they will soon begin publishing games on Switch starting with the digital version of the award-winning, tile-laying board game, Carcassonne. This new adaptation of the game will be available in Winter 2018 and we can't wait!
"Carcassonne is the first Asmodee Digital title of many to follow on Nintendo's platforms," says Pierre Ortolan CEO of Asmodee Digital. "This partnership is based on Nintendo's need for new user experiences, and Asmodee Digital's continued goal of bringing great board game IPs to new platforms."
This is fantastic news for console owners as it heralds a movement to make board games even more accessible to fans everywhere, by giving them one more way to play their favorite games. There are a lot of games already digitized for other platforms, but there are tons more that have yet to make the jump. Here are 4 board games we wish were digital games so would we could play them on Switch.
Abyss

Studio Bombyx's Abyss is a visual feast of gorgeous art, uniquely themed, and a whole lot of fun to play. Abyss is an auction/set-collection game where you play as leaders of underwater creatures vying for control of their kingdom of the Abyss. You need to gain influence with the different factions and take control of powerful locations to show you are fit to lead. With the game including such amazing illustration, it would be amazing to see the characters and locations animated as you play.
Wasteland Express Delivery Service
Wasteland Express Delivery Service is a pick-up and deliver game set in a Mad Max-style post-apocalyptic wasteland. As drivers (of questionable sanity) working for the Wasteland Express Delivery Service, you need to ferry goods across the wastes in your cobbled together vehicles; fighting crazed raiders and completing missions for the last bastions of society. This game has a ton of pieces from the tiles that make up the board to the vehicles and supplies they carry. While the game is a blast to play, half of your play time will be just setting up, so it would be amazing to have a digital app that has everything ready for you at a moments notice.
Vast: The Crystal Caverns
Vast: The Crystal Caverns may be the epitome of asymmetrical gameplay. Each players game is unique as they have very different roles, objectives, and abilities. For example, the Knight character is trying to kill the Dragon, The Dragon, on the other hand, is just trying to escape the Cave and the Cave is trying to kill everyone inside it at the same time. With so many contrasting characters, it's almost as if everyone is playing a different game all at once. We love the idea behind Vast: The Crystal Caverns, but since every player needs to learn an entirely different set of rules to play, the learning curve is pretty steep. Having a digital version of the game could manage the rules and give you help to learn the game, making it easier to just enjoy the experience.
Near and Far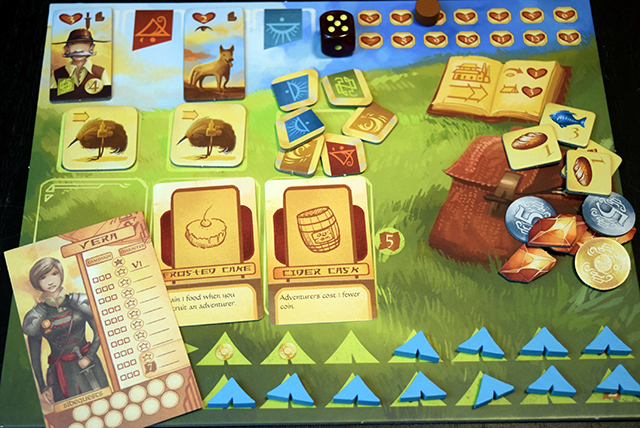 Ryan Laukat's Near and Far is a route-building, story-telling game about wanderers search for an artifact that will grant your hearts desire. The game lets you explore a world rich with adventure and every time you discover an encounter, one of the other players will read you a snippet of story that offers you choices. These choices have varying rewards or punishments depending on your decisions that the reader will have an opportunity to see. This can take a little of the mystery out of the action. There are other digital games like Mansions of Madness that take care of reading the story to you which keeps the answers a secret to everyone and not just the current player. Often times these stories are also narrated adding a bit of atmosphere to the game. Storytelling board games that use this kind of choose-your-own-adventure style play can fantastic fun for anyone who enjoys a little roleplaying and Near and Far is perfect for a digital adaption.
What board games do you wish you could play on the Nintendo Switch? Let us know in the comments below! And be sure to tune into Game Engine on Twitch and Alpha for more video game goodness every Tuesday starting at 4PM PT.
WANT MORE VIDEO GAME GOODNESS?
Image Credits: Asmodee Digital, Studio Bombyx, Pandasaurus Games, Leder games, Jessica Fisher
Hailing from New York, Jessica Fisher is a writer, artist, and all around geek. In addition to Geek & Sundry, she writes for Gameosity.com and produces the Gameosity Reviews Youtube Channel. Find her talking about all things geeky on Twitter as @miniktty.