There's nothing better than curling up and reading a good book. As the nights draw in and fall blesses us all with its cool and shady presence, it's the perfect time to thrill and chill yourself with some radical reads. To help you out, we've picked 13 of our most anticipated titles as well as three iconic classics that will get you in the Halloween mood.
The Tenth Girl by Sara Faring
Macmillan
The Vaccaro School is an academy steeped in mystery. The strange Argentinian finishing school is the setting for Faring's haunting YA adventure and it's the perfect read for a cold fall evening. Mavi is our heroine as she tries to uncover the secrets of her new home against the backdrop of 1970s South America. This is a spooky and mind-bending thriller that will leave you thinking about it far after you turn the last page.
Available Sept 24
Into the Crooked Place by Alexandra Christo
Macmillan
If you've read To Kill a Kingdom then this will already be high on your list of must-read fall books. Christo returns to the YA realm with this gritty magical crime thriller about a world where you have to have street smarts and spells up your sleeve to survive. Following a group of young survivors who are brought together by chance to save the world that they love and maybe, if it doesn't get destroyed by dark magic, make it a better place for everyone.
Available October 8
Slay by Brittney Morris
Simon Pulse
You've never read another book like Slay and that statement is a testament to the power of Morris' debut. Kiera Johnson is an honors student who just happens to be the developer of an incredibly popular and completely secret Multiplayer Online Role-Playing Card Game called Slay. Slay offers up a space for Black gamers; when a player is killed in a dispute over the game, Kiera's life is turned upside down as she has to fight for the world she's created.
Available Sept 24
The Monster of Elendhaven by Jennifer Giesbrecht
Tor
If you're looking for a terrifying Gothic thriller, then make sure you pick up this horrifying offering from Giesbrecht. In the desolate seaside town of Elendhaven, a monster stalks the streets hungry for the taste of death. The haunting figure isn't the only danger to the mortal world though as a secretive world of magic and monsters threatens the very fabric of life as we know it. This chilling treat will get you in the perfect mood for the spookiest season of the year!
Available September 24
The Twisted Ones by Ursula Vernon (writing as T. Kingfisher)
Gallery/Saga Press
When Mouse's grandmother dies, she takes up her dad's offer to clean up her old house. It seems like it'll be simple enough, but the echoing home in North Carolina holds secrets. As Mouse battles her way through the belongings of the deceased hoarder, she finds a journal that hints at some otherworldly horrors Mouse can't quite believe until she starts to experience some of the same things herself.
Available October 1
The Bone Houses by Emily Lloyd-Jones
Little Brown Books
Aderyn comes from a family of gravediggers and business is rough. That might have something to do with the fact that in the small village of Colbren, the dead don't always stay dead. The zombie-like creatures are known as Bone Houses; according to local legend, they're a symptom of an age-old curse. But when a young mapmaker called Ellis turns up in town, the attacks worsen and the newcomer has to team up with Aderyn to break the curse.
Available September 24
A Lush and Seething Hell by John Hornor Jacobs
Harper Voyager
This new book, from acclaimed horror author John Hornor Jacobs, brings together his lauded novella The Sea Dreams It Is the Sky and an all-new short novel My Heart Struck Sorrow. The first of the two haunting stories examines life under a South American dictatorship through the gaze of a young woman and the story of an author who drives himself mad trying to translate a mysterious text. In the second, a librarian uncovers a recording that may have been created by the devil himself.
Available October 8
Imaginary Friend by Stephen Chobsky
Grand Central Publishing
Twenty years after the release of his seminal young adult novel The Perks of Being a Wallflower, Chobsky returns with a literary horror novel that plays with a universal childhood experience: having an imaginary friend. Kate and her son Christopher are on the run, but when they settle in the tight-knit town of Mill Grove, things seem to be looking up… that is, until Chris goes missing and returns six days later with a voice in his head and a mission to build a treehouse in the woods by Christmas or everything he knows and loves could be in danger.
Available October 1
The Furies by Katie Lowe
Macmillan
This is the perfect pick for fans of The Craft as Lowe's creepily intense debut is a '90s set witch horror that will shock and stun you at every turn. The Furies begins with a murder staged to look like art, a young recently deceased woman in a white dress sits on a swing. A year earlier Violet walks through the door of Elm Hollow Academy an elite all-girls school haunted by a past steeped in violent witch trials. She's quickly swept up in a close-knit group of girls and their enigmatic art teacher who has a passion for the occult as the bodies start to rack up, Violet begins to wonder who she can trust and what she's gotten herself into.
Available October 8
The Institute by Steven King
Scribner
Would it be Halloween without Stephen King? Well, luckily the prolific writer has released a new book just in time and it sounds like a horror-tinged take on the X-Men. When Luke's parents are murdered he is kidnapped and wakes up in a terrifying medical facility where children with strange powers are tortured and controlled. Can Luke and his fellow patients beat the evil director before they're all carted off to the "Back Half" you'll have to pick up this thrilling tale to find out.
Available now!
Life Is Short and Then You Die by Mystery Writers of America
Imprint
This is the first anthology from the Mystery Writers of America and collects stories from authors including Barry Lyga, Caleb Roehrig, Emmy Laybourne, Jonathan Maberry, R.L. Stine, Rachel Vincent, Y.S. Lee, and more. Each short murder mystery presents a new take on the firsts that we all go through in life with a little bit of added death and deceit for good measure!
Available now!
Remember Me by Chelsea Bobulski
Feiwel and Friends
Nell has spent her life moving around and when she ends up in an old hotel she thinks that it's just business as usual. That is until Nell's horrifying visions quickly make her realizes that she might have a connection to the crumbling building and a brutal murder that happened within its walls. With the help of a mysterious bellboy, Nell has to take on her nightmarish more home to discover the truth about the Winslow Grand Hotel and herself.
Available now!
And now for some classic chillers for you to enjoy…
The Graveyard Apartment by Mariko Koike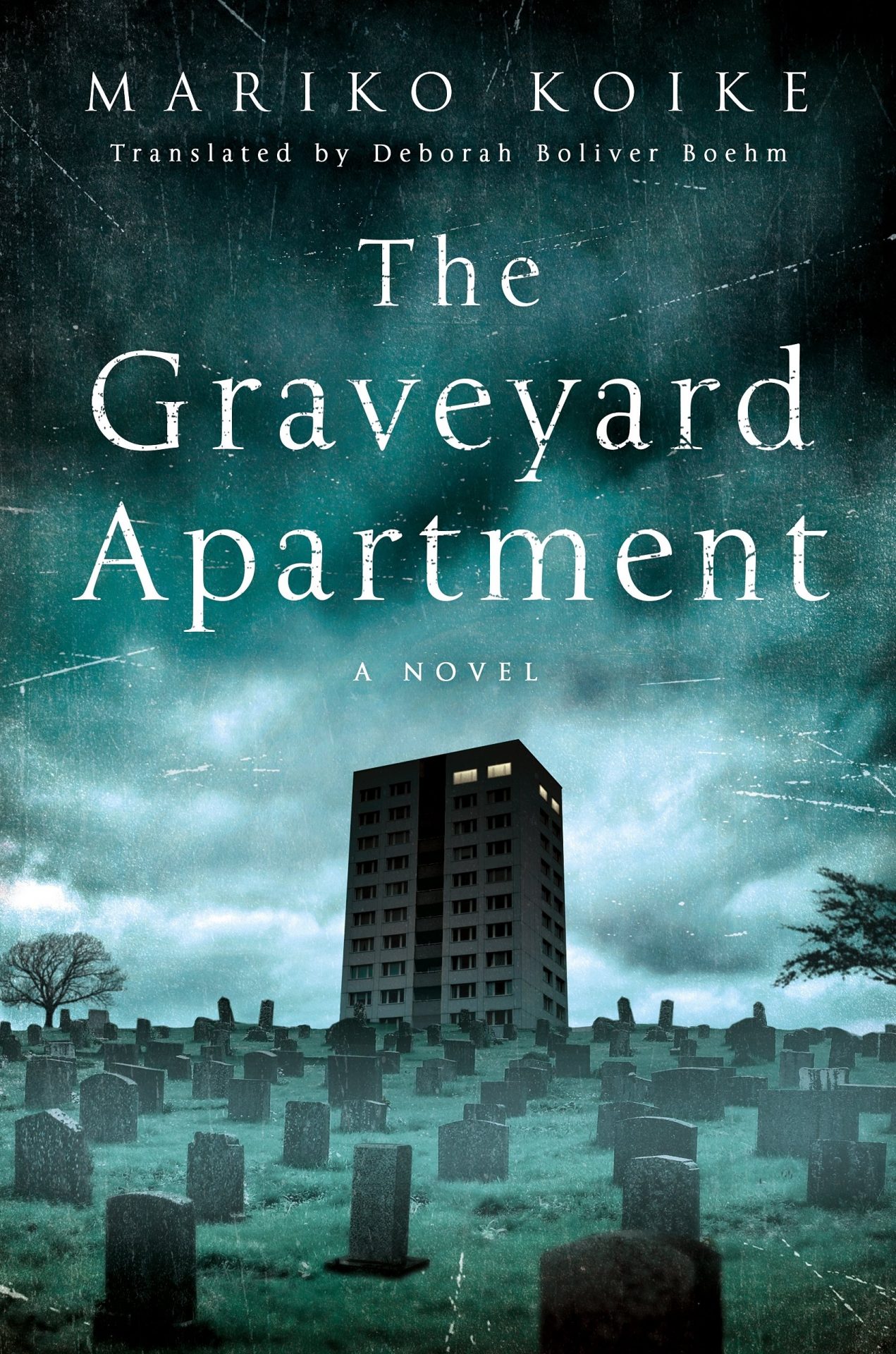 Thomas Dunne Books
One of Japan's foremost horror writers Koike's most well-known book is this searingly spooky ghost story about a young family who move into a dreamy apt block. Once there the family finds themselves trapped in a nightmarish battle for their home and lives against a malevolent power that dwells in the basement of the titular housing development.
Beloved by Tony Morrison
Knopf Doubleday
Morrison's harrowing ghost story about the horrors of slavery and the devastation of trauma is nothing less than stunning but go in ready to be ruined as this is not for the faint of heart. The story follows Sethe and her daughter Denver, both women recently escaped from the grips of slavery, they are not alone though as it seems that they're being haunted. Brutal and beautiful this is a must read for any fan of horror, literature, history, or brilliant books.
Fledgling by Octavia Butler
Grand Central Publishing
Butler is nothing less than a master when it comes to haunting, vital speculative fiction. This is one of her most horrific offerings that centers on a 53-year-old vampire coming to terms with the reality of their new lifestyle in the body of a young girl. A story about fear, family, and finding your people that also happens to be a killer vampire story Fledgling is a classic for a reason.
Featured Image: Little Brown Books/Simon Pulse/Macmillan