Listen, one day, you're feasting on honey in the Hundred Acre Woods, going on wholesome adventures with your best friends. And the next day, you're a horror movie monster. It could happen to any Disney character. Actually, it couldn't. But on the rare occasions that Disney characters end up in the public domain like Winnie the Pooh now has, it definitely will happen. And honestly, we welcome it. Seeing Winnie the Pooh starring in his own horror movie is amazing. Seeing the iconic bear reimagined as a nightmarish slasher monster speaks to a delightfully imaginative spirit that really inspires us. Winnie the Pooh: Blood and Honey is going to be just great, we know it. And we can't wait to see it in theaters… And its sequel, when it comes.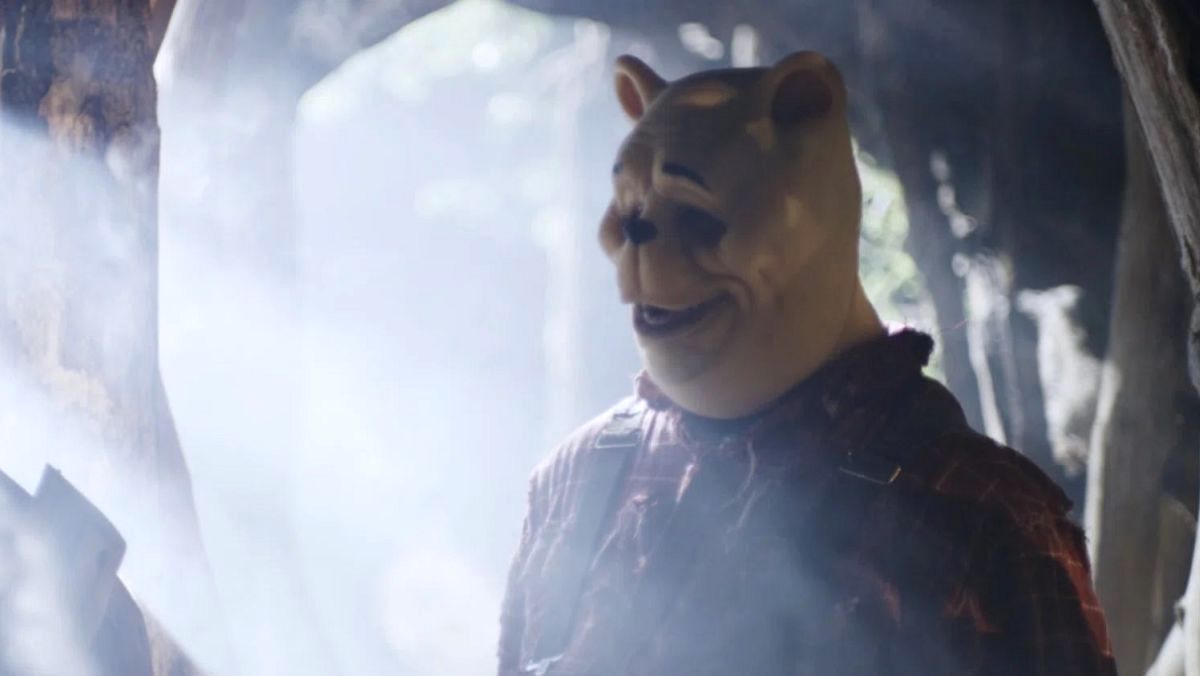 A Winnie the Pooh Horror Movie Sequel Is Officially a Go
That's right, the first Winnie the Pooh: Blood and Honey hasn't actually released yet, but Winnie the Pooh: Blood and Honey 2 is officially on the way. It even has a poster.
More blood. More honey. And friends gathering to take revenge. That certainly sounds ominous, but its sweet news to our ears. Sounds like we may get to meet even more denizens of the Hundred Acre Wood. We hope this doesn't spell Pooh's doom, though. It would not feel the same without him.
Winnie the Pooh: Blood and Honey in Theaters
Yes, Winnie the Pooh: Blood and Honey will officially head to the big screen. According to The Hollywood Reporter, Fathom Events will bring this Winnie the Pooh horror movie to U.S. theaters. Additionally, it will release on the big screen in the U.K., Mexico, and Canada. Winnie the Pooh: Blood and Honey was only slated to release in theaters for one day, on February 15. But now its theatrical run has been extended to over a week. Tickets are available from 2/15-2/23. That's quite the opening play for an indie horror movie about a scary bear.
You can check out the trailer for the Winnie the Pooh horror movie here.
About the Winnie the Pooh: Blood and Honey Horror Movie
Here's what we know about this horror take on Winnie the Pooh. According to its IMDb page, the movie "follows Pooh and Piglet as they go on a rampage after Christopher Robin abandons them." Additionally, it adds "A horror retelling of the famous legend of Winnie the Poo." We aren't sure if "Poo" vs. "Pooh" is intentional here. But we suppose Winnie the Poo could be the horror moniker of our famous bear.
Honestly, breaking a strong friendship like that could induce murderous intent in anyone. And Winnie the Pooh, Piglet, and Christopher Robin share a very intense bond. On the topic of our favorite pig, Piglet has definitely also seen better days.
Speaking to Variety, director Rhys Waterfield shares that Winnie the Pooh: Blood and Honey features Pooh and Piglet as "the main villains…going on a rampage" According to Variety, "They've been abandoned by a college-bound Christopher Robin." Waterfield notes, "Christopher Robin is pulled away from them, and he's not [given] them food, it's made Pooh and Piglet's life quite difficult. Because they've had to fend for themselves so much, they've essentially become feral. So they've gone back to their animal roots. They're no longer tame: they're like a vicious bear and pig who want to go around and try and find prey."
We honestly still can't tell if Winnie the Pooh: Blood and Honey presents us with supernaturally evil versions of Winnie and Piglet or if we're just seeing terrible men in masks. We kind of lean toward the fact we're supposed to read Winnie and Piglet as animals, but it's hard to say for sure.
Regardless, we assume whatever vacation our obviously-human leads had planned in the Hundred Acre Wood is about to go very badly for them.
Winnie the Pooh Blood and Honey's Cast
Amber Doig-Thorne, Maria Taylor, and Danielle Ronald star in this Winnie the Pooh horror movie. Additional characters have names like "mauled woman" and "caged man," so that's exciting. We do enjoy this predominantly woman-filled cast. And hope that these ladies show horror Winnie the Pooh and Piglet what's what.
And it sounds like we can expect to see this movie sooner rather than later. Waterfield shares, "Because of all the press and stuff, we're just going to start expediting the edit and getting it through post-production as fast as we can. But also, making sure it's still good. It's gonna be a high priority."
For now, it sounds like we'll only see the horror versions of Winnie the Pooh and Piglet. Variety shares that "Tigger, will not appear" in Winnie the Pooh: Blood and Honey, "although there is a scene featuring Eeyore's tombstone, the miserable donkey having been eaten by a starving Pooh and Piglet."
Honestly, we can't wait.
Originally published on May 26, 2022.