The Fresh Prince of Bel-Air is getting a dramatic reboot. But whether it's fantastic or makes us want to move cross country to get away from it, there's nothing the new series can do to tarnish the greatness of the original NBC sitcom. It remains one of the best in television history. The show was funny, touching, and smart. And it featured one of the best casts on TV. It's why we can't wait to see them get together in HBO Max's upcoming reunion, which Will Smith has now shared the first two photos from. It's going to be everything we want, including something we never expected to see
Because after decades of silence between them, the original Aunt Viv is back.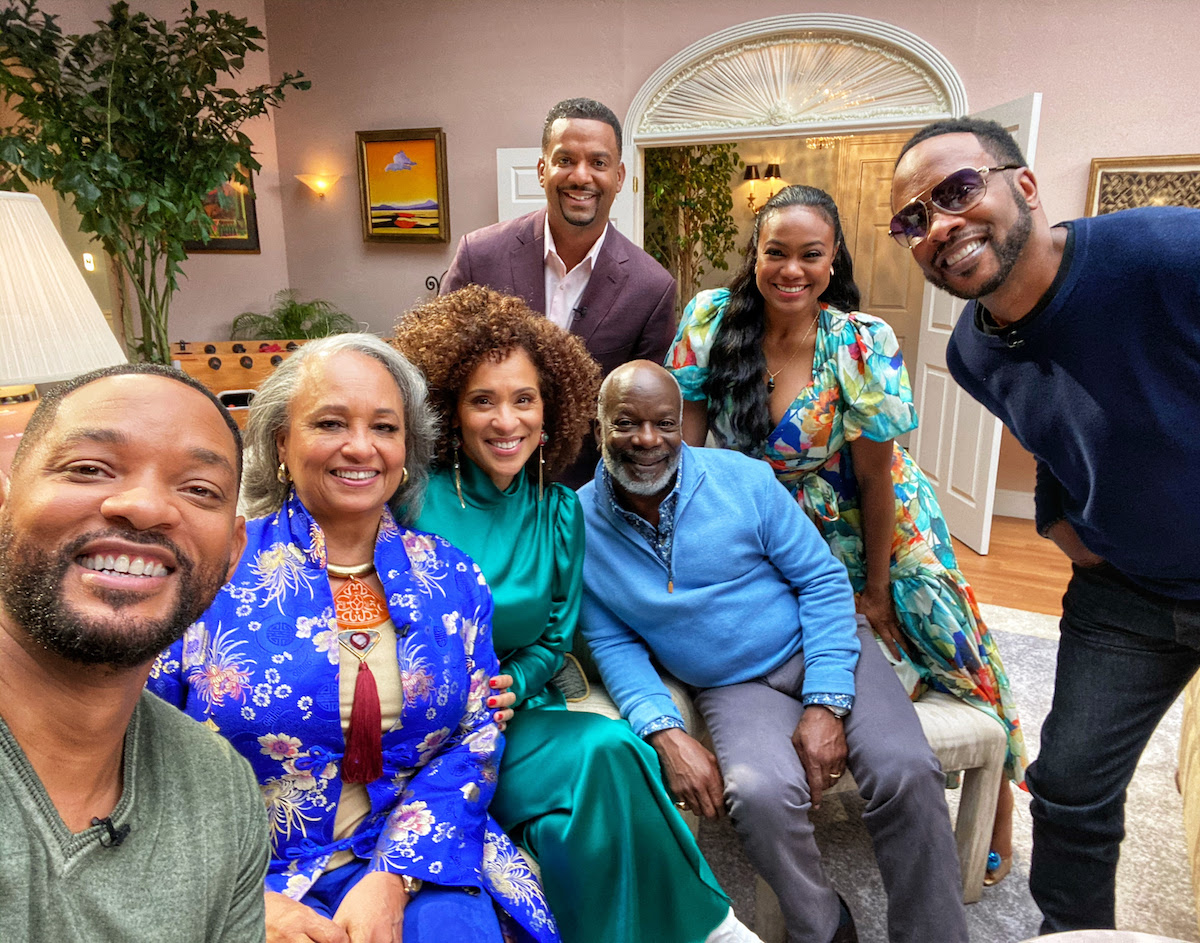 Will Smith/ HBO Max
Smith shared two images from the Fresh Prince of Bel-Air reunion. It taped on September 10, the show's 30th anniversary. Tatyana Ali, Karyn Parsons, Joseph Marcell, Daphne Maxwell Reid, Alfonso Ribeiro, and DJ Jazzy Jeff all joined the show's star for the special. (Sadly the great James Avery who played Uncle Phil passed away in 2014.) They recently held a virtual reunion, but this time they all got together in the same room. But not just any room. The television family gathering took place in the Banks' own "home."
But the big news, that Smith surprised even his fellow castmembers with, is that the day before he sat down with Janet Hubert. She was the original Aunt Viv on the show, but left after three seasons. Daphne Maxwell Reid replaced her in the role. This is the first time in 27 years the two have spoken, and HBO Max says it was "an emotional reunion and a candid conversation." It's a meeting that always seemed like an impossibility. The two have said some pretty harsh things about one another in the press. It's great to see they finally overcame their issues though for this reunion. Fans have long waited to see them reconcile.
Will Smith/HBO Max
HBO Max says the special, which will air sometime around Thanksgiving, will be "a funny and heartfelt night full of music, dancing, and more special surprise guests, in honor of the series that ran for six seasons and 148 episodes."
We won't exactly be mad if Will Smith shares a few more photos until then.
Featured Image: Will Smith/HBO Max