Each week on Twitch and Alpha, hosts Erika Ishii and Trisha Hershberger talk video games with special industry guests, insightful coverage and a ton of audience interaction on our show Game Engine. Be sure to tune in every Tuesday starting at 4 PM PT to learn about what's new and cool in the world of video games.
Telltale Games produce some of my favorite 'Choose Your Own Adventure' style video games. Their ability to weave stories and provide a wide variety of branching paths makes player choice very crucial to your experience. Ever major choice can have deep ramifications on which story you get to enjoy. Their latest title Batman: The Enemy Within is the second Batman title in their line and is touted as the branchiest game to date. As the last chapter is looming on the horizon (releasing March 27th), I spoke with the Season Lead Director Kent Mudle to learn more about the thoughts that went into creating such a complex storyline.
My advice? Always grapple away.
Stories can be difficult to tell and deciding what will become a branch vs what you want every player to experience takes a deft hand as Kent can attest to. "It's a tricky balance to tell a story with good pacing, build up, and twists, while at the same time offering players enough choice in how it unfolds. We try to predict moments players will have strong feelings about and target those as places where they can change the outcome. We aim to make enough endings that everyone can play Batman in a way that respects how they see Gotham's savior."
According to Kent, crafting your custom Bruce Wayne is key to the story, "…Letting players shape their Batman is the most important element of the choices we've designed. There's a spectrum of Batmans, from the kinder Caped Crusader that works to reform his enemies to the Dark Knight that condemns all criminals with the same contempt. Which way he swings is entirely up to the player." When playing the game I often had my Batman/Bruce Wayne go with the more caring and emotional choices; showing concern over Alfred, allowing people to become closer to me, letting them in on my secrets. This could potentially blow up in my face, but having the ability to choose a more emphatic Batman, let me feel more like this was my story, but Batman isn't the only character that you can feel ownership of.
As Batman and Bruce interact with John Doe (the young man Bats befriends within Arkham Asylum that is totally not the Joker oh no siree – just ignore the green hair and purple suit), you begin to feel like maybe you can change him. You question what would happen to the story of Batman if the Joker never came to be. Kent points to this as one of the largest differences you can push in the game. "The other character relationships change and adapt to your play style as well, but the narrative weight of The Joker means that if he's different, the entire story around him is different. Better be careful with how you treat your old pal John Doe!"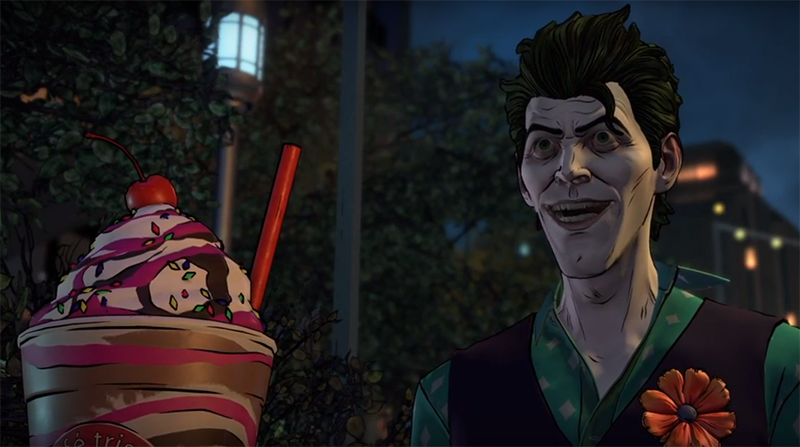 Kent added, "Also fun to note: in a commitment to respecting player choice, the team often has branches they believe in and keep even when only a small amount of players will experience that content. For example, players are given multiple chances to divulge their superhero identity to Lucius's daughter, Tiffany Fox, but are never forced to do so. This branches her story fairly dramatically — including multiple possible outcomes for her character in the finale — despite the fact that the majority of players chose to tell Tiffany that Bruce is Batman."
Having finished chapter 4, I am chomping at the bit to see how every decision I made plays out in the final chapter. Will John Doe take on the mantle of the Joker or possibly become something new? Will Tiffany be the next Robin? Will Catwoman settle down and become a Cat Lady? There are so many elements to consider and according to Kent, Telltale saved the best for last. "The finale contains, with no exaggeration, easily some of my favorite scenes and moments in anything I've ever directed — and maybe any Telltale game in general. I'll give a special shout-out to the action scenes (created in tandem with our friends at LBP Stunts Chicago), which have been fantastic all season but are at their most intense and exciting in Same Stitch. Each Joker gets his own unique climactic action sequence, and both are unlike any battles a Batman fan has seen before."
Kent also says there are a few other moments for us to get excited for, "There's a particular "dinner" scene in one of the branches of episode five that I anticipate being a big fan favorite. It's an absolute pressure cooker of all your favorite faces, and I can't wait to see players squirm and laugh and scream all at the same time. As already seen in some of the screens we've released, there's a moment with The Agency's Amanda Waller that I think fans have been waiting for since she bulldozed her way into Gotham, and as interactions with The Wall go, it's a particularly fantastic one. She's been one of my favorite characters all season, and seeing the climax of her arc is deeply satisfying. Debra Wilson gives another incredible performance, and her voice inspired the animators to create some truly impressive displays of sass."
"And here's a sort of hint at an easter egg: one of the branches contains a moment where you're just hanging out in an alley, and Joker talks with another character in the background. Just chill a while there. He says some hilarious things. That entire scene is a quiet moment where we get to slow down and feel human before getting back into the swing of the drama. Scenes like that make this a special kind of Batman story."
The game so far has been fantastic and I really hope that Telltale will continue to create Batman games in the version of the lore we create (as complicated as that might be). According to Kent, "Can't say what the future holds, but everyone at Telltale has greatly enjoyed their time in Gotham City. It's been an honor to be trusted with such beloved characters and to give them our own spin, making a story that we hope Batman fans will remember for years to come." If you love Telltale games and haven't checked Batman: The Enemy Within out yet, you need to rectify that. Learn more about the game and the upcoming final chapter at Telltale.com
What do you think will happen with the Joker in the last chapter? What are your favorite moments from Batman: The Enemy Within? Let us know in the comments below and be sure to check out Game Engine (on Twitch and Alpha Tuesdays at 4 PM Pacific) to learn more about the coolest things in the world of games with Erika and Trisha.
Hailing from New York, Jessica Fisher is a writer, artist, and all around geek. In addition to Geek & Sundry, she writes for Gameosity.com and produces the Gameosity Reviews Youtube Channel. Find her talking about all things geeky on Twitter as @miniktty.
Image Credits: Telltale Games