Grifters. Scammers. Con artists. We call them a variety of things but it usually means one thing: bilking people—good or bad—out of some money. From planning to execution, scamming someone requires a certain calculation. It takes a certain kind of person to pull off a scam. And that's why we can't stop watching shows about them. Movies about scams, series about scams, documentaries about scams, scams have taken the streaming world by storm. There's so much scam content, in fact, people might be wondering, where can you stream all of it?
The Best Scam Series You Can Stream // The Best Scam Documentaries You Can Stream // The Best Scam Movies You Can Stream
From the shows about scam artists to stories where ambition descends into murky territory or actual fraud, every network wants in. These series are only the latest additions to the greater canon of scam content. Here's a smattering of TV shows, films, and documentaries to fully immerse yourself in all things scam.

The Best Scam Series and Where You Can Stream Them
Inventing Anna (2022)—Available to Watch on Netflix
When the Anna Delvey story first broke in a 2018 article in New York Magazine, it absolutely exploded, all but guaranteeing we'd one day see Delvey's—a.k.a. Anna Sorokin—story played out on-screen. In the end, Shondaland scooped up the rights to this scam series and launched it over at Netflix. Over the course of nine episodes, we see Anna—Russian-born but posing as a German heiress—finagle her way through the New York elite, racking up bills for others to pay for. And, of course, soliciting donations and investors for a non-existent arthouse club. Inventing Anna boasts a star-studded cast, with Ozark's Julia Garner as Delvey, Anna Chlumsky, Arian Moayed, Laverne Cox, and a slew of Shondaland regulars. Watch Inventing Anna on Netflix.
The Dropout (2022)—Available to Watch on Hulu
Elizabeth Holmes is a name few knew a decade ago. Now she's infamous. The Dropout , based on the podcast of the same name, stars Amanda Seyfried as Holmes, a one-time Silicon Valley wunderkind whose blood-testing kits were purported to change the world. Except they never worked. This scam-oriented series follows Holmes' rise and fall—from her dropping out of Stanford at 19 to start Theranos to her and company president Sunny Balwani's arrests for fraud. Watch The Dropout on Hulu.
WeCrashed (2022)—Available to Watch on Apple TV+
The story of embattled WeWork founder Adam Neumann isn't exactly a scam story in the traditional sense. (But don't worry, there are still some dubious financial shenanigans.) But it's part of the greater pantheon of high-profile start-up leaders whose antics almost bring the whole thing crashing down. And usually find themselves out of a job. Jared Leto and Anne Hathaway star in WeCrashed. The former is the eccentric co-founder of the famed co-working space, while the latter is Rebekah, Adam's wife—and Gwyneth Paltrow's cousin—who played a major role in the company. The scam-adjacent series follows WeWork's founding and meteoric rise to a $47 billion valuation to how the Neumanns nearly brought it all crashing down. Watch WeCrashed on Apple TV+.
Super Pumped (2022)—Available to Watch on ShowTime
The first season in this anthology series is The Battle for Uber. This story, again, isn't focused on a financial scam as much as it is one of an entrepreneur whose ambitions nearly imploded his company. However, there were reports that Uber engaged in some dubious tax schemes. Based on the book by Mike Isaac, Super Pumped: The Battle for Uber follows the rise and fall of Uber co-founder and CEO Travis Kalanick, played by Joseph Gordon-Levitt. The series follows Kalanick's rise and fall at Uber—including its tangles with Apple, toxic work environment, allegations of exploiting drivers, and a falling out with a major investor (who later sued the co-founder for fraud.) Watch Super Pumped on Showtime.

The Best Scam Documentaries and Where You Can Stream Them
Enron: The Smartest Guys in the Room (2005)—Available to Watch on Tubi
This scam-related documentary delves into Enron Corporation and a whole lot of financial crimes. Based on the 2001 book of the same name by Bethany McLean and Peter Elkind, the documentary delves into the energy company, which went down in flames the same year after its baffling accounting fraud was exposed. The documentary features interviews with McLean and Elkind, several former Enron employees, and even former governor Gray Davis. It even delves into Enron's role in the California electricity crisis as a crucial player in creating the energy-supply gap that led to the crisis. It remains one of the most complex white collar crime cases in US history. Enron: The Smartest Guys in the Room is currently available on Tubi.
The Inventor (2019)—Available to Watch on HBO Max
Since 2018, Elizabeth Holmes and Theranos have been at the center of a book (from the Wall Street Journal reporter who broke the story), a podcast, a TV show based on the podcast, and a documentary. The 2019 documentary about the scam—the second on the list from Alex Gibney after Enron—details the rise and fall of Holmes and her allegedly groundbreaking biotechnology company. It features interviews with everyone from investors to journalists to the company's whistleblowers, one of whom was the grandson of a prolific major donor. The Inventor is currently streaming on HBO Max.
Fyre and Fyre Fraud (2019)—Available to Watch on Netflix/Hulu
What do Ja Rule, Kendall Jenner, and the Bahamas have in common? Fyre Festival, of course. The ill-fated music festival was so infamous, it was the subject of dueling 2019 documentaries, released within days of one another. Fyre Festival was supposed to be a luxurious music festival—Coachella on a dazzling Bahamian island. However, during its inaugural weekend, the festival more or less collapsed with all allegedly confirmed artists baking out, accommodations reduced to FEMA tents, and the now-iconic boxed cheese sandwich. As these documentaries point out, the scam of a festival was a disaster from the jump, despite its hit rapper as a co-founder and the promotions from the likes of Jenner and Bella Hadid. Co-founder Billy McFarland was later convicted of wire fraud and sentenced to prison.
While co-founder Ja Rule never faced criminal charges, he and McFarland were sued for defrauding ticket holders. Fyre is streaming on Netflix while Fyre Fraud is streaming on Hulu.
Tinder Swindler (2022)—Available to Watch on Netflix
As one of the biggest streaming companies on the globe, Netflix is forever churning out new content. It does so at an incredibly rapid rate, often looking for the next big thing to take social media by storm. Taking viewers' love of true crime and scams, the streaming platform is full of documentaries of those up to no good. Most recently, there's Tinder Swindler, in which an alleged con man scammed women he met on a dating app out of millions. The swindler himself, Simon Leviev a.k.a. Shimon Hayut has previously been convicted twice of fraud and is being sued by the actual Levievs, but maintains he is legit and not a known scammer. Tinder Swindler is currently streaming on Netflix.

The Best Scam Movies and Where You Can Stream Them
Dirty Rotten Scoundrels (1988)—Available to Watch on HBO Max
The odd couple con man scheme is a popular one in film but Dirty Rotten Scoundrel did it best. (The film, itself a remake of the 1964 film Bedtime Story, was remade into the gender-swapped 2019 film called The Hustle.) Steve Martin and Michael Caine star as a pair of con men, with very different grifter styles, competing to swindle wealthy women out of their money in the French Riviera. The two pull their cons while a mysterious grifter, called The Jackal, looms in the background. This scam-oriented movie is obviously a whole lot of fun and in addition to Martin and Caine, the late Glenne Headly is simply brilliant in it. Watch Dirty Rotten Scoundrels on HBO Max.
Catch Me If You Can (2002)—Available to Watch on Paramount+
A cat and mouse game between con artist Leonardo DiCaprio and federal agent Tom Hanks, this movie is early 2000s perfection. DiCaprio stars as Frank Abagnale Jr. a con artist in his late teens who allegedly pulls off posing as everything from a doctor to Pan Am pilot. All the while, Hanks' FBI agent is on the case. Whether Frank Abagnale Jr. actually pulled off the schemes he purports to in the autobiography the movie is based on is up for debate. But still, this movie is so much fun and boasts an excellent supporting cast that it doesn't even matter. (Although, lying about your cons to secure a book deal counts as a con, right?) Watch Catch Me If You Can on Paramount+.
The Wolf of Wall Street (2013)—Available to Watch on ShowTime
Another Leonardo DiCaprio joint, this time with Kyle Chandler on the case. Based on Jordan Belfort's memoir, the Martin Scorsese movie follows DiCaprio's Belfort and his brokerage firm as the company committed a litany of scams and financial crimes, including securities fraud and money laundering. The movie is audacious, brash, and features a truly bonkers Jonah Hill as Belfort's partner, Donnie Azoff. Watch The Wolf of Wall Street on ShowTime.
The Wizard of Lies (2017)—Available to Watch on HBO Max
In the world of modern scammers and grifters, Bernie Madoff is still one of the most notorious names. The financier ran one of the largest Ponzi schemes in US history, worth a staggering $64.8 billion. He operated it for at least sixteen years before his 2008 arrest. Robert De Niro plays Madoff in Wizard of Lies, with Michelle Pfeiffer as his wife, Ruth. The movie follows Madoff through the mid-2000s until the scandal breaks, when his sons turn him into the FBI, and the fallout of his scams that comes afterwards. Watch it on HBO Max.
I Care a Lot (2020)—Available to Watch on Netflix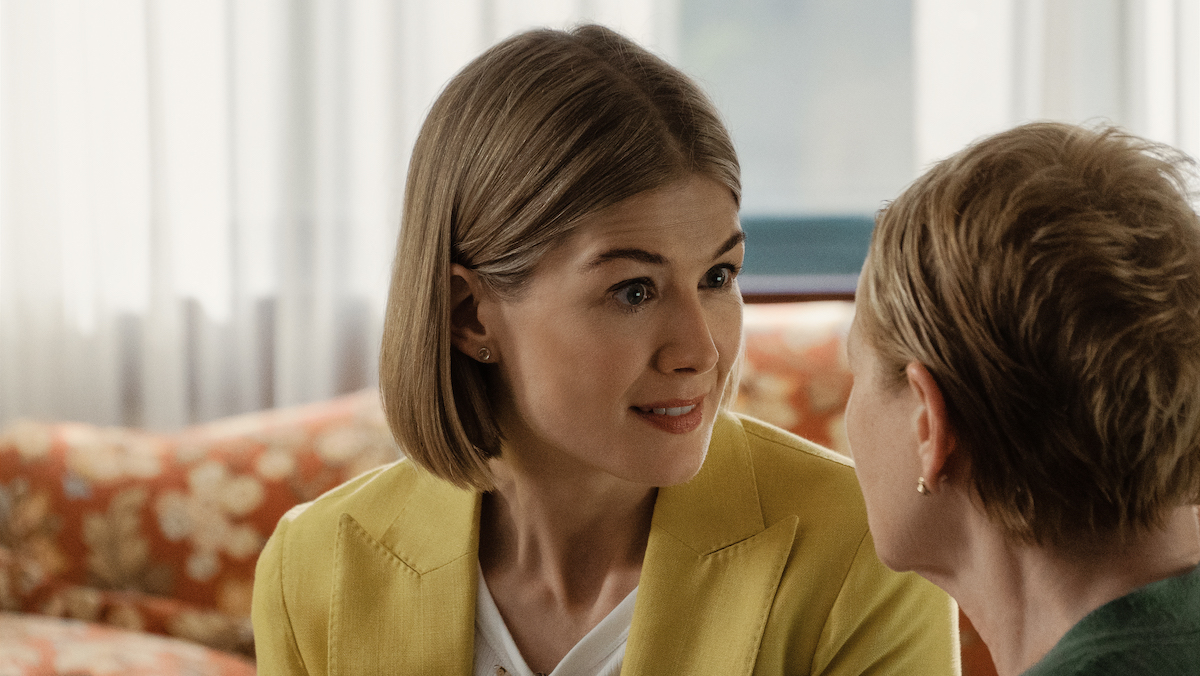 Thanks to the Britney Spears case, more people than ever are vaguely aware of court-appointed guardianships—when they're necessary and how often they're abused. I Care a Lot stars Rosamund Pike as a con artist who uses her role as a court-appointed guardian to steal from the elderly people in her care. That is, until she steals from the mom of a gangster, and all hell breaks loose. The black comedy boasts a pretty stacked supporting cast, including Peter Dinklage, Eiza Gonzalez, Chris Messina, and Dianne Wiest. Watch this scam movie on Netflix.
Stream the Scams
It seems like streaming scam content exploded onto the scene in early 2022. Like other trends, we're sure the glut of scam-related series, movies, and documentaries may die down a little going forward. But it seems like there's something universally interesting about the scam that keeps viewers captivated. In fact, it seems like almost every streaming platform became involved with the idea of the scam. Whether we'll see more scam shows, movies, and documentaries on the horizon, it's hard to say. But for now, we definitely have enough scams to keep us watching for a while.
The Best Scam Series You Can Stream // The Best Scam Documentaries You Can Stream // The Best Scam Movies You Can Stream