Henry Selick's Wendell & Wild brings the enduring artform of stop-motion animation to Netflix. The film's story follows Kat, a teenager who becomes a Hell Maiden for two not-so-terrible demons. She's a punk rock Black girl who needs to face her past. Wendell & Wild is a highly-anticipated film for many reasons besides the power of Selick's name in the animation space. Majority of the main characters are Black, Latinx, and Asian with a stellar voice cast including Jordan Peele, Keegan-Michael Key, Lyric Ross, Angela Bassett, and Ving Rhames, among others. Peele also co-wrote the screenplay alongside Selick and is an executive producer. And, the film's glorious soundtrack is one for the ages with a host of Black punk musicians. It seemed destined to be a delight and, reader, it indeed holds up to many of those great expectations.
While the film may be called Wendell & Wild, this is undoubtedly Kat Elliot's (Lyric Ross) journey of acceptance, forgiveness, and empowerment. Her life has been a series of unfortunate events since early childhood. She witnessed her parents' deaths, which led to a downward spiral towards a moment of justified anger that lands her into legal trouble. She returns to her hometown of Rust Bank to discover that it is, like her, no longer a spark of joy.
As her story unfolds, we find that underneath her steel exterior (complete with some killer style choices) she's been going through some serious PTSD. And, like any teen girl, she just wants her parents back and for life to be happy again. Kat inadvertently finds herself in the crosshairs of Wendell and Wild, voiced by Key and Peele respectively. The scheming brothers want to use their new Hell Maiden to summon them to the Land of the Living.
They are tired of the Underworld and hope to start their "Dream Faire" and get rich. Of course, they play on Kat's desire for fulfilling happiness. But as she learns more about nefarious plans for Rust Bank and puts a mirror to her past, she finds her way towards forgiving herself and accessing her inner power. It's a lovely character arc for someone that viewers will want to root for… and put into a protective bubble. There's a bit of Kat in all of us. whether we are constantly blaming ourselves for past things that were beyond our control or putting up barriers around ourselves in hopes that others won't see us.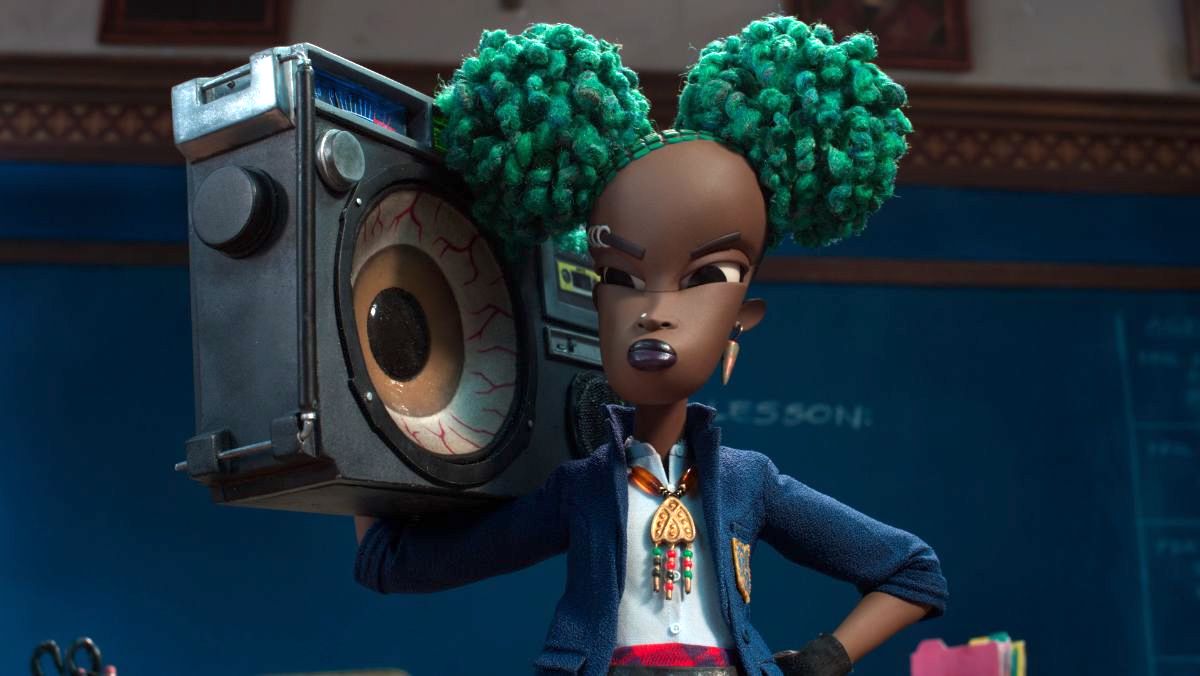 Thematically, there is a lot of focus on the coexistence of beauty and pain. The manifestation of emotional trauma through physical forms and true evil appear in alternate forms. How putting a figurative Band-Aid on our woes or shortcutting our way towards healing ultimately doesn't work on our behalf. We have pull it back, put our eyes on those festering, ugly scars, face truths, and feel them because there's beauty in healing. The concept of embracing our shadows, whether their source is internal or exterior, to find wholeness is a truly beautiful message in the midst of this odd world. The town of Rust Bank is itself a character, battered by trauma and pain yet showing glimmers of gorgeous potential.
Wendell & Wild does have a lot to say about several relevant social woes. And boy does it push to make all of that commentary connect. While some of it seamlessly weaves into the story, others suggest that there's way to much to properly chew. Its runtime is not particularly long at 105 minutes; however, those extraneous subplots and filler characters take up space from those we care about the most.
This includes Wendell and Wild themselves. Of course, Keegan-Michael Key and Jordan Peele are delightful as two bumbling demons with zero dollars and a big dream. But it would have been lovely to see more of the vision for that faire seeded throughout the story. Nevertheless, it is so easy to get caught up in its spooky, almost dreamlike settings. You'll wonder about things unseen and what is next for Kat, Raoul, and this special town of people.
The abundance of ideas aside, Wendell & Wild proves that Selick is still undoubtedly the king of stop-motion. He staunchly leans into the artform's classic imperfectness over today's offerings that often sacrifice storytelling and worldbuilding in favor of visuals. The film takes the dark yet wacky aesthetic appeal from Selick's Coraline and The Nightmare Before Christmas and expands it. The music, especially the inclusion of X-Ray Spex, and how it mirrors Kat's ongoing journey is an all-around win.
Heartbreaking, odd, uplifting, and wonderfully whimsical, Wendell & Wild will find a special place in stop-motion lovers' hearts. The film will hit Netflix on October 28.