WandaVision is here! The MCU's first Disney+ series is finally available for streaming audiences and we couldn't be more thrilled. We've known for a while that the series is a pastiche of vintage sitcoms, but we don't really know why. There are some clues in the first two episodes as to what's going on, but nothing definitive. Why are Wanda Maximoff and her robotic lover Vision (who is technically dead) trapped in this strange alternate reality where their lives mimic shows like I Love Lucy and The Brady Bunch? We'll have to stay tuned to find out.
But in the meantime, we're so happy the show is creating interest for these important vintage sitcoms. WandaVision contains tons of references to iconic TV series, from the aforementioned titles, to Bewitched and Leave It to Beaver and more. We clocked plenty of direct allusions in the first few episodes. And the door is open for even more to come. To celebrate these great WandaVision inspirations, we compiled this list of classic television series referenced in the show that you can stream online right now. There never was a better time to familiarize yourself with the shows that paved the way for modern TV.
Note: This list will be updated as more episodes of WandaVision air. And in case any of these contain spoilers for the show, we're stamping this with a warning up top.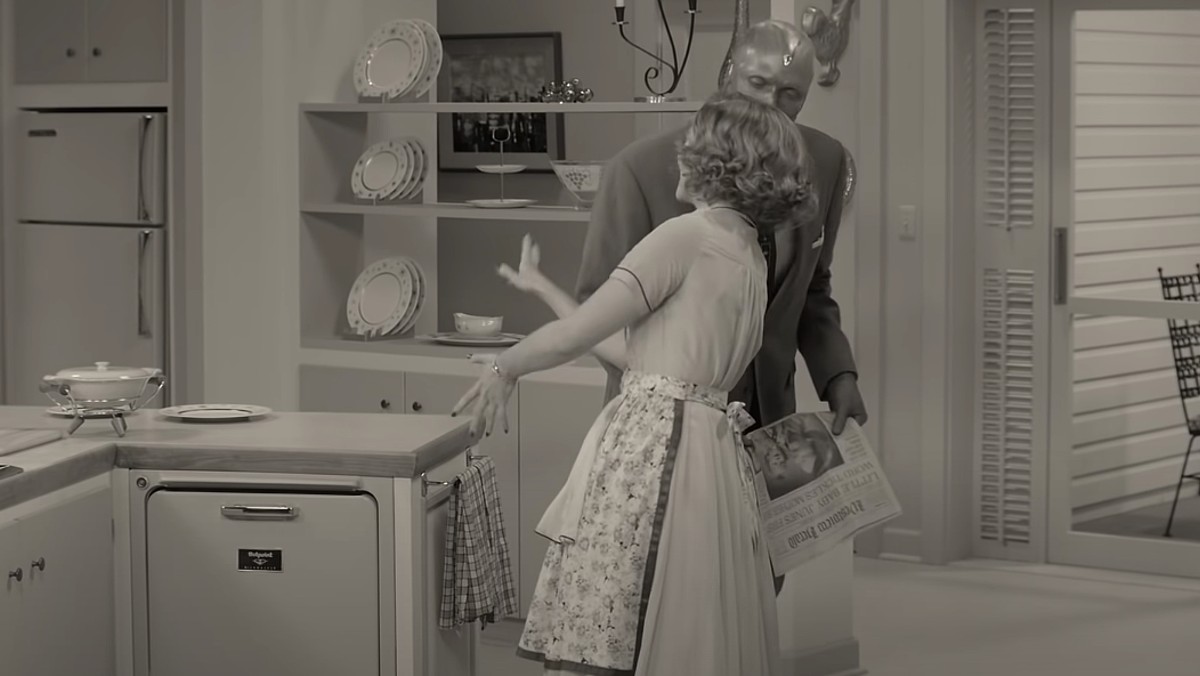 Marvel
The Dick Van Dyke Show
The creators of WandaVision haven't been shy about the influence of The Dick Van Dyke Show. After watching the initial episodes, we can see why. The Disney+ show features a number of references to this iconic and definitive series, which aired from 1961 to 1966. Luckily, if you're curious, the show—which yes, stars the eponymous American treasure, as well as Mary Tyler Moore—is available to stream in full in multiple places. If you're into Wanda and Vision's kitchen design, you'll want to pay close attention to this one.
I Love Lucy
This one may seem obvious, but yes, WandaVision absolutely alludes to I Love Lucy, another iconic family sitcom that aired from 1951 to 1957. The hijinks of episode one, involving Vision and his boss Mr. Hart, would feel completely at place in this series, which starred Lucille Ball and real-life husband Desi Arnaz. Their characters dealt with similar larger-than-life problems that were almost always resolved in similarly easy and hilarious manners. And once again, those kitchens have striking similarities.
Where to watch: CBS All-Access and Hulu
The Adventures of Ozzie & Harriet
This vintage series aired on ABC from 1952 until 1966, making it the longest-running live-action American sitcom ever. (Although It's Always Sunny in Philadelphia will soon steal its thunder.) Notably, Ozzie & Harriet originated on radio before making its way to TV. It told the wholesome story of real-life married couple Ozzie and Harriet Nelson, and also featured their sons, David and Ricky. It really solidified the black-and-white family aesthetic that WandaVision depicts in its opening episodes.
Where to watch: Amazon Prime with a Best TV Ever subscription
NBC
I Married Joan
The first episode of WandaVision depicts the titular couple arriving at their home in Westview. They're dressed in bride and groom apparel, which is reminiscent of the 1952 sitcom I Married Joan. The show starred Joan Davis as the scatterbrained wife of a community judge played by Jim Backus. It's another series that recalls squeaky-clean family life from decades ago. And though it's a little less famous than some other titles on this list, it's equally deserving of views.
Where to watch: Tubi and Amazon Prime with a Best TV Ever subscription
Marvel
Leave It to Beaver
Another very-obvious reference in WandaVision is Leave It to Beaver. You'll notice it in all of the plaid. And the black-and-white wholesomeness. Wanda even answers the phone, "Vision residence," which reminds us a lot of June's "Cleaver residence." The residential homes in Westview also remind us of Mayfield.
Where to watch: Peacock
Father Knows Best
This iconic sitcom also started on radio. It follows a family, led by patriarch Jim Anderson (Robert Young), who lives with his family in the Midwestern city of Springfield. As you can see from the video above, Father Knows Best was also host to eerie ads that resemble the weird Hydra commercials we see in WandaVision. If only they knew about cigarettes then what we know now.
Where to watch: Tubi, Crackle, and IMDb TV
ABC
Bewitched
This is probably the most fun reference on this list. The second episode of WandaVision really plays into the Bewitched comparisons. We see it in the costumes and visual cues. But we especially see it in the opening credits, which are 100% a direct allusion to the vintage series. The plot also bears a lot of resemblance to the Disney+ show; it follows a domestic couple, the wife of whom happens to be a witch.
Where to watch: Select episodes on Crackle
The Twilight Zone
While WandaVision is typically more occupied with family sitcoms, it also bears a striking resemblance to this CBS horror anthology series that aired from 1959 to 1964. The show has been rebooted many times through the years, but that iconic black-and-white version is the one we remember best. And the most relevant to WandaVision. Every time we move from peculiar happenings to close-ups on Elizabeth Olsen's face, we're reminded of this show, which played with our concept of reality.
Where to watch: Netflix
That's it for now, but come back next week for even more family sitcom suggestions. There's no shortage of them in WandaVision!