Underwater may pit star Kristen Stewart up against a terrifying deep sea foe, but the most terrifying moments of the sci-fi horror flick actually come from being trapped seven miles beneath surface level in a crumbling deep sea lab. The creepy flick inspired us to think back to some of the claustrophobic and spooky horror thrillers that have haunted our dreams since we first watched them.
Summit Entertainment
A parking garage might seem (literal) miles away from the underwater setting of the film that brought us here, but this chilling '00s gem is a perfect example of just how claustrophobic single-setting horror can be. Wes Bentley stars as a supremely gross security guard who traps Rachel Nichols' Angela in the titular parking structure and hunts her down as she tries to escape. The true horror here comes from the mundane setting and very real fear of being alone in an empty public space where someone else could easily take advantage of your isolation.
20th Century Fox
Alien very obviously inspired Underwater, and arguably influenced every other film that we've selected. Ridley Scott's searing space horror sets the crew of a commercial space ship against the H.R. Giger fever nightmare that is the Xenomorph. As the blood-chilling creature hunts down the crew one by one, only Sigourney Weaver's Ripley has a chance to stop them. Another reason to rewatch this classic is that Norah is very much modeled after Weaver's everywoman heroine.
Dimension Films
Ever wanted to laugh at people who are silly enough to go cage diving with random men they meet while on an exotic holiday? As well as actually experience some very legitimate scares? Then this Mandy Moore vehicle is for you. When sisters Kate and Lisa decide that they want to explore shark-infested waters, things quickly go horribly wrong as their cage crashes to the depths of the ocean and they have to deal with great whites and dwindling oxygen.
Pathé Distribution
Arguably the best example of a truly claustrophobic horror ever made, The Descent is a survival masterpiece with *cough* hidden depths *cough*. When a group of women meet up to go on a fun weekend trip of… spelunking… they get trapped in the cave system and realize very quickly that they aren't alone. If you can, try and find the original British release of the film and you'll get to enjoy a far darker ending that will leave you haunted long after the credits roll.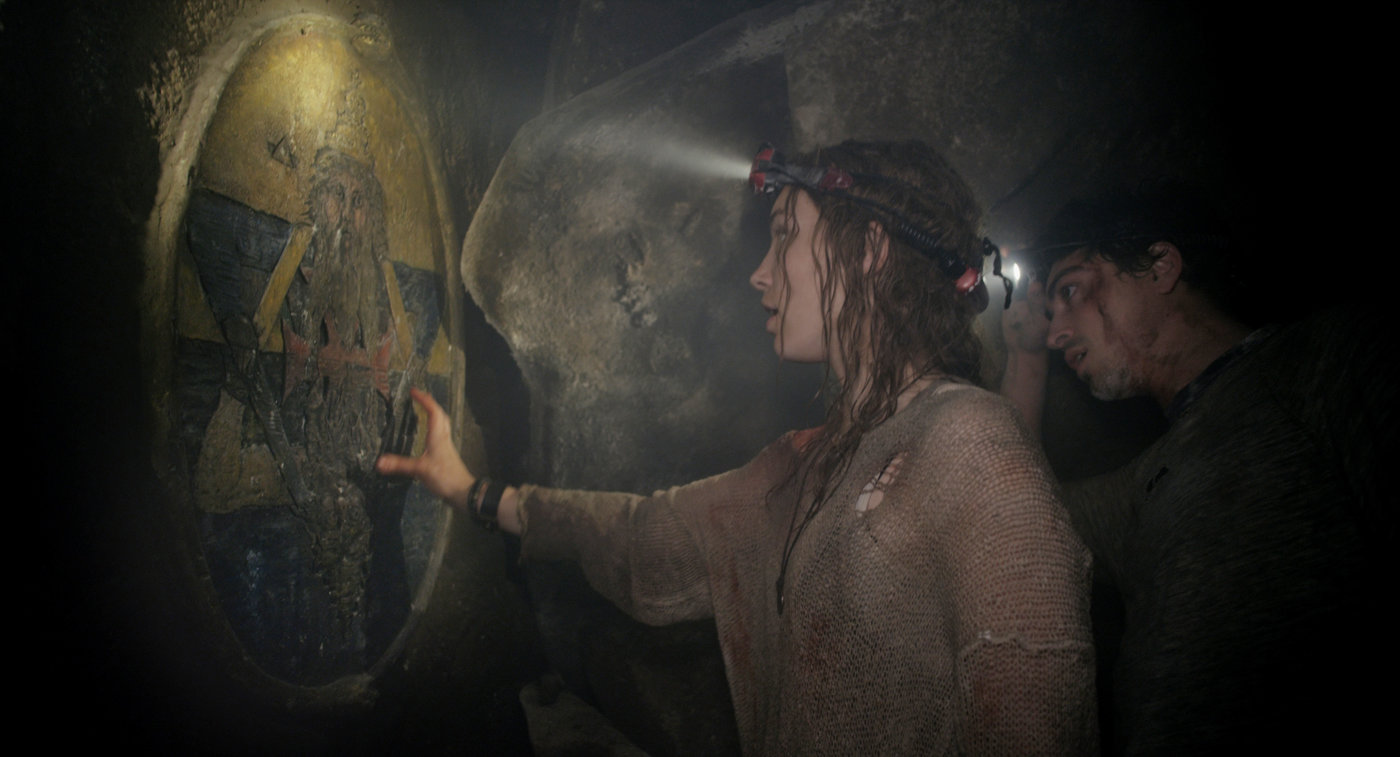 Universal Pictures
A fitting followup to The Descent, this Paris-set horror flick is arguably indebted to its British forebear. The film follows a group of urban explorers hunting the Philosopher's Stone who find a clue that leads them to the European metropolis. Shockingly, it turns out to be a terrible idea to head into the catacombs beneath the ancient city. Of course, there's more than unstable structural integrity to worry about as the spirits of Paris come out to play. Director John Erick Dowdle does an incredible job at showcasing just how oppressive and terrifying the catacombs are with the weight of the city dangling just overhead.
Nippon Columbia
Another atmospheric anime offering that is spookily similar to Alien, Roots Search centers on a group of of scientists who find a desolate space station with only one survivor. When they decide to bring the Captain back to their ship alongside an alien, they're forced to make a horrific decision. Roots Search definitely influenced Event Horizon with its haunting exploration of guilt, space ghosts, and nightmarish visions.
MGM Distribution Co.
As this very hot still showcases, Supernova sits somewhere between erotic thriller and space horror. In the film, a search and rescue team accidentally ends up in the path of a deep-space sociopath and the alien artifact he's smuggled on board. With an all star cast, some seriously scary visuals, and a raft of character actors doing the most, Supernova is a non-stop thrill ride that just happens to feature a whole lot of eye candy, and dimension-hopping shenanigans.
Dimension Films
This oft forgotten teen-horror (it was given wide release in Europe but went straight to video in the U.S.) features a killer turn from Thora Birch and an early role for Kiera Knightly as two members of a group of sprightly young people who head to an underground bunker for the best and most questionable weekend of their lives… and then, of course, one member of the group disappears. With food, water, and clean air running out, things soon go to hell in this saucy, scary, and silly take on Lord of the Flies.
Studio Pierrot
One of the most interesting and obvious Alien rip-offs that came out of the massive success of the '79 film, Lily C.A.T. takes pretty much all of the narrative beats of the Ridley Scott classic topped off with some very surreal additions. In case you hadn't guessed, the gorgeous if slightly derivative animated adventure centers on the minions of a huge corporation who want to survey planets for potential mining opportunities. After an accident, some mysterious matter gets set loose on the ship as the crew start dying of a mysterious infection. Throw in a little (or a lot) of The Thing and you're halfway to the horror and homage of Lily C.A.T.
Lionsgate
Ryan Reynolds headlines what might be the ultimate trapped room horror film in the form of Rodrigo Cortez's searing and unique take on war cinema. The premise: a truck driver awakens in a coffin with nothing but a lighter, mobile phone, flashlight, knife, and some other trinkets. We're thrown into a monumentally distressing two hours as Reynolds tries to work out how to survive and come to terms with the fact that he might not.
Feature Image: 20th Century Fox