We're counting down the days International Tabletop Day 2018, happening this year on April 28th! As we get closer to the big day, we'll be looking at the gamut of tabletop gaming, from the stories of the games we play to remarkable people who love them. Today we're looking at one of the tools to help gamers track their games. Be sure to join in on the fun on April 28th on our official ITTD Twitch Stream, hosted by Ivan van Norman and donate to charity:water, the worthy cause we're supporting this year.
One of the most frustrating things about playing tons of board games is keeping track of what you played and when. After a whirlwind convention or board game day, do you really remember what you played or who won? What was the name of that game you stomped everyone at? That's where Board Game Stats comes in.
This app is perfect for tracking where, when and what you played and the people you played with. If you're anything like my friends, there are charts and graphs to keep you happy. The basic app runs you $2.99 and is available through both the App Store and Google Play. One of the really cool features is that you can sync it to your BoardGameGeek (BGG) library and have it import all your games for you. Even if you forgo the sync, you can still have it pull up the correct version and picture of the game you are playing from BGG.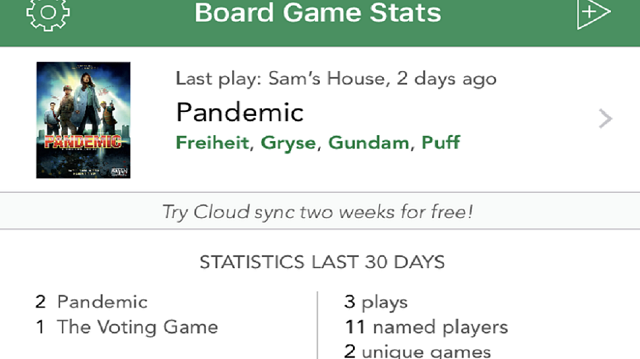 The overview screen shows you the most recent game you played at the top, along with where you played it, with whom, and how long ago it was. The next section down is you statistics for the last 30 days, year, and lifetime. The two charts under that break down which days of the week you play games and the number of players you played with.
There are four other sections to the app: Plays, Games, Players, and Locations.
Plays will show you a breakdown of the games you've played with the most recent at the top. It will also highlight the winner of the game in green bold so you have a quick reference.
Games shows you all of the games you've played (or own if you linked to your library). You can break this section down into Alphabetical, Recent Play, or Most Plays to get a better idea of what games need a bit more love or are a favorite of your group.
Players is where you keep track of your opponents. Just like Games, you can switch how the list is broken down.
Locations shows you where you've been playing. This will give you a pretty good idea of if the majority of your games are played at home or somewhere else. This is also handy if you can't remember what the name of the game is that you played at a certain convention because you can click on it and have it list all of the games you played there.
Starting a new game is super easy. You hit the triangle icon at the top of the screen, either select a game you already have or add a new one (if it's a new game you will have to tell the app what the win condition is), pick a location and players, save, and play your game. When it comes time to score your game, type in everyone's score next to their name. In the case of a cooperative game, you click the icon next to everyone's name. Also in cooperative games, you can tell it what everyone's role is, such as the Medic in Pandemic.
If those are enough features for you, there are a few add-ons that you can purchase. One of those is a year of syncing to the Cloud so you are never in danger of losing your data and you can pass the info between your devices. You can sync to BGG without the add-on, but not all the details will be saved.
Deep Stats Expansion allows for more charts and graphs. With this feature, you can track longest streak, compare players' stats, track how often a tiebreaker resulted in an win, and more.
The final expansion you can add on is the Challenges Expansion. This one is great if you have a goal of playing a certain number of games per month or year. You can even adjust for certain games, players, and locations to not count toward your challenge if you want to. There's even an option to make the challenge into a Hardcore Challenge. This ups the difficulty of finishing the challenge, but has the potential for extra fun.
No matter if you stick to the basic version or dig deep into the expansions, this app will help organize your gameplay and give you a handy point of reference to solve the "I never win" arguments.
What are your favorite ways to track and organize your gameplay experience? Let us know in the comments! And be sure to join us on April 28th on Twitch for our International Tabletop Day stream hosted by Ivan van Norman, and help us support charity:water to raise money for a project to get water to a community of people who currently lack access to clean water.
Want more board game goodness?
3 Games That Are Great Day-Long Events For International Tabletop Day
Image Credits: Dawn Dalton, Board Game Stats