We're in a Golden Age of Television, or so every third think-piece would have us believe. But hyperbole or otherwise, we can't deny every year there seems to be more and better episodes of great serialized fictional television to keep our minds off the deepening well of bitterness happening in real life. Fun! While some of the biggies like Game of Thrones and Stranger Things gave 2018 a miss, we're beyond pleased with some of the new and returning programs which graced our various devices.Here are our picks for the top 10 TV shows of 2018:
10. Star Wars Rebels – Season 4
The early part of 2018 saw the end of one of the best things to come out of the Disney/Lucasfilm purchase. Star Wars Rebels began as a relatively small scale adventure series for young people about a small, plucky band of outsiders trying to destabilize the Empire on one planet but became one of the deepest, most metaphysical excursions into Jedi teachings and Imperial power. And true to Dave Filoni's nature, the series finale ended on a bit of a cliffhanger. The adventure never ends.
9. Voltron: Legendary Defender – Seasons 5-8
Dear heavens, 2018 was a banner year for one of the finest space adventure series ever made. (Wait, am I still talking about Rebels?) Four episode drops of Voltron: Legendary Defender–39 episodes in total–hit Netflix throughout the year and the saga of the paladins of Voltron and their fight against the (mostly) evil Galra Empire became much richer and more personal as the fight grew closer to home. The show gave its final bow on December 14 so we won't spoil too much if you haven't seen it, but needless to say Voltron fans had a whole lot to talk about when the final credits ran.
8. Castle Rock – Season 1
A puzzle box mystery series from J.J. Abrams set in a unified fictional world of Stephen King fiction sounded too good to be true, but Hulu was able to pull it off–for the most part–in its highly ambitious first season of Castle Rock. There were references aplenty at hand for fans of King's novels, and even the movies based on them, but the show wasn't just a depository for Easter eggs. It featured some supremely eerie scenarios and killer performances by Andre Holland, Scott Glenn, and a bravura performance from Sissy Spacek as a woman whose mind is unstuck in time. The episode "The Queen" is one of the finest episodes of anything in 2018; it's so good, it almost doesn't matter that the finale had us scratching our head and worrying about the ringing in our ears.
7. Doctor Who – Series 11
A show in both its 11th year and its 55th has got to change every now and then, and in the case of Doctor Who, that change is always baked into the very fabric of the show. But with the whole-cloth retool that saw Broadchurch's Chris Chibnall take over as showrunner, Doctor Who finally began to reflect onscreen and behind-the-scenes the kind of diversity its fandom has had for years. Jodie Whittaker's first series as the Doctor showcased the actress' strengths as one of the warmest and most headstrong versions of the character yet put to screen. She was surrounded by a supporting cast that has immediately won over fans and the show has never looked better. While we wish some of the writing had been on a par with previous seasons, there's no denying this version of the show is resounding with audiences young and old all over the world.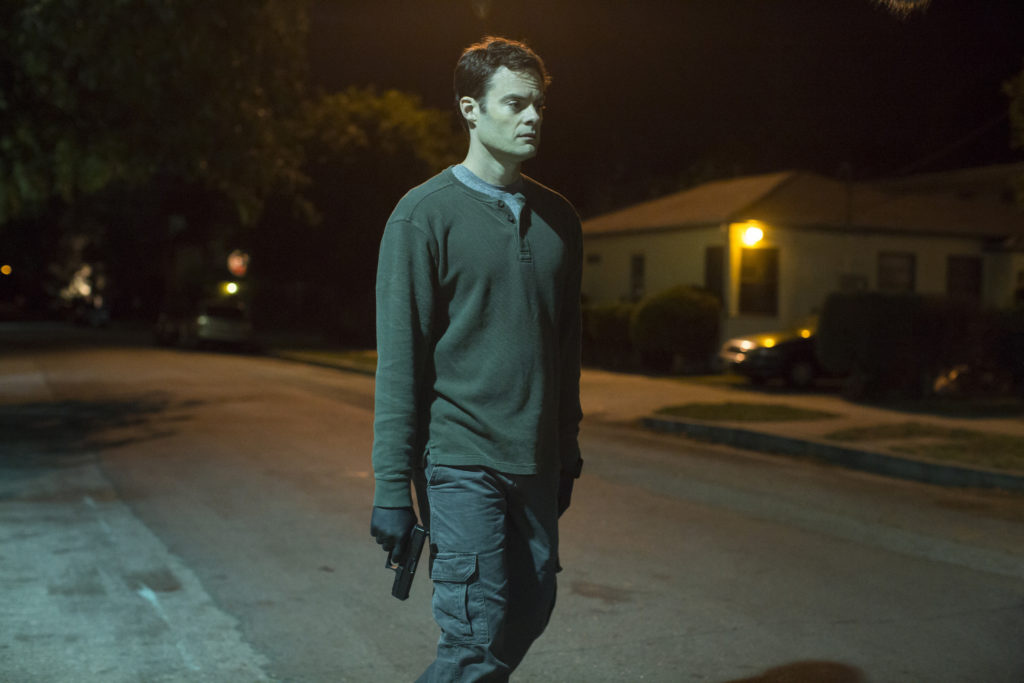 6. Barry – Season 1
While we all wait for HBO to give us Game of Thrones' final season in 2019, the premium cable provider gave us several great short-run seasons of new shows, including Alec Berg and Bill Hader's Barry. I can definitely relate to the story of a Midwesterner who comes to Los Angeles with one particular goal and ends up finding a different one. Difference is, of course, that I'm not a hitman. Hader plays the titular character who's meant to take out a Los Angeles actor sleeping with a Chechen mob boss' girlfriend only to take a shining to acting classes. We can all relate to the bad decisions you make when you're in love with the allure of Hollywood. Sort of.
5. Sharp Objects – Miniseries
If there's anything we love, its mysterious and dark family dramas with a glorious Southern Gothic tinge, and that's exactly what Marti Noxon's adaptation of Gillian Flynn's Sharp Objects gave us. Sumptuously directed by Big Little Lies director Jean-Marc Vallée, this miniseries did a brilliant job of adapting Flynn's largely first-person narrative without losing any of its punch of energy for television. Amy Adams is amazing as the reporter returning home to investigate the murder of two young girls while dealing with her own trauma from her past. The series never flinched, and things got ugly, but it remained real and true without ever delving into melodrama. An astonishing feat.
4. The Haunting of Hill House – Miniseries
The Haunting of Hill House is one of the rare instances where an adaptation of a beloved book has veered so far from what that story is about and yet retains so much of what makes it resonate. Mike Flanagan's miniseries loosely based on Shirley Jackson's novel introduces us to the Crain family, who bought the eponymous old dark house to flip in the '90s and found themselves the victim of ghosts–both metaphysical and mental–for the rest of their lives. It's sad and melancholic and mysterious and quite terrifying in equal measure, and we're still poring over its many secrets and trying to find all those hidden spectres for ourselves. The show's crowning achievement is the episode "Two Storms" which saw two separate horrible nights in the Crains' lives, told via virtuosic single-take chunks.
3. Killing Eve – Season 1
We've seen plenty of assassins in film and TV, but we've never seen anyone quite like Villanelle, the psychopathic, cold-blooded hired gun in BBC America's Killing Eve, as played by Jodie Comer. Villanelle is pretty terrifying and strangely appealing in equal measure and her fixation on the American-born MI-5 agent (the titular Eve played by Sandra Oh) obsessed with finding her is just as fascinating. Adapted from Luke Jennings' Codename Villanelle novel series by the absolute genius of Phoebe Waller-Bridge, Killing Eve is tense and hilarious in equal measure.
2. The Americans – Season 6
The best shows have endings. You can't expect to keep things at such a high level forever, and those shows that do attempt it tend to lose their potency and overstay their welcome. That's why, as much as we're sad to see The Americans leave our screens, we were absolutely thrilled by the way in which it left. A time-jump from last season saw our characters more enmeshed in the U.S. than ever before. The Americans, while much more lauded during its run, still hasn't been seen by enough people. It's destined to be The Wire.
1. The Good Place – Seasons 2 and 3
There are plenty of contenders, sure, but for our money, no series on network television takes nearly the risks or challenges itself and the audience more than NBC's The Good Place. In just two-and-a-half seasons, the series has changed its central premise at least four times, and has become a rich and complicated melange of ridiculous comedy and deep ethical philosophy. In 2018, the series took us to the actual Bad Place, introduced us to the all-powerful, all-hilarious judge of life and everything, brought our characters back to life to see if they could be better this time, and did everyone's head in by explaining the concept of "Jeremy Bearimy." It also gave us some of the best character moments in the show's brief history, never shying away from showing us the power of friendship, even in the most insane of circumstances. And it did that in only 15 episodes this year. Three more episodes in season three will air in 2019, but we're so happy a fourth season has been ordered. We're just not done with these ding-dongs yet.
Images: BBC America, Netflix, HBO, NBC
Kyle Anderson is the Associate Editor for Nerdist. You can find his film and TV reviews here. Follow him on Twitter!