The world has come to embrace ugly Christmas sweaters ironically. No one objectively thinks they look good; they are garish. That's why we call them "ugly" and not "tasteful" or "elegant." It's their total absurdity that makes us love wearing them at fun parties or holiday pub crawls, which is why we don't know what to do with a new product inspired by them. They sincerely look awesome, and we definitely would kick the snow tires on getting our own pair of these (not-at-all) ugly Christmas sweater sneakers.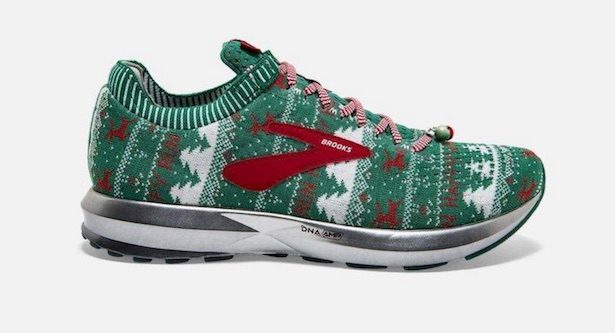 This very festive red and green pair of Brooks' Levitate 2 Women's Road Running Shoes (which we learned about at PopSugar) is designed in a classic ugly Christmas sweater motif. "Soft foam wrapped in faux-suede," they are adorned with white trees and red reindeer, have candy cane laces, and even feature a pair of tiny jingle bells. Somehow, despite all of that, these are pretty terrific. We…we genuinely want to wear these on our feet.You might want to ask Santa to bring you a pair though if you're personal holiday budget is getting a little bit tight these days, because they will cost you a little bit more than an ugly Christmas sweater at $150.
We've seen some unusual sneakers before, some of them especially weird, but this might be the strangest pair ever because their design is based on something intrinsically ugly. Yet they're freaking awesome. Does that mean we've all been wrong about ugly Christmas sweaters in general? Are they legitimately great and not just objects of ironic affection? Has our admiration for them always been misguided!No. No, those sweaters are still really freaking ugly. Maybe "garish" just works with sneakers.
Image: Brooks