The Woman King will take us into the Kingdom of Dahomey, a powerful real-life African nation, during a pivotal time in its history. It is the 1800s and the fearless Agojie, an all-woman military collective, is stronger than ever. However, King Ghezo (John Boyega) and General Nanisca (Viola Davis), the leader of the Agojie, are trying to find middle ground about important issues and looming threats. Additionally, a new Agojie recruit named Nawi (Thuso Mbedu) is challenging the status quo in various ways. Nerdist sat down with Viola Davis and Thuso Mbedu to touch on a critical topic in The Woman King: facing the past and working through trauma while also looking to a better future.
Unlike many women of that time period, the Agojie are able to lead a different life. They are not the property of their fathers and husbands nor unable to speak for themselves. And they do not have to worry about the many woes that women faced during this time period. Agojie are not only powerful and skilled fighters, but they are feared and respected among the Dahomey people. Their voices matter.
But that doesn't mean that these women haven't had their own personal issues. We see this through both Nanisca and Nawi. Their individual stories and burgeoning relationship play a critical part of The Woman King. Approaching their extremely sensitive backgrounds was a compelling and necessary task for Davis and Mbedu. From research to their own understandings about life, they mentally crafted these characters long before they came to fruition onscreen.
"Gina [Prince-Bythewood], the director, made me read Roxane Gay's book, Hunger, which is about [Gay]," says Davis. "I think that our past drives us. It really does. There is always a story that everyone has that literally defines who they are or maybe should not. But when you look at a person and you look at how they interact in relationships, when you look at how they see themselves, I feel like there's always a secret behind it."
For Davis, it was about marrying the strength and vision it took to be a warrior with the more vulnerable parts of Nanisca's life story and secrets. This duality truly anchors her as more than a woman capable of mowing down an army of men alone. "I felt like if I found some way of marrying those two that I could create a human being that was more than just a one dimensional action, historical drama character that you're used to seeing, that I could humanize her in a way and it could mean something to somebody."
Nawi also comes with her own set of experiences, including rejection and abandonment. The Agojie give up their lives in service to their sisterhood and nation. It is indeed the prime place for a wandering soul to find family. "I think Nawi's journey is very personal to Gina [Prince-Bythewood] herself," affirms Mbedu. "She also gave me material to read from the Rwandan genocides, because Nawi herself is an orphan, but she's not an orphan born in the 1900s or 2000s. She's born in the 1800s during times of war. What does that look and feel like? And with her adoptive parents thinking, 'We need to marry you off for any chance of our family survival.' And it's something that she doesn't want to do. Going into research of that type of psychology where you're choosing life or death."
Thuso Mbedu and Viola Davis both did their own internet digging in preparation for The Woman King. In fact, Davis jokingly notes that she (like us) had far too many Google tabs open at any given time. In Mbedu's case, she was curious about what choices a woman would make in Nawi's position when both of them could end badly. "Nawi chooses to offer herself to death by joining the army, rather than be in a space where she is consistently told that she is nothing by this adoptive family," said Mbedu. "I think I even Googled the psychology of an assassin because why is this 19 year old going to join an army where she potentially has [another option]. But choosing to do that… what type of person chooses to be an assassin?"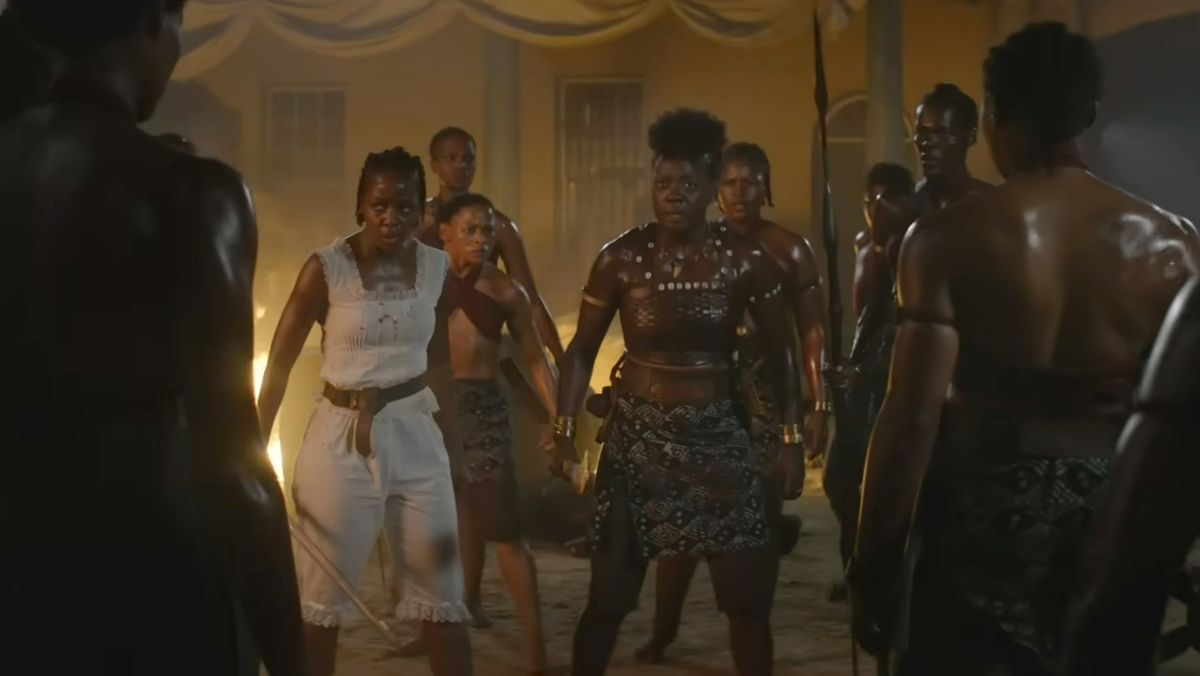 It's a choice that certainly changes Nawi's fate and brings her across the path of the mighty woman king. Despite their pasts, Nanisca and Nawi stand tall, powerful, and mighty as protectors of Dahomey. They are women who buck the societal norms and affirm the power of sisterhood and found family. And that is a story that is certainly worth exploration.

The Woman King hits theaters on September 16.