Love board games? So do we! Join host Becca Scott here on Geek & Sundry for Game the Game, where she breaks out the best games in tabletop and plays them with fantastic guests.
On those game nights when you need a break from buying bricks and ore, and you definitely don't want to play Monopoly, The Tea Dragon Society Card Game from Renegade Game Studios might be the game you're longing for. The light deck-building game is just as calming and soothing as the Oni Press graphic novel it's based on, and extremely family friendly, making it the perfect end to a hectic day.
From Graphic Novel to Game
The Tea Dragon Society is a story that takes place in a fantasy world where adorable little dragons are cared for; the truly patient and skilled caretakers learn to make tea from the delicate branches that grow on the tea dragons' horns. The book, which started as a webcomic, was written and illustrated by Katie O'Neill.
After its critically acclaimed debut, Katie was approached by Oni Press with the idea of creating a tabletop game set in its lush and tranquil world.
After their success with turning Scott Pilgrim into an enjoyable game, Katie knew her tea dragons would be in good hands. "I was really lucky that everyone was so excited to make a game for The Tea Dragon Society," she says, "and even more lucky that the team was so skilled, passionate, and came up with something that totally captures the feeling of the book."
While Katie admits she's not much of a tabletop game player herself, she feels like the light gameplay is well-suited to players of all levels.
"It's absolutely perfect in the way it blends the story into the cards, and the kind of competitive-but-relaxing feeling you get while playing," she says. "I think it's a great game to play with friends of mixed experience with board games, where everyone is able to get something from it. It doesn't feel intimidating or overwhelming to a total newbie like me."
Gameplay
This two to four player deck-building card game takes about thirty to sixty minutes to play, and while it's competitive, it's not antagonistic.
"Each player raises a Tea Dragon throughout four seasons," describes Katie, "at the end of which the winner is determined by which cards (primarily cards that represent memories with your dragon) they've collected along the way."
The cards are drawn from each player's draw pile, and then the tea dragon caretaker decides how best to use them–either for a positive effect or to buy a card from the market.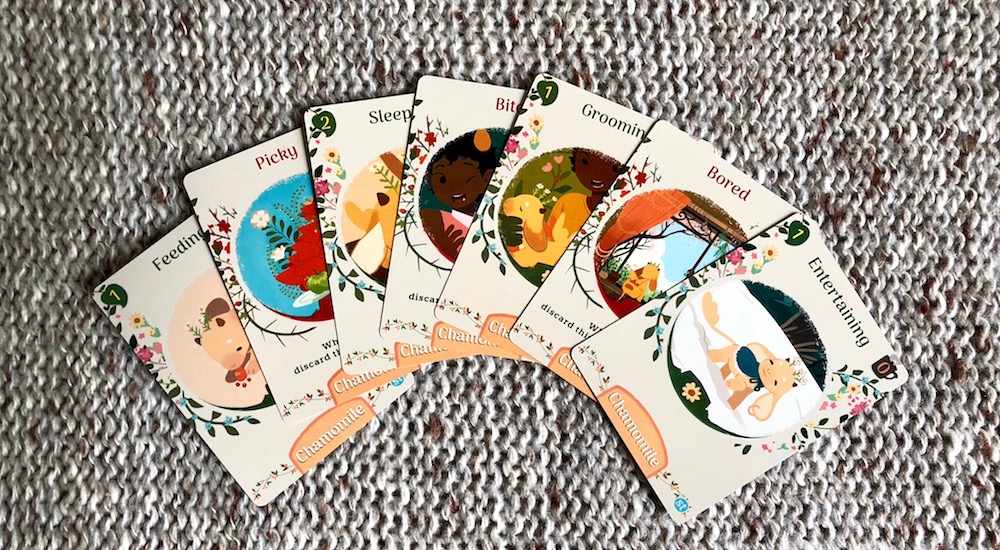 The game comes with a unique instruction manual illustrated in comic form by Katie herself, an idea suggested by Renegade Game Studios. "I thought it was a lovely concept, to make it much easier to demonstrate to younger children," she says, "and to show them that the setbacks in this game are never too impossible to overcome."
This is a card game that's practically perfect for playing with your kids, pairing adorable illustrations with just the right amount of competitiveness. It's also a quick play. And to my delight, as my nine-year-old daughter studied the cards during her turn, she said suddenly, "You know, I want to read this book." Win-win!
Find out more at Renegade Game Studios' site and look for this game when it hits store shelves everywhere today, June 27, 2018.
What family-friendly games do you love? Tell us about it in the comments!
More Family-Friendly Tabletop Goodness!
Photos: Kelly Knox
Game Illustrations and Box Art: Renegade Game Studios / Katie O'Neill