Critical Role is Geek & Sundry's live Dungeons & Dragons show featuring Dungeon Master Matthew Mercer and his troupe of fellow voice actors. Catch them every Thursday night at 7:00 PM PT on the Geek & Sundry Twitch channel and on Alpha.
If you're a Dungeon Master and you want your Critter players to feel right at home at your table, you might try adding some familiar music to set the scene. Whether it's the driving beat of "Welcome to Wildemount" or the peaceful background melody for some of Critical Role's most pivotal scenes that you're looking for, we're here to help you find the perfect musical cue–with the generous help of Dungeon Master Matthew Mercer.
Playlist Setup
Matt recommends creating playlists based on moods or locations, rather than artist or album, to help you set just the right atmosphere at the speed of your players' decisions.
"I have a playlist for small battles," he revealed on Game Master Tips, "one for big battles, one for boss battles. I have a playlist for 'creepy,' I have a playlist for REALLY creepy areas, I have a playlist for a mysterious scenario, for when it's peaceful… That way it's just really easy for me to just click any one of these playlists for a specific moment."

Matt also took a moment to share screenshots of those playlists in 2016; while they're not updated for the current campaign, they seem to be relatively unchanged, and can give you some hints for how to set up your own campaign music. He also recommends using other video game background music or your favorite fantasy movie soundtracks if you're playing at home.
Find Your Favorites From Critical Role
Looking just to click and download your favorites from both the Vox Machina and the Mighty Nein campaigns, even if you're not a Dungeon Master? We've got you covered with a few picks you can buy right now.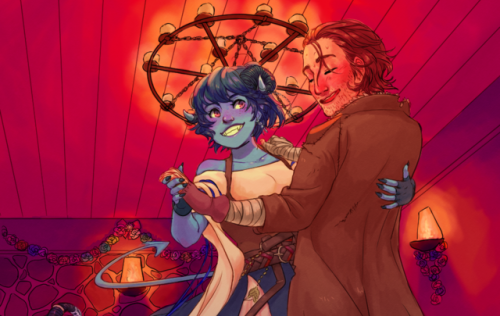 WANT MORE CRITICAL ROLE?
Featured Image: TheArtingAce
Jester/Caleb Illustration: sonschmarn.tumblr.com