Stephen King hasn't always been a fan of his written works coming to life on TV and movie screens. But, the iconic writer has already given his coveted stamp of approval to HBO's upcoming series The Outsider. It's is based on his 2018 horror novel of the same name. King posted a link to the show's trailer on his Twitter page and said it is "one of the best adaptations of my work." That's pretty big praise considering that The Shawshank Redemption and Stand By Me are two of King's favorites. And, it's easy to see why he would be a fan of this series, especially when you consider the extremely suspenseful (and slightly creepy) The Outsider trailer.

The miniseries stars Cynthia Erivo and Ben Mendelsohn as Detective Ralph Anderson and Holly Gibney, respectively, and will premiere on January 12, 2020. The Outsider will run for ten episodes; a fair amount to cover a single book and keep a steadily progressive pace. In the trailer, youth baseball coach Terry Maitland (Jason Bateman) is arrested and accused of brutally killing a young boy named Frankie. The citizens are in a justifiable uproar, but Detective Anderson and Holly Gibney aren't so sure that the facts are truly facts at all.

There's a lot of circumstantial evidence and inconsistencies, including a video of him in another location at the time of the murder, that doesn't add up. How could the same person be in two locations at the exact same time? Of course, Terry and his wife continue to maintain his innocence but his voice really doesn't matter at this point.

Holly begins to wonder if there is something more sinister – and inexplicable – is going on. She encourages everyone involved with the investigation to keep an open mind. However, Anderson says that he has "no tolerance for the unexplainable," which makes sense because his job is all about looking at the facts. Holly warns him that his inability to believe will make him a danger to everyone else.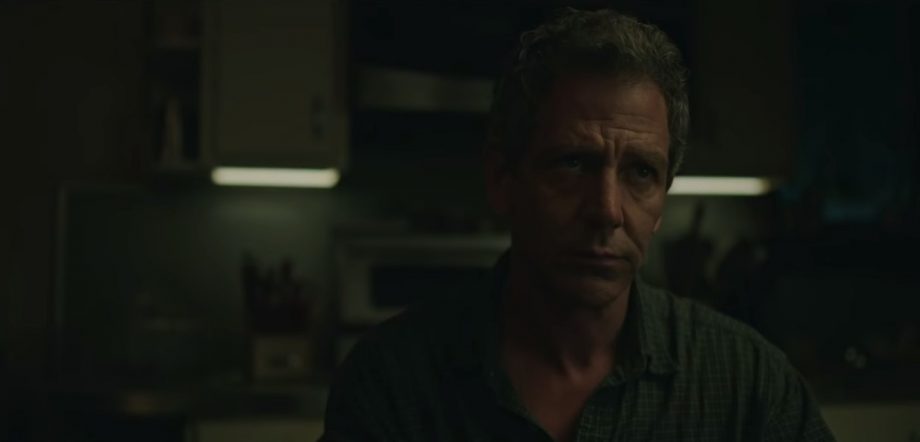 HBO/YouTube
The clip gets stranger with hooded figures in bedrooms, mutilated deer, and bloody words appearing on skin. The end wraps up with Anderson spotting an unidentified person inside an abandoned building before a flurry of clips with blood, fire, spiders, and general mayhem. The main players in the novel are present in this story like Holly, Ralph, Terry, and Howie and the basic storyline is the same.
It's likely that The Outsider will follow pretty closely to Stephen King's material; he probably wouldn't be as enthusiastic if they went too far off course. But, there have to be newer elements to introduce in the show to keep fans of the novel guessing until the very end. Always a high-wire act for series like this.
The Outsider gets two thumbs up from Stephen King but will book fans give it the same love? If the series solid cast and trailer are any indication of what's to come, it might be one of the first big hits to kick off a new decade.
Image Credit: HBO/YouTube