Villain origin stories are a contentious proposition, but franchises seem to love them. The latest offering in that department? A President Snow-focused prequel movie for The Hunger Games. Titled The Hunger Games: The Ballad of Songbirds and Snakes, the movie will be an "adaptation of Suzanne Collins' #1 New York Times bestseller." And now, The Hunger Games' prequel has found its leads. Tom Blyth will play a young President Coriolanus Snow in the movie. And Rachel Zegler joins The Hunger Games prequel as Lucy Gray Baird. Additionally, The Ballad of Songbirds and Snakes has also cast Euphoria's Hunter Schafer.
The Hunger Games Sequel Casting—Jump to: Main Characters, Tributes, Mentors, and More
The Hunger Games' Sequel Stars Lucy Gray Baird and Coriolanus Snow
For those unfamiliar with Zegler's role, Lucy Gray Baird is an integral part of The Ballad of Songbirds and Snakes. She is, of course, the female lead of the story. Meanwhile, for fans of The Hunger Games, Coriolanus Snow needs no introduction.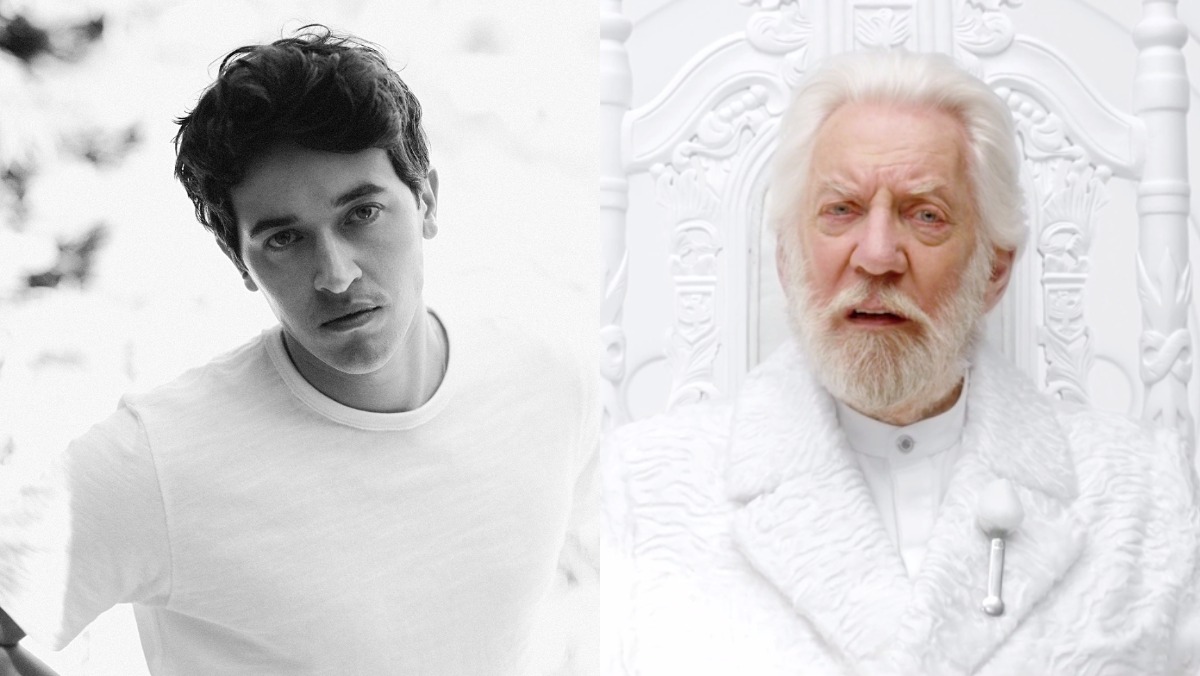 A release shares more about both characters. It notes:
Years before he would become the tyrannical President of Panem, 18-year-old Coriolanus Snow is the last hope for his fading lineage, a once-proud family that has fallen from grace in a post-war Capitol. With the 10th annual Hunger Games fast approaching, the young Snow is alarmed when he is assigned to mentor Lucy Gray Baird, the girl tribute from impoverished District 12. But, after Lucy Gray commands all of Panem's attention by defiantly singing during the reaping ceremony, Snow thinks he might be able to turn the odds in their favor. Uniting their instincts for showmanship and newfound political savvy, Snow and Lucy's race against time to survive will ultimately reveal who is a songbird, and who is a snake.
Producer Nina Jacobson adds, "Lucy Gray is an incredibly complex character, a performer who has to use every skill in her arsenal to survive. Our casting team, Deb Zane and Dylan Jury, spearheaded an exhaustive search, reading hundreds of actors in search of our perfect Lucy Gray. That search ended when Rachel Zegler blew the roof off with her depth and breadth of talent as an actor, singer, and performer. Rachel is utterly compelling; just like Lucy Gray, her voice and charisma command the stage while her inner strength and humanity transform those around her."
Additional Casting News for The Ballad of Songbirds and Snakes
Well, we know that ultimately, President Snow is a snake. And we're not sure it's ever the best time to glamorize a tyrannical politician. But hopefully, the film can use this opportunity wisely to portray its main character. We hope we don't so much root for President Snow as end up watching him embrace monstrosity with horror.
Most recently, Euphoria's Hunter Schafer joined the cast of The Ballad of Songbirds and Snakes. On HBO's Euphoria, Schafer plays Jules. In the Hunger Games sequel, Hunter Schafer will bring Tigris Snow to life. Tigris is "the cousin and confidante of Coriolanus Snow." Additionally, Jason Schwartzman has joined the cast as Lucretius "Lucky" Flickerman. Lucky is "the host of the 10th Hunger Games and ancestor to Caesar Flickerman, who would become the voice of Panem."
The Hunger Games' sequel cast also includes: Jerome Lance as Marcus, one of District 2's tributes; Ashley Liao as Clemensia Dovecote, Coriolanus Snow's close friend, who also serves as a mentor to a District 11 tribute; Knox Gibson as Bobbin, a District 8 tribute; Mackenzie Lansing as Coral, a District 4 tribute; and Aamer Husain as Felix Ravinstill, a mentor for one of District 11's tributes.
Additional casting for The Hunger Games: The Ballad of Songbirds and Snakes further includes: Nick Benson as Jessup, the other tribute from District 12; Laurel Marsden as Mayfair Lipp, the person who enters Lucy Gray Baird's name into the tenth Hunger Games; Lilly Cooper as Arachne Crane, the mentor to District 10's tribute; Luna Steeples as Dill, one of District 11's tributes; and Hiroki Berrecloth will play Treech, one of District 7's tributes.
Finally, more mentors and tributes have been added to the show. Deadline shares that Ballad of Songbirds and Snakes has cast Max Raphael as Festus Creed, a mentor to a District 4 tribute; Zoe Renee as Lysistrata Vickers, a mentor to a District 12 tribute; Ayomide Adegun as Pliny "Pup" Harrington, a mentor to a District 7 tribute; Kaitlyn Akinpelumi as Domita Whimsiwick, a mentor to a District 10 tribute; Sofia Sanchez as Wovey, a District 8 tribute; and Amélie Hoeferle as Vipsania Sickle, a mentor to a District 7 tribute.
More About The Hunger Games' Sequel
According to the release, "the film will be directed by Francis Lawrence, who previously directed the franchise's Catching Fire, Mockingjay Part One, and Mockingjay Part Two." Additionally, "it will be shepherded by franchise producer Nina Jacobson and her producing partner Brad Simpson, along with Francis Lawrence." Finally, "Suzanne Collins and Tim Palen will serve as executive producers." And "the latest draft of the screenplay is by Michael Lesslie." All in all, it looks like the movie rests in good hands.
Returning to Panem will 10 years after The Hunger Games' first movie release will offer an interesting experience. We feel interested to see who else joins the cast of the film.