Sure, you might be brave enough to watch The Haunting of Bly Manor, season two of Mike Flanagan's anthology horror series on Netflix. But would you be willing to spend an evening in the creepy old mansion where the story takes place? Don't be so sure. Because even if you don't believe in ghosts, it's hard to envision voluntarily staying there after reading the unsettling Zillow listing for the house.
Because it sounds just as scary as it looks.
Netflix/Zillow
Netflix has created an "official" Zillow listing (which we first learned about at Syfy) for the home where The Haunting of Bly Manor is set. Located in the "English Countryside," the off-market house isn't for sale, despite its time on the site being marked as "eternity."
But that's probably a good thing when you consider its past. The grounds, which feature a "stunning garden, a lively statuary, a mesmerizing lake and more," has had many owners. And you'll see signs of them everywhere. The listing says the home has "changed familial hands throughout history," and "markings of its previous residents can be found all over the estate." Nooooope.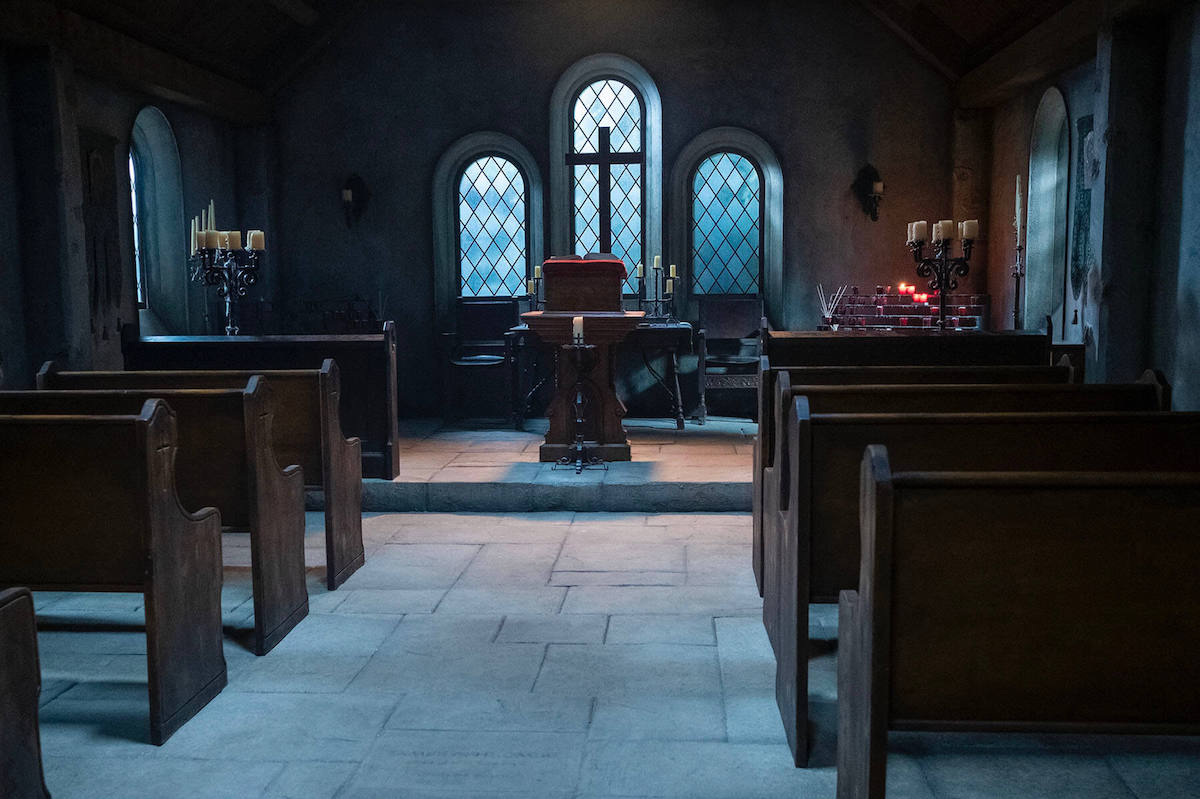 Netflix/Zillow
As you'd imagine/fear, the rest of the manor is even worse. Guests "enter through hand-carved doors," where they are "greeted by portraits and artifacts that are as old as the manor itself." The ground floor has" a spacious kitchen, a study for business," and a classroom for perfectly splendid children."
Fact: "perfectly splendid children" is a synonym for "haunted kids."
Netflix/Zillow
On the second floor you'll "find two children's bedrooms, complete with ample closet space, and a spare room for an au pair or other guests." Ominously "the master wing is off limits."
Meanwhile, in the basement you can view the "antique doll collection." And you can use the "attic to store your most prized possessions." They also both make for great options for your damned soul to spend eternity!
Netflix/Zillow
But it's the listing's description of the plants and shrubbery that might be the most terrifying.
"As you make your way up the drive, notice the ivy crawling the length of the manor and the parapets for overlooking the estate. We pride ourselves on our immaculately kept grounds that float free of time. Please see the rose bushes, as they are a labor of love. Roaming the grounds, you will also find a chapel, an antique well-pump, a lively statuary, a greenhouse, and more. The lake, while not for swimming, is perfect for moonlit walks."
Netflix/Zillow
Terrifying, but we were wrong. That's not the scariest part of this listing.
That title belongs to these two photos.
Netflix/Zillow
Netflix/Zillow
Forget spending a night in this home. After reading this listing you might not be brave enough to watch the show. ( But you totally should.)
Featured Image: Netflix/Zillow