If you've ever wanted to know what sorts of pornography puppets like, The Happytime Murders is the movie for you. Brian Henson, son of the venerable Muppets creator Jim, has created a film that lives up to its tagline – " No Sesame. All Street" – and then some, chronicling the misadventures of a community of puppets that are liberated from the shackles of genial family entertainment but subject to the same base desires as their puppeteer overlords.
Built on the framework of a tongue-in-cheek Los Angeles noir, Henson's films often seems too desperate to provoke a gobsmacked reaction from its myriad depravities, when the foundation of this puppets-meets-people world has plenty in it to make audiences actually care.
The movie stars the aptly-named Bill Barretta as Phil Philips, a private investigator who once enlisted as the first puppet cop before disgracing his species during an incident in the line of duty. Estranged from his former partner Connie Edwards (Melissa McCarthy), Philips makes a living protecting puppets from blackmail while his human secretary Bubbles (Maya Rudolph) runs the office and nurses a crush for her boss. But when his brother Larry Shenanigans (Victor Yerrid), an actor on the iconic puppet show "The Happytime Gang," dies under mysterious circumstances, Philips is drawn back into duty and reluctantly pairs with Edwards to solve the crime.
The two encounter more than they bargain for after more of the "Happytime" cast turn up dead, even as they keep finding themselves at the scene or implicated in the crimes. But when Edwards' superior Lieutenant Banning (Leslie David Baker) and FBI Agent Campbell (Joel McHale) turn their attention to the former partners as possible suspects, Philips and Edwards must race against time to solve the crimes before more people they know – or they themselves – end up in jail, or worse, murdered themselves.
Henson Alternative is the name of the Jim Henson Company's subgroup focusing on "adult puppet comedy," and clearly there's both material and a market to explore involving the fuzzy creatures in more mature situations. But The Happytime Murders feels almost like too much, too soon, as if Henson and writer Todd Berger were so eager to showcase the comedic possibilities of R-rated puppets that they went big, and blue (in more ways than one), and never looked back. Irrespective of the fact that Peter Jackson paid satirical tribute to Jim Henson almost 30 years ago with his misanthropic cult film Meet the Feebles, Brian's puppets smoke and swear and have sex and do drugs, but so much of it seems driven by the urge to shock rather than tell a story. Moreover, the majority of the humor comes either from the juxtaposition of the puppet and human worlds (don't even ask what "pilafing" is), or just good old-fashioned character-based punch lines that seldom benefit from being amplified by four-letter words.
That said, a lot of the stuff that is funny works a lot better than it probably should, because it's based upon the premise that puppets are, well, puppets, and what they're capable of – and susceptible to – is markedly different from their human counterparts. ("We found the murder weapon," observes one cop carrying a cheerful pug back to the site where its victim has just been ripped to shreds like a chew toy.) The business in the film's advertising campaign involving puppet ejaculation and all sorts of other risqué topics just kind of seems superfluous, and especially when you have McCarthy, Elizabeth Banks and a murderer's row of comedians for the felt characters to work opposite.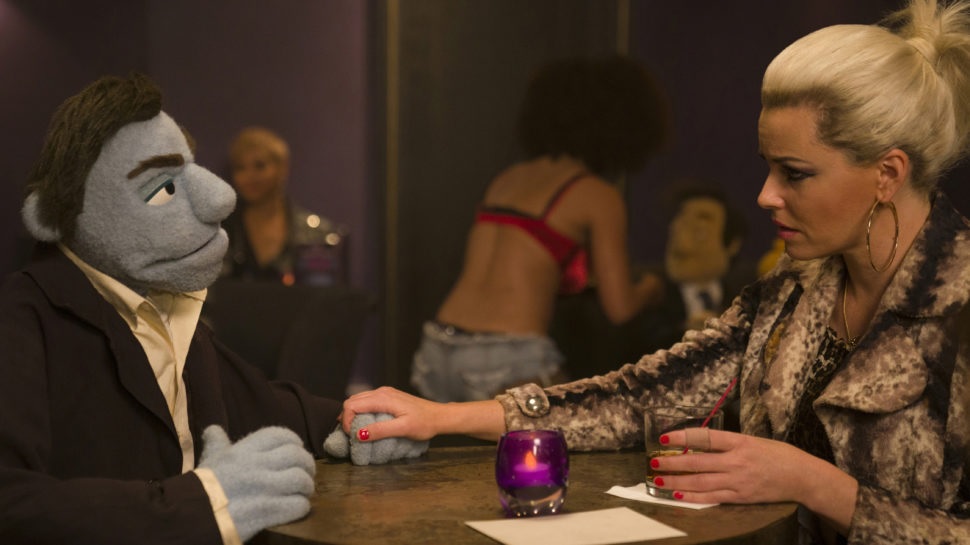 McCarthy in particular seems to excel at this sort of conceit – an antagonistic mismatch of co-stars – and it's her commitment to the role that makes Edwards' estrangement from Philips seem quite so lived-in and believable. But the subtle designs of Philips' face, with its constant half-resignation, make him a surprisingly evocative counterpart and leading man, bolstered by Barretta's performance, which suggests a three-foot-tall, blue felt Mike Ehrmantraut. They actually make a good team, whether they're bickering at one another or banding together, and seem to navigate this (literal) Tinseltown's vagaries with a surprising degree of dignity and pathos.
But then again, is there such a thing as Breaking Bad in this world? Or outside of the show within the movie, are there real puppet "celebrities" like Big Bird or Gonzo whose names were inspired by, uh, their offscreen proclivities? Are there actual "rules" for puppets – do puppet animals observe the behavior of their biological counterparts, for example? And in this timeline, exactly who created them, and how did they gain sentience? After decades of watching Sesame Street and the actual Muppet Show, it didn't occur to me to seek any of these answers, but Henson's film feels less effective as a concept because it leaves behind so many questions. Ultimately, The Happytime Murders feels like half of two good ideas that don't add up to a whole, undermining the core of a world that's genuinely interesting by focusing too heavily on its fuzzy, raunchy edges.
3 out of 5