Warning: This post contains spoilers for Amazon's The Boys.
Writer Garth Ennis and artist Darick Robertson's The Boys comic is a dark, biting satire of American politics and society as a whole. We meet many bad "supers" in The Boys, but Ennis' most terrifying creation by far is Homelander, an inverted mix of Superman and Captain America. Homelander is a commentary about the dangers of extreme nationalism and hate, and in Eric Kripke's Amazon adaptation, the analogy to Trump and his most vitriolic supporters couldn't be clearer or more relevant.
The Boys is in many ways a morality tale, and Homelander has always been a not-so-subtle allusion to the toxicity of white supremacy mixed with patriotism. In the comics, the corporation Vought creates Homelander by taking genetic material from another super, the WWII Nazi Stormfront, whose name derives from the Internet's first Neo-Nazi website. A member of the Hilter Youth, Stormfront was virulently racist, and in The Boys universe, he's the one who destroyed the levees during Hurricane Katrina, all to flood New Orleans in the name of ethnic cleansing. He's so abhorrent that company scientist Dr. Vogelbaum recommends that Vought destroy him. Instead, Vought experiments on him and makes him Homelander's "father," meaning Homelander's propensity for bigotry is quite literally built into his DNA.
It's also right there in his name: "homelander" is a reference to the post-9/11 period in the United States, during which time the Department of Homeland Security was founded. American foreign policy was defined by a heightened suspicion of non-Americans—in particular people of Middle Eastern descent—which resulted in an uptick of hate crimes. The meaning behind Homelander's name is even more potent now than when Ennis created it in 2006; as a result of Trump's crackdowns on immigration, debates are currently raging about whether the DHS and its various agencies (which includes the highly maligned ICE) should now be abolished. As a result of Trump's exclusionary rhetoric, hate crimes have also been on the rise to match post-9/11 levels. This all feeds back into who Homelander is and what he represents for present day audiences: a more hateful society, where those who fall outside of the white, Christian, conservative establishment are regarded as unwelcome.
Homelander's retrograde viewpoints and almost limitless power, coupled with his belief that he should be able to do whatever he wants, is what makes him such a scary figure. In the show, Homelander says he embraces a sort of "John Wayne frontier justice," demonstrating a contempt for due process. (The reference also has a dual meaning: Wayne is a right-wing icon, even openly declaring in one 1971 Playboy profile that he supports white supremacy.) When Homelander attends the evangelical Christian rally after the 9/11-esque plane crash (which he purposely let happen), he invokes real-life conservative talking points by linking religion to the need for more military action, to raucous applause:
"I believe that what God wants me to do is get on over there, find the filthy bastards that masterminded this, and introduce them to a little thing called God's judgment! Sounds like the American thing to do! But no. Apparently, I got to wait for Congress to say it's okay. I say I answer to a higher law. Is it not my God-given purpose to protect the United States of America? Psalm 58:10! The righteous shall rejoice when he sees the vengeance and he will bathe his feet in the blood of the wicked!"
While it can be argued that both Superman and Captain America dole out their own form of justice separate from the law, the context is important. Superman and Captain America are understood to be heroes for all people, regardless of ethnicity or religion, and we know they are the kind of men who would subvert their own needs for the greater good. They represent the best of what America could be. Real-life politics tell us that's the opposite of who Homelander is. From his proudly donning the American flag to his unnerving grimace-of-a-smile, Homelander was never meant to be a comforting figure. He's a villain, and his actions in the final episode of The Boys cement the idea that his brand of "patriotism" comes at the grave cost of radicalizing some while hurting many, many others.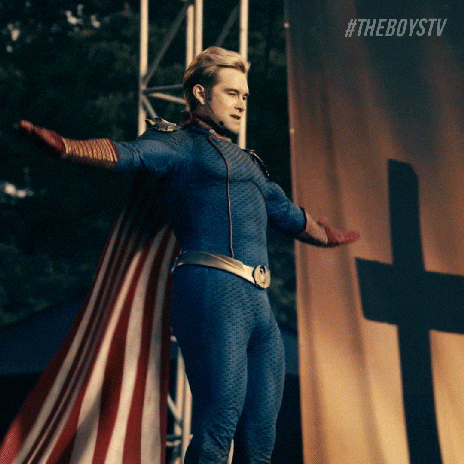 Homelander is, to put it bluntly, like Trump in a cape. He won't stop with his dangerous rhetoric or actions, because why should he? He's in the highest position of power, with deep government and corporate ties, and he believes that no one can check him. The end of season shows us just how hard it will be for Butcher and his team to completely root out Homelander, and by extension, every toxic thing he represents.
The Boys is a grave mirror of our own reality, but hopefully by series' end, it will be the stuff of pure, wish-fulfilling fiction.
Images: Sony Pictures TV/Amazon Studios