It's been 15 long years since the release of Ronny Yu's iconically corny and infinitely entertaining Freddy vs. Jason. I love both Friday the 13th and Nightmare on Elm Street franchises with all my (after)life, and was first in line to watch the much anticipated crossover when it hit screens (in the UK) on August 15, 2003. And if we're being honest, the early 2000s would be the only time a movie like this could have ever come to be.
So, to celebrate this monumental anniversary, I've selected some of the most '00s moments from the shark-jumping monster mash-up. Get ready for some very dated CG, fantastically bland style, and a cornfield rave! Let's get EXXXXTREEEEEMEEE!!!!!!!
The Opening Credits
What's more extreme than credits made out of flying pieces of the flesh of one of Jason's victims??!?! The opening New Line ident and following credits are definitely among the corniest and most enjoyable tone-setting moments in Ronny Yu's mid '00s masterpiece.
The Soundtrack
The soundtrack for Freddy vs. Jason is a who's who of bands with names that a teenager would never believe were real in 2018. The lineup really speaks for itself, starring such mid-'00s icons as Ill Niño, Killswitch Engage, Spineshank, Mushroomhead, Hatebreed, Slipknot, Chimaira, Powerman 5000, Murderdolls, Seether, Stone Sour, DevilDriver, and Sepultura… literally all of whom I've seen live, so no judgment from this ex-(nu)metal head.
Kelly Rowland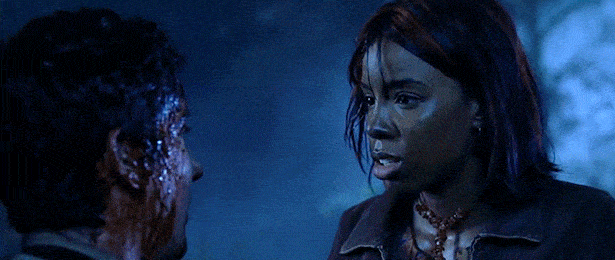 We never deserved Kelly Rowland in this role. Though she does almost make it to the end, Ronny Yu ultimately fails by making Monica Keena the final girl instead of Kelly. Anyway, this film came out while Dilemma was still on every radio station every day and no one can argue that classic isn't one of the most memorable songs of that time. So having Rowland as a core cast member during that phase is a mid-'00s cinematic chef's kiss.
The Styles
Do you remember what you were wearing in '03? Well, according to Freddy vs. Jason it was probably a lot of denim shirts teamed with some good old plaid. The fashion ranges from Katharine Isabelle looking like something from a contemporary Vice shoot to a lot of heavy thumb rings and badly fitting jeans. Thanks to FvJ, we have the strange blandness of '03 style documented forever. Also, shoutout to a young, wet-haired Evangeline Lilly cowering by the lockers in this great GIF we made.
The Rave
Who doesn't remember all of those fun cornfield raves that we all went to in the early 2000s? This fantastically silly set piece not only has some great deaths courtesy of Jason Voorhees, but most importantly it has a whole bunch of glowstick-wielding teenagers, some of whom are wearing berets, drinking Everclear, and dancing to generic electronic music. Wicked cool.
The Special Effects
If you love very good practical effects, then Freddy vs. Jason is a pleasant surprise. But what really dates it in that special way is the mix of the practical and the CGI. There are plenty of prime moments when the men behind the computer do a particularly exciting blood splatter, flesh slash, or weird flashback that immediately reminds you that you're watching a film that came out on the day "Crazy in Love" was number one on the Billboard chart.
The Teens-on-Pills Subplot
Many of Elm Street's children have been prescribed the unsettling anti-dream pill Hypnocil, but in this crossover the creators upped the ante. Playing on the then-much hyped fear of kids on pills and tabloid "pill parties," the film paints the kids of Elm Street as drug-addled dependents whose minds have been wiped by the pill that keeps them safe. There's definitely a lot that dates this plotline, including the depressing representation of mental health.
The Hookah-Smoking Caterpillar Freddy
Is this one of the worst cinematic moments in movie history or one of the best? The vote might still be out on that one, but it's surely one of (if not) the corniest '00s moments in Freddy vs. Jason, where the stereotypical stoner sidekick smokes some weed with Freddy Krueger in the guise of a weird green caterpillar. Also, I think the weed smoke possesses him to do Freddy's bidding, because of course it does.
The Crossover
Just the pure existence of this movie is peak 2003. It's a time capsule of the pre-MCU studio system, having spent literal decades (the first time Freddy vs. Jason was announced was in 1987) creating a crossover as a way to enhance two flagging franchises. It's the far less successful precursor to the shared universe-saturated landscape in which we now live. Plus, Freddy and Jason fighting each other is just so extreeeeeme!
What's your favorite Freddy vs. Jason moment? Love that cool bong caterpillar? Just wish Kane Hodder had played Jason? Let us know below!
Images: New Line Cinema