Things at Dunder Mifflin could get pretty wild, but at least the company sold something people needed. No one in the year 2020 needs an army orbiting Earth. But while an actual Space Force is a bizarre idea, we can't wait for Netflix's upcoming work place comedy Space Force. It stars The Office's Steve Carell, which is enough to sell us on it. The first images from the show really have us ready to lift off though, because Carell's not the only one going to work. He's being joined by an all-star cast that includes John Malkovich, Lisa Kudrow, and Ben Schwartz. And it's the first thing about any kind of Space Force that doesn't seem like a bad idea.
Netflix
Netflix calls Space Force, co-created by Carell and The Office's Greg Daniels, "a new kind of workplace comedy, where the stakes are sky high and the ambitions even higher."
Netflix
Here's the show's official synopsis:
"A decorated pilot with dreams of running the Air Force, four-star general Mark R. Naird (Steve Carell) is thrown for a loop when he finds himself tapped to lead the newly formed sixth branch of the US Armed Forces: Space Force. Skeptical but dedicated, Mark uproots his family and moves to a remote base in Colorado where he and a colorful team of scientists and 'Spacemen' are tasked by the White House with getting American boots on the moon (again) in a hurry and achieving total space dominance."
Netflix
John Malkovich, who never gets enough credit for being as funny as he is, plays head science advisor Dr. Adrian Malloy.
Netflix
The streaming site also announced Lisa Kudrow has joined the cast as Maggie Naird, the wife of Steve Carell's General Mark R. Naird. "Maggie is a Washington Air Force wife who has sublimated parts of herself to her husband's career for two decades. But as he takes on his biggest challenge, she is growing in a different direction."
Netflix
Booksmart's Diana Silvers plays the Nairds' daughter Erin.
Netflix
Ben Schwartz plays F. Tony Scarapiducci, "a self-centered media consultant whose Machiavellian goals only sometimes line up with those of Mark or Space Force." Gee, think he can pull off that part?
Netflix
Space Force also stars Tawny Newsome as the "ambitious" helicopter pilot Angela Ali.
Netflix
Jimmy O. Yang stars as Dr. Chan Kaifang.
Netflix
The always funny Don Lake plays Brad Gregory.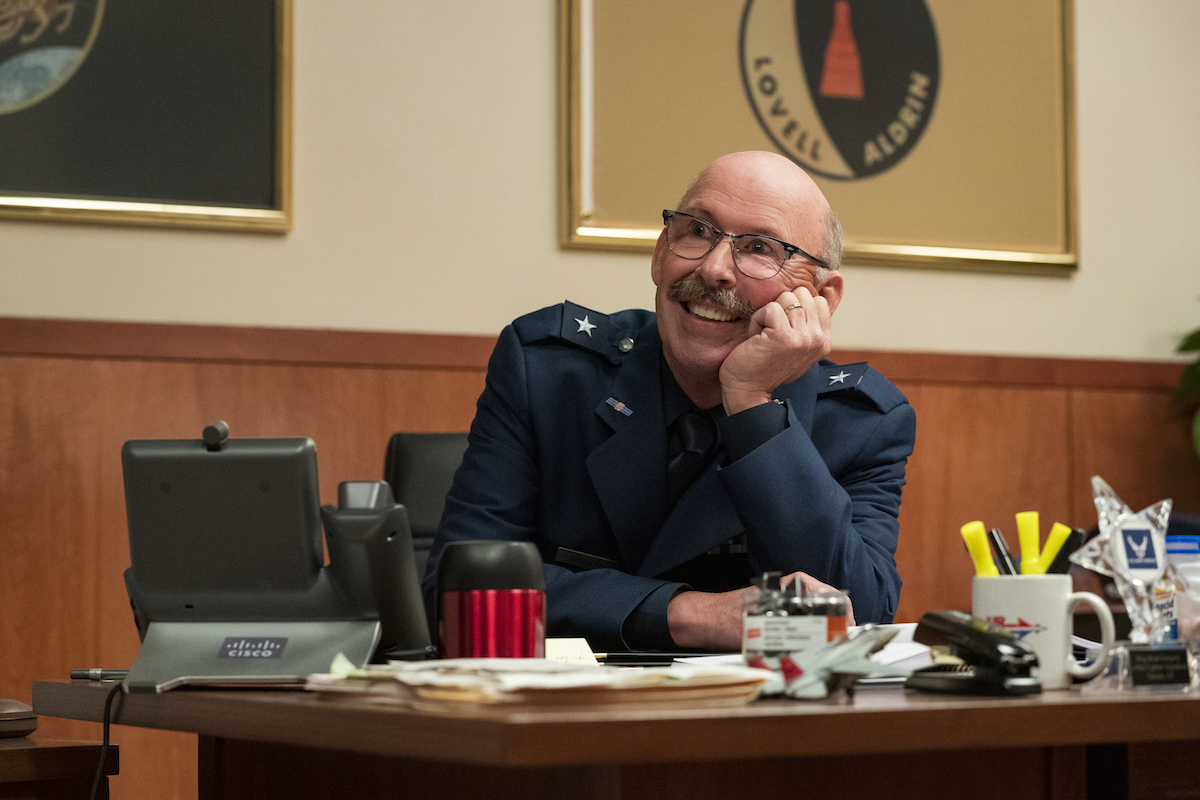 Netflix
Noah Emmerich, seen here looming over Carell's Naird, plays Kick Grabaston.
Netflix
The show also features Alex Sparrow as Yuri "Bobby" Telatovich. We're more excited for his character's role since he isn't included in this first batch of photos. But really, this one image would have been enough for us.
Netflix
We take it back. Space Force was a good idea. But only because it led to this show.
Space Force premieres on Netflix on May 29.
Featured Image: Netflix