May the 4th is upon us. The day that celebrates Star Wars started with the pun "May the 4th be with you" in 1978. It has lived on in pop culture since then, becoming a day that Star Wars licensees mark with new merchandise. And on this May 4, Ravensburger has some news. Nerdist can exclusively reveal Ravensburger will release Star Wars puzzles in the US for the first time ever. They have over a dozen puzzles featuring designs from the original Star Wars movies and the Disney+ Star Wars series.
The Force is with Ravensburger in 2022. In March, the games and puzzle company announced Star Wars Villainous. And now fun puzzle designs extend the company's galaxy of Star Wars products. Ravensburger puzzle division product managers Eder Baptista and Nathaniel Welton told Nerdist they knew they had to give Star Wars the red-carpet treatment.
"We looked to create and grow our series by hand-picking some classic characters and moments that everyone loves, while also highlighting some of the newer stories, like Grogu and Mandalorian," Baptista and Welton said. "We're instilling a cultivated look in how we create imagery for Star Wars and hope to create products that live within the lore of Star Wars. When we're creating the images, we always ask ourselves 'How can we puzzle-fy this scene or this story?' We have to try to identify what both the Star Wars fan and the puzzler are looking for in the final product, so we can piece together the perfect balance in the puzzles and the Force."
Flip through the gallery below to see Ravensburger's puzzle line-up featuring characters such as Grogu ( so much Grogu), Boba Fett, and Din Djarin. Plus you'll spot some classic locations and scenes from the Star Wars films.
Click To View Gallery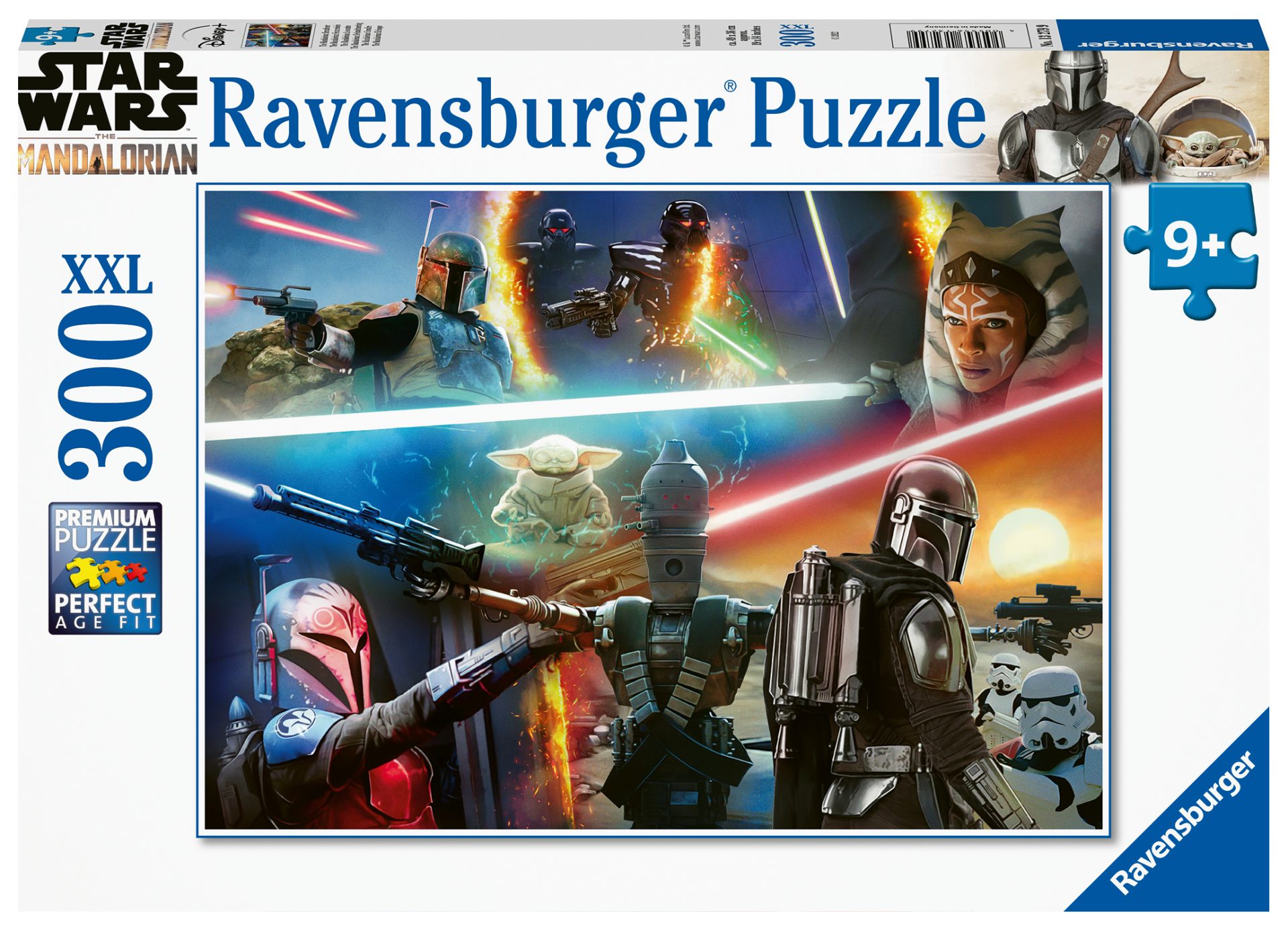 As part of its puzzle collection, Ravensburger has two cool "Shaped" designs that feature silhouettes in the center of the puzzle. You can see the Shaped Grogu puzzle below. Key moments for Grogu's journey fill his "shape," while threats to that journey surround it. Baptista and Welton said, "In the case of the shaped puzzles, you have the character shape as the focus, and the outside perimeter as an added puzzling bonus. From a technical side, it's choosing the right piece count and the tooling. For these, we wanted people to have a enjoyable puzzling experience that they could ideally frame when it's done. They offer a unique, dual-purpose puzzle experience."
The pre-order for the puzzles starts today, May 4. Ravensburger's Star Wars puzzles will be available later this summer.
Amy Ratcliffe is the Managing Editor for Nerdist and the author of A Kid's Guide to Fandom, available now. Follow her on Twitter and Instagram.