Back in the '90s, Star Trek would have little mini-crossovers between their series. For instance, when Deep Space Nine characters appeared on Next Generation, and vice versa. Now, we are returning to that tradition, as Strange New Worlds announced a crossover episode with the animated Lower Decks. And yes, part of the live-action episode will be animated! But before we get to all that, a little bit of news from both the Lower Decks and Strange New Worlds portions of the Star Trek Universe panel.
Star Trek: Lower Decks
The irreverent animated series Lower Decks, which focuses on the least important ship in Starfleet, the Cerritos has won fans over with its first two seasons. As a third one begins, the Hall H stage saw Jack Quaid, Tawny Newsome, Noël Wells, Dawnn Lewis, and creator/executive producer Mike McMahan, along with executive producers Alex Kurtzman and Rod Roddenberry.
One of the gags in the trailer touched on Deep Space Nine, so fans of that show are in for a treat. Showrunner Mike McMahan said "you might see some friendly faces in Deep Space Nine. And it feels like one last walk around Deep Space Nine." Speaking of DS9, Alex Kurtzman said Asked if we could catch up with the DS9 characters past this one episode, Alex Kurtzman says "Sisko s a critical, critical character for everybody. Conversations have definitely been had." Hope for DS9 fans at last!
We've also got four new character posters for season three. Keeping with the vibe, all spoof Star Trek III: The Search for Spock. Finally, series creator Mike McMahan introduced the season three trailer. You can view it above.
Star Trek: Strange New Worlds
The most recent Trek show hit the stage at Hall H debut with cast members Anson Mount (Captain Pike), Ethan Peck (Spock), Christina Chong (La'an Singh), Celia Rose Gooding (Uhura) and the latest addition to the cast, Paul Wesley, who plays a young Captain Kirk. Joining them on stage were executive producers Henry Alonso Myers, Alex Kurtzman, and Rod Roddenberry.
Ethan Peck wore a shirt that says "my species initiated first contact and all I got was this lousy t-shirt." Those Vulcans, still not getting proper respect. He added, "we'll see Spock reckon with his humanity more in year two, and exploring human emotions may contribute to some fundamental changes in his relationships." This probably means a break-up is imminent with his beloved T'Pring.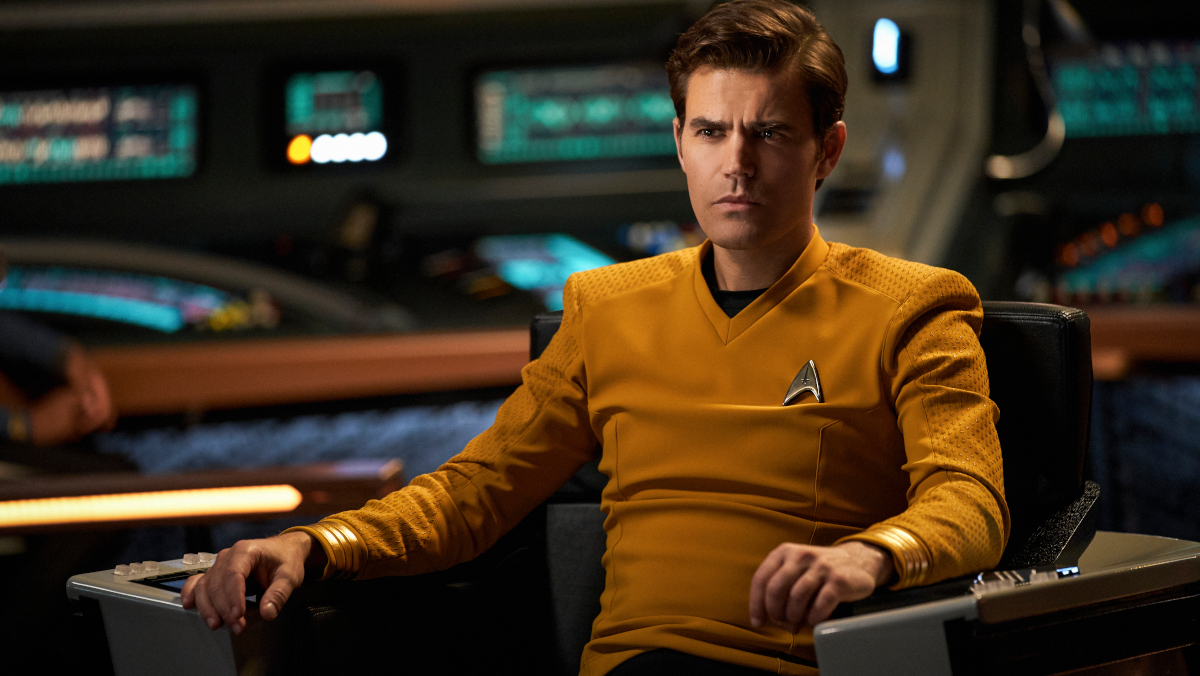 And we'll see more Jim Kirk in season two as well. Paul Wesley mentioned that we only saw Kirk for a handful of scenes in the finale, and that he's looking forward to viewers seeing a different side of Kirk, a much younger Kirk, who hasn't developed into the Kirk we know. So there's more levity to him. At this point, Kirk is still a junior officer aboard the U.S.S. Farragut. But the big news was that SNW would crossover with an unexpected Trek show. And it's not a live-action one.
Stars from Star Trek: Lower Decks will be appearing in Strange New Worlds' upcoming second season. Anson Mount revealed the news when Lower Decks stars Tawny Newsome and Jack Quaid crashed his portion of the panel today. This special crossover episode, will feature both live-action and animation. Fans will see Lower Decks' Ensign Beckett Mariner (Tawny Newsome), and Ensign Brad Boimler, (Jack Quaid), joining the Enterprise next year. Lewis said "we're going to show up and stress them out." The episode will be directed by TNG's Riker, Jonathan Frakes. It wouldn't be Trek without some good old-fashioned time travel shenanigans!