Vampires are without a doubt some of the sexiest creatures in fiction. I mean, this is their whole thing, right? Seductive, bloodsucking, sometimes sparkling members of the undead have always been portrayed as attractive, to some degree. But who are the sexiest vampires in TV and movies? We'll take you through 13(ish) of our favorites.
Eric Northman (Alexander Skarsgard), True Blood
HBO
I will not start this blurb with Bill Compton slander, I will not start this blurb with Bill Compton slander, I will not start this blurb with Bill Compton slander… just kidding! When True Blood made its (sexy) debut back in 2008, its central romance between human/eventual fae queen Sookie Stackhouse (Anna Paquin) and Civil War veteran Bill Compton (Stephen Moyer) was supposed to be the big draw. But by the time the show's fourth episode rolled around, it was clear that one sexy vampire in the greater Bon Temps, Louisiana, region was sexier than the rest: Eric Northman. His sky high stature, the deep demure of his vaguely Scandinavian accent, and the moral gray area within which Eric worked was infinitely more interesting than boring Bill and how he always thought he knew best. Also, you know, having washboard abs adds to the sexy quota.
Damon Salvatore (Ian Somerhalder), The Vampire Diaries
The CW
Ian Somerhalder was born to play a vampire. You're not born with eyes like his without some degree of expectation that you're going to play a sarcastic vampire brother named Damon Salvatore! Of the vampire brothers on The Vampire Diaries, I'm giving Damon the sexiness edge, because he starts off as the bad boy, an agent of chaos, and the antithesis of his responsible, morally righteous (boring) brother Stefan, but eventually becomes one of the good guys and would do anything for Elena (Nina Dobrev). Damon can do it all!
Blade (Wesley Snipes), Blade
New Line Cinema
Has anyone on Earth (or anywhere, really) ever looked as cool as Wesley Snipes does as Blade? The swagger, the incredible outfits, the power of his arms—all of the sexiness is there. And I know the movie isn't out yet, but I'm sure Mahershala Ali is going to bring his own (sexy) formula to the newest iteration of Blade.
Selene (Kate Beckinsale), Underworld
Sony Pictures Entertainment
Pretty much everyone in Underworld is hot. (Hello, Scott Speedman and Michael Sheen—who is playing a werewolf! We'll get back to Vamp Sheen later.) Kate Beckinsale's Selene is a vampire assassin who wears the tightest leather jumpsuit ever made, and she looks fantastic taking down vampire elders and dueling werewolves alike. More lady vampire assassin protagonists, please!
Jerry Dandridge (Chris Sarandon and Colin Farrell), Fright Night
Columbia Pictures/Walt Disney Studio Motion Pictures
The fact that there are two incredibly sexy performances on film by two very sexy actors who were playing a character named Jerry is nothing short of miraculous. Jerry Dandridge, despite having one of the least sexy names of all time, is one of the sexiest vampires of all time. In both the original Fright Night and the 2011 remake, Jerry is the new neighbor of protagonist Charlie (William Ragsdale and Anton Yelchin, respectively) and again, the whole point of Jerry's character is to be sexy.
In the original movie, Jerry seduces Charlie's girlfriend when they're running from him in a club (this iconic mirror dance! Haunting! Sexy!) and in the remake, Colin Farrell wears a white tank top and flirts with Toni Collette, who's playing Charlie's mom, and manages to turn Charlie's girlfriend (Imogen Poots) into a vampire herself. Fright Night is basically about a teenager who is being gaslit (and in the 2011 remake, literally) by a hot vampire. Jerry, there's an opening in my building.
Dracula (Claes Bang), Dracula
Netflix
There have been many Dracula adaptations over the years, and the Netflix version is far from perfect. But Claes Bang's take on Dracula is self aware, charming and, you guessed it: supremely sexy. In the Netflix miniseries, the show also makes the brilliant decision to make Van Helsing one AGATHA Van Helsing (Dolly Wells), and the first two episodes feature a bunch of scenes of the pair flirting and trying to figure each other out. The third episode legitimately jumps the shark so shockingly, I'm still trying to understand why it made the choices it did. But Claes Bang is a delight to watch as Dracula, and I had a great (sexy) time watching him.
Lestat and Louis (Tom Cruise and Brad Pitt), Interview with a Vampire
Warner Bros.
If you tried to guess what kind of movie Tom Cruise and Brad Pitt co-starred in and you did not know Interview with a Vampire existed, there's no way that you would guess that that's the movie they're in together! Tom Cruise plays Lestat, the elder, more bloodthirsty sexy vampire, and Brad Pitt plays Louis, who has more qualms about murdering people than Lestat does. Brad Pitt has played sexy throughout his entire career, but Tom Cruise has kind of moved away from being a sex symbol as he's gotten older. Was that a smart decision? Watch Interview with a Vampire and decide. Honorable mention goes to Christian Slater, if his character became a vampire at the end, because, well, it's Christian Slater, and he's sexy, too.
Angel and Spike (David Boreanaz and James Marsters), Buffy the Vampire Slayer
20th Century Television
For all of Buffy's flaws, the series did have a pair of very sexy vampire love interests for our leading lady. On one hand, you have Angel: brooding, messy, intense Angel, who becomes possibly even sexier when he's evil Angelus. And then you have Spike, who's also brooding and intense, but also funny and sarcastic and really hates everything. I didn't feel I could include one without the other, and it's my list, so my rules! Now I just need a mug like in Knives Out: My sexy vampire list, my coffee, my rules.
Santanico Pandemonium (Salma Hayek), From Dusk Till Dawn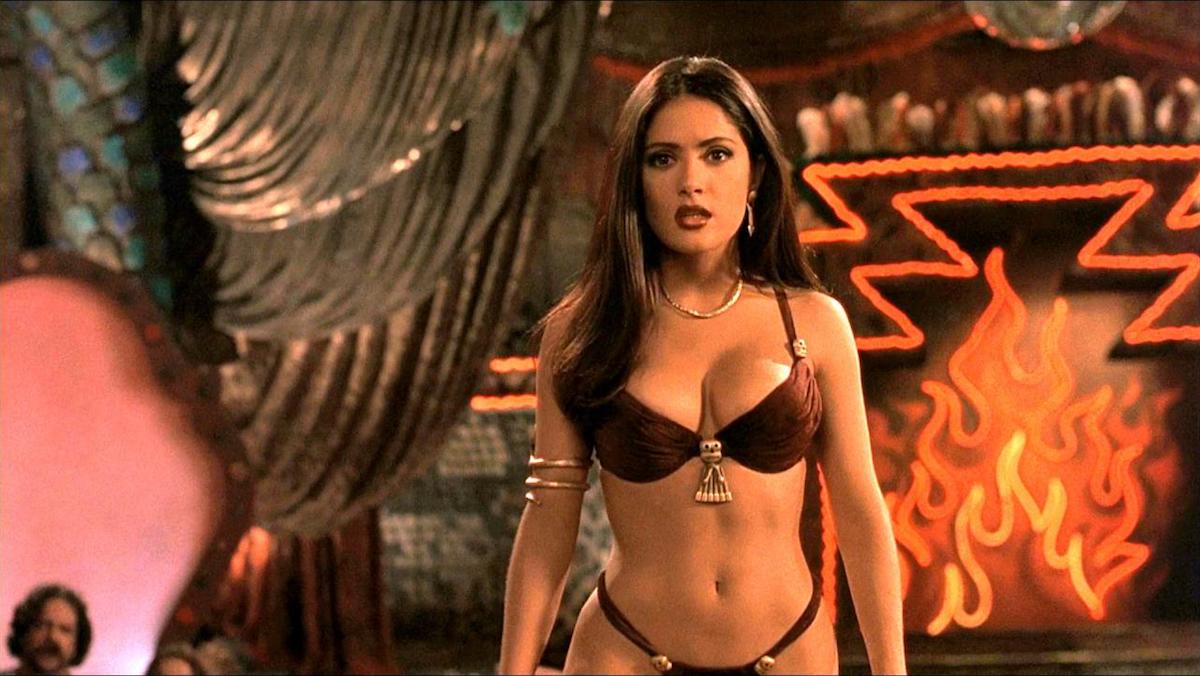 Miramax Films
It would not surprise me if one day, we learned Salma Hayek herself is actually a sexy vampire. She's one of the most beautiful people to live, and in From Dusk Till Dawn she plays Santanico Pandemonium (what a name!), a vampire stripper who does a very sexy dance with a snake. (In the writing of this piece, I learned Salma Hayek had to go under a trance to film this scene because she was so afraid of snakes.) How did she not end up ruling the world and seducing every human on the planet?
Many, many characters from Francis Ford Coppola's Bram Stoker's Dracula
Columbia Pictures
We're getting into some sub-categories now. Of course, we can say Gary Oldman is sexy as Dracula in this masterpiece. We can also shout out Monica Bellucci as one of Dracula's brides, sumptuous and wonderful. And of course, we salute Sadie Frost as Lucy Westerna in that iconic white funeral outfit. Francis Ford Coppola, we thank you for your casting decisions, and also for Keanu Reeves and Winona Ryder's marriage. But alas, they are not technically vampires in the movie, and thus are excluded from this list.
The Cullens, Twilight
Summit Entertainment
The Twilight franchise's appeal is built on the backs of this one sexy family of vampires. Disclaimer: they are all sexy. But I will now rank the Cullen family by sexiness here:
8. Emmett – no disrespect, but Emmett is too boring and too much of a meathead.
7. Rosalie – She has her moments, she's got great hair, but again, a little bit of a snooze.
6. Esme – Mama Cullen is beautiful, but also kind of annoying.
5. Jasper – Intelligence is sexy, and I love how he turns into an uncontrollable rage monster when he smells human blood.
4. Bella – We love an empowered vampire woman! Bella became a thousand times sexier when she became a Cullen, someone had to say it.
3. Alice – Even though she's not actually the Main Character, Alice is the Main Character. Her energy is very sexy!
2. Carlisle – Controversial pick for number two but I said what I said. The man is the head of the family for a reason, knows what to do in a crisis, is very nimble with his hands (because he's a surgeon) and… is daddy.
1. Edward – As if I was going to choose anyone else as number one. Who do you think I am?
Basically everyone from What We Do in the Shadows
FX
Humor is a powerful aphrodisiac, and it really goes a long way for Nandor (Kayvan Novak), Laszlo (Matt Berry), and Nadja (Natasia Demetriou) from the What We Do in the Shadows TV series. Every character is funny, horny, and yes, sexy.
Akasha (Aaliyah), Queen of the Damned
Warner Bros.
In Anne Rice's works, Akasha is the first vampire. So canonically in that universe, Queen Akasha is the OG sexy vampire. Again, it just feels like the world would be a better place if we were under the rule of a sexy vampire queen as opposed to… well… everything in our current reality.
Honorable Mentions:
Aro (Michael Sheen) Twilight franchise
Armand (Antonio Banderas) Interview with a Vampire
Dimitri (Charles Shaughnessy) Mom's Got a Date with a Vampire
Gordon Walker (Sterling K. Brown) Supernatural
Sophie-Anne Leclerq (Evan Rachel Wood) True Blood
Stefan Salvatore (Paul Wesley) The Vampire Diaries
Any of the Originals from The Vampire Diaries
Adam and Eve (Tom Hiddleston and Tilda Swinton) Only Lovers Left Alive
Dracula (Christopher Lee) Dracula
Sheriff Hartwell (Luke Wilson) The X-Files
Featured Image: CBS