It wasn't easy. In fact, it would have been less challenging breaking into the Citadel of Ricks. But against all odds, just ahead of its one-day-only return this Saturday, I got my hands on that elusive McDonald's dipping sauce that Rick and Morty has had us craving since the season three premiere. I got me some Szechuan Sauce! Wubba lubba dub-dub!As you may have heard, McDonald's has described its upcoming rerelease of its beloved Szechuan Sauce as "really, really limited." As such, all I was able to secure was one single packet. Fortunately, that still proved enough to try it with three different menu items—Chicken McNuggets (its original pairing back when it was a promotional item for Mulan), french fries, and the new menu item it has returned to promote, McDonald's new Buttermilk Crispy Chicken Tenders—all in the name of finding out if Rick's love for the stuff was part of another false memory, or if the sauce is indeed truly amazing.Spoiler alert: You're going to want to get in line.
The Szechuan Sauce comes in your standard Sweet and Sour/BBQ Sauce sized packet, with the same alien art that is on the limited edition posters they're also giving out on Saturday. McDonald's hasn't acknowledged that Rick and Morty has anything to do with this one-day return, but the extraterrestrial cover certainly feels like a nod to the show's role in all of this.These are the listed ingredients: water, sugar, distilled vinegar, wheat, soybeans, corn starch, andsalt, and 2% or less of corn vinegar, apple cider vinegar, ginger, soybean oil, sesame seed oil, xanthan gum, preservatives (sodium benzoate and potassium sorbate), spices, yeast, extract, garlic, wheat starch, natural flavor, citric acid, safflower oil, and dextrose.The sauce has a very strong smell, similar to an uncooked Asian sauce you would use in a stir fry. However, it does not have that same raw taste—this stuff is ready for consumption. It looks darker in the packet than it actually is (it's a lighter amber hue). Even though it looks very thick, its viscosity is akin to Sweet and Sour sauce, and it sticks to the food in much the same way.
The first thing I did (because I'm an adult) was use my finger to taste the sauce stuck to the cover, and it was even better than its enticing aroma predicted. It isn't nearly as sweet as I expected, but isn't salty like soy sauce either. It has a nice balance, and is more tangy than anything else. You can definitely taste the ginger, even though it lands halfway down the ingredients list.And thus began my experiment. First up were the Crispy Buttermilk Tenders, which you have to order on Saturday to get the Szechuan Sauce. The tenders on their own are perfectly acceptable (and will no doubt taste phenomenal at 3 a.m. after a Friday night out), but become exceptional when dipped in Szechuan. In fact, the tenders pay the same favor to the sauce; the combination seems to highlight the best qualities in each delicious item.
However, this same magic is not the result of the sauce's pairing with your standard Chicken McNuggets, and I say this as someone who would beg for a few more McNuggets while sitting in the electric chair. That goes for the fries too, which I used to scrape every last ounce of sauce stuck to the container. (Again, I am an adult and I am allowed to vote.) Though the Szechuan Sauce is really tasty across the board, if I managed to get my hands on more, I'd pair it exclusively with the Crispy Buttermilk Tenders.(And yes, I'm stunned I am saying this. I feel like I've just cheated on Chicken McNuggets. But what a most delicious dalliance it is…)
And now for the disclaimer: I think Rick and Morty is the best show on television right now, and was indeed desperate to get my hands on some Szechuan Sauce because of its association with the show (with one of the show's best gags, to boot). But make no mistake, I care and obsess about food so much that I would never let that cloud my judgment. That's called integrity.So believe me when I tell you this: If you like delicious fast food for all the best (and worst) reasons, you'll want to get in line on Saturday to grab a packet of Szechuan Sauce. To reiterate, McDonald's says the sauce will be "really, really limited," so it will likely go fast after becoming available at 2 p.m. You can click here to find out which McDonald's locations near you are participating, though if you're in the New England area, just look for the McDonald's with the bearded man of average height right outside, screaming like a lunatic for more. That's… not me.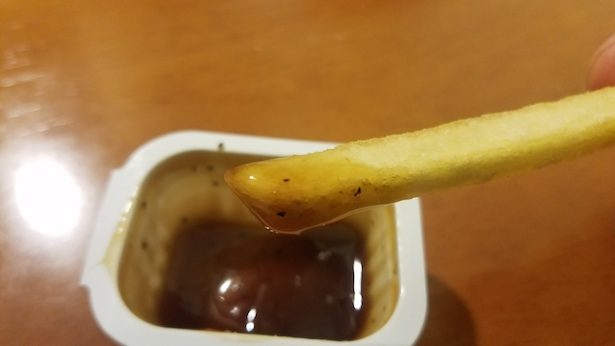 My bet is that fans are going to demand McDonald's bring back the sauce, if not permanently at least with a frequency similar to something like the McRib (only Szechuan Sauce is good… come at me). Truth be told, Szechuan Sauce is probably the best dipping sauce McDonald's has ever offered, and I am not okay with living in one of the infinite universes where I can't get more of it whenever I want.It turns out Rick Sanchez, the smartest man in the universe, knows what he's talking about.Are you planning to get in line on Saturday? Are there any other McDonald's foods you would like to try with Szechuan Sauce? We're hungry to hear your thoughts in the comments below.
More from the Rick and Morty world!
[brightcove video_id="5599272818001″ brightcove_account_id="3653334524001″ brightcove_player_id="rJs2ZD8x"]