In 2014 archaeologists discovered a 1,300-year-old ski at the top of a mountain traversing the Digervarden Ice Patch in Norway. From that point on Secrets of the Ice, a Norwegian archaeological organization, had been keeping an eye on the location, waiting to see if the partner ski would turn up. Now it has, and the pre-Viking Era skis are so intact the organization says they're the best-preserved prehistoric pair on record.
Secrets of the Ice
Gizmodo picked up on the discovery of the missing prehistoric ski. Archaeologist Runar Hole and his trekking companion Bjørn Hessen found it during a field check in September of this year. Secrets of the Ice soon thereafter sent out a team to excavate the wooden ski. The chilly Digervarden climate had frozen it into the ice patch.
In the video above, Secrets of the Ice shows how its archaeological team recovered the ski in late September. After Hole and Hessen eyed the ski, they knew they needed to come back with better digging equipment. The video shows how the team used snow shovels, ice axes, and lukewarm water to free the ski on its return trip.
As the organization's images of the ski show, it's astoundingly complete. The ski still has its twisted-birch bindings as well as a leather strap and wooden plug for a hole at the ski's foothold. It measures about six feet long and seven inches wide. Like its sister ski, this new one also has a hole at its front end; something that would've made it easy for the rider to drag the skis with a rope when leaving the mountains.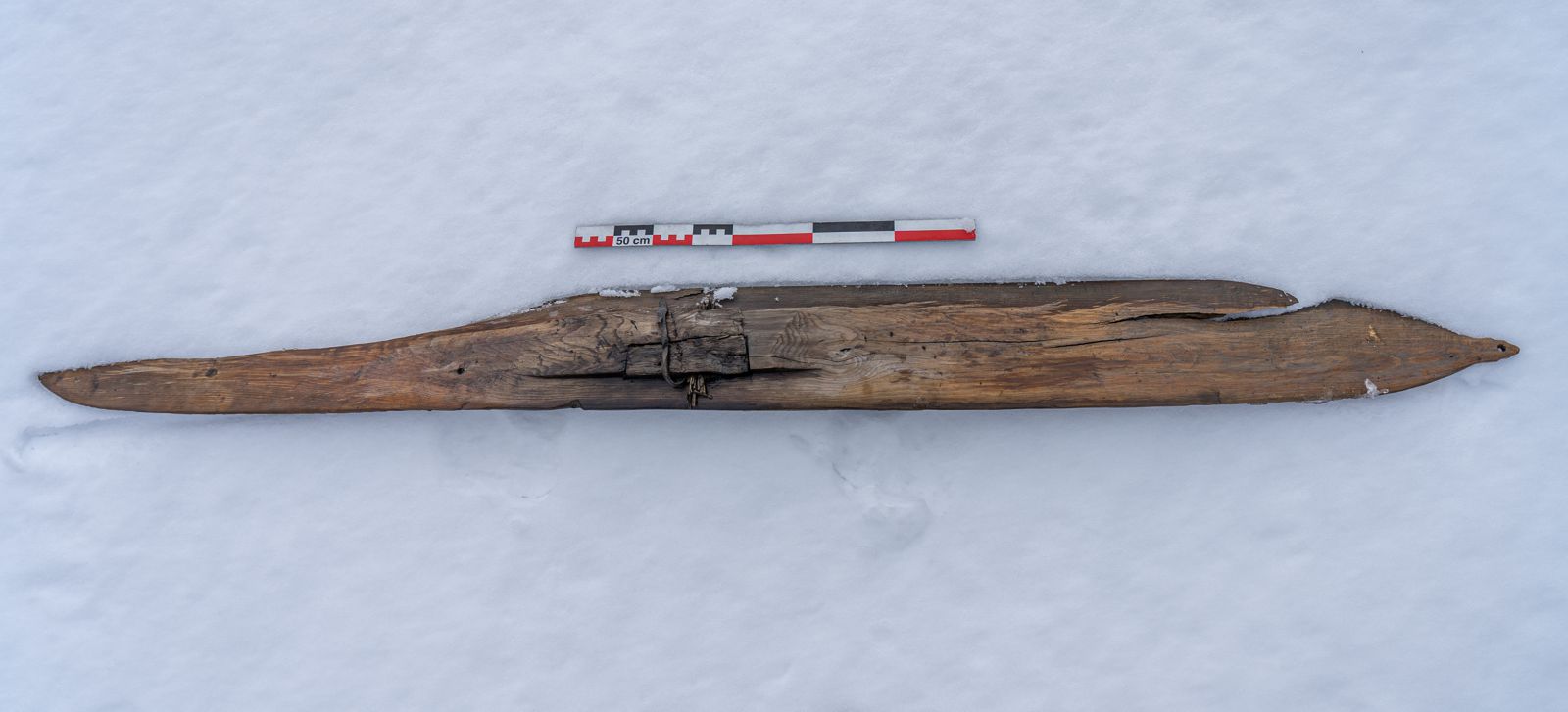 Espen Finstad/Secrets of the Ice
Secrets of the Ice says the story behind who left the skis is still a total mystery. The archaeologists speculate that the skis—which somebody had repaired numerous times—could've been left behind by a hunter. Although they have no idea if said hunter from the "Roman Iron Age" died alongside their skis. It's hard to believe that they would've just abandoned such valuable items, the archaeologists say. Which means the next time we hear from Secrets of the Ice things may be grim. (But also educational.)