Vincent Van Gogh passed away on July 29, 1890. But 130 years after his death there's a new reason—and a new spot—to celebrate the famed artist's career. An old postcard has led to the discovery of the exact location where he painted his final masterpiece, "Tree Roots."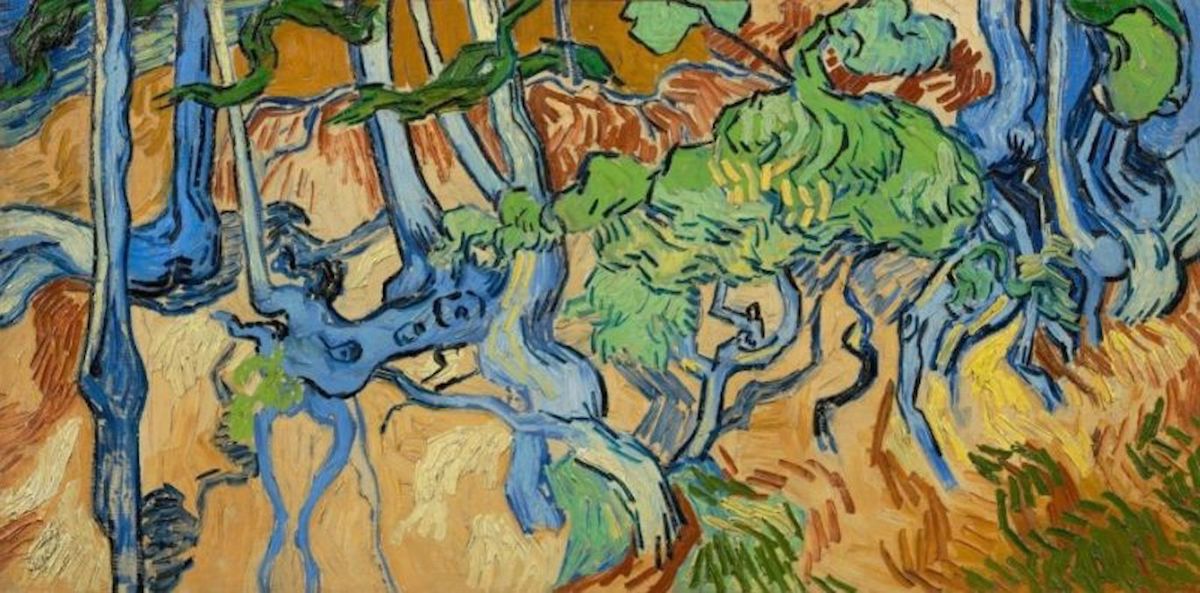 Van Gogh Museum
The Van Gogh Museum in Amsterdam announced that researchers have seemingly unearthed the place the artist based his last work on. It's a bucolic spot in France's Auvers-sur-Oise.
And the discovery all started with an unlikely source.
©arthénon
Wouter van der Veen, scientific director of the Institut van Gogh, found a postcard from Auvers-sur-Oise from sometime between 1900 to 1910. It features an image with tree trunks and roots growing on a hillside to the right. That scene looked familiar to Van der Veen, who brought the postcard to researchers at the Van Gogh Museum. The group also consulted a dendrologist specializing in historical vegetation as part of their investigation. All signs pointed to this location being the one that inspired Van Gogh's last masterpiece on. From the museum's official press release:
"Based on Van Gogh's working habits and the comparative study of the painting, post card and current condition of the hillside, the experts concluded that it is 'highly plausible' that the correct location has been identified."
It certainly seems that way even to the untrained eye. The right side of the image matches up perfectly with "Tree Roots."
©arthénon
The exact spot is 150 meters from the Auberge Ravoux inn in Auvers-sur-Oise. That's where Van Gogh stayed during the final 70 days of his life. The painting's biggest tree trunk is still visible.
Local authorities have already erected a protective wooden structure around it to keep it safe. It's also open to the public.
©arthénon
"Every element of this mysterious painting can be explained by observation of the post card and the location: the shape of the hillside, the roots, their relation to each other, the composition of the earth and the presence of a steep limestone face," said van der Veen in a statement. "The site is also consistent with Van Gogh's habit of painting motifs from his immediate surroundings. The sunlight painted by Van Gogh indicates that the last brush strokes were painted towards the end of the afternoon, which provides more information about the course of this dramatic day ending in his suicide."
This location really is special for art lovers. Fittingly, it's a place to feel rooted to Vincent van Gogh even after all these years.
Featured Image: Van Gogh Museum/ ©arthénon