This year saw the incredible ending to Star Trek: Picard's third season, which brought a close to the saga of the crew of the starship Enterprise from Star Trek: The Next Generation. But in his new memoir, Patrick Stewart reveals he's not necessarily done with Jean-Luc Picard. He also revealed that they dragged him back into the 24th century kicking and screaming in the first place. In an excerpt published in Time magazine from his memoir Making It So, Stewart revealed he initially refused to take part in any revival of his iconic character. But after a meeting with producers Alex Kurtzman and Kirsten Beyer, they sold him on the idea of playing Captain Picard again.
However, they had to meet certain demands first. Number one, Picard wouldn't be in Starfleet, so no uniforms. The show could only last three seasons. And it would absolutely not be a Star Trek: The Next Generation reunion series. Well, they stuck to the first two. As we all know, the final season of Picard was a full-blown The Next Generation reunion. And it was the best-reviewed season of Star Trek: Picard by both fans and critics alike. After a less-than-stellar fourth film, Star Trek: Nemesis, the crew of the Enterprise-D got to go out on a high note, 35 years after they debuted on television. But the Picard ending, with the crew playing poker, was almost not the ending. Stewart actually pitched a different one, that nearly happened. Here's what he had to say in his memoir:
"What I'd like to see at the end of the show," I told them, "is a content Jean-Luc. I want to see Picard perfectly at ease with his situation. Not anxious, not in a frenzy, not depressed. And I think this means that there is a wife in the picture. The writers came up with a lovely scene. It is dusk at Jean-Luc's vineyard. His back is to us as he takes in the view, his dog at his side. Then, off-screen, a woman's loving voice is heard: 'Jean-Luc? Supper's ready!' Is it Beverly Crusher's voice? Laris's? Someone we don't know? It isn't made clear. But Sunny [Stewart's real-life wife] was set to record the lines. Heeding his wife's call, Jean-Luc turns around, says to his dog, "C'mon, boy," and heads inside. Dusk fades to night, and Picard fades into history."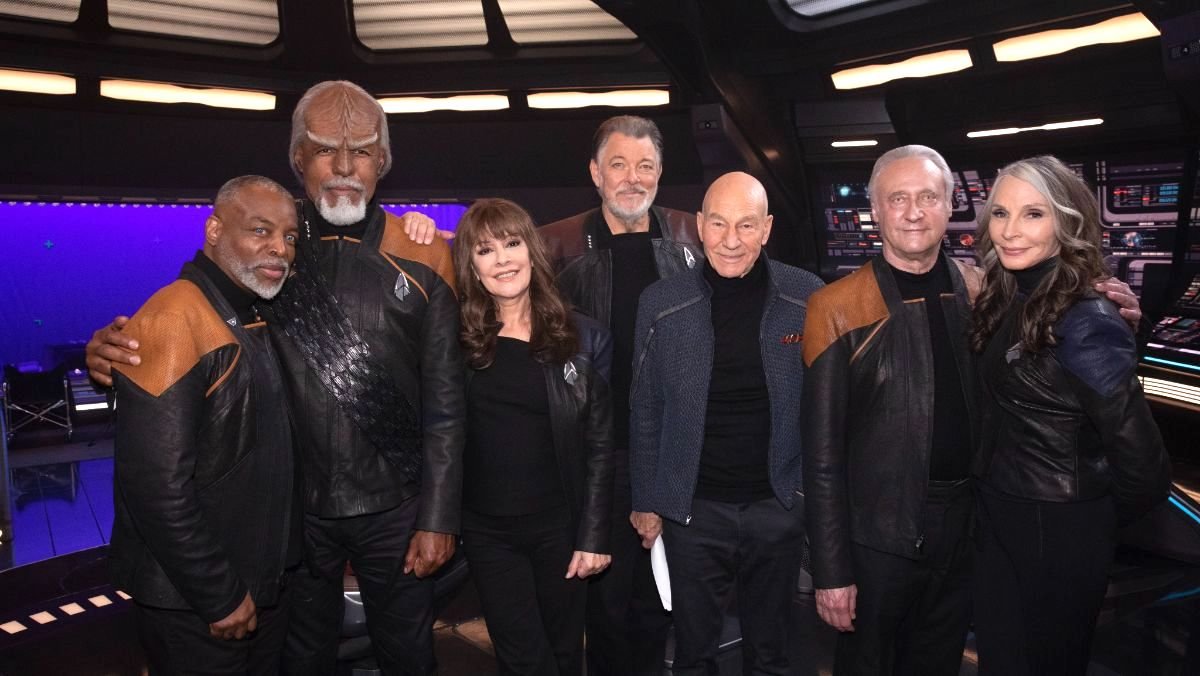 The studio didn't think it was necessary, and the scene didn't make it in. But perhaps, there's still a chance. Because Stewart also revealed in his memoir that he has pitched Paramount on a Star Trek: Picard movie. He said this would not be a fifth Star Trek: The Next Generation movie. Instead, "This would be an expansion and deepening of the universe as we've seen it in Star Trek: Picard. I've discussed this with Jonathan, Brent, and LeVar, and they are all game. Jonathan [Frakes] is my first choice to direct it."
While we think the ending of Picard's third season is the best send-off that the cast could hope for, if there's a really good idea for a film there, then why not? If we get both a Star Trek: Legacy series and a Picard feature, then the future of the 25th century might be bright after all.
This post has affiliate links, which means we may earn advertising money if you buy something. This doesn't cost you anything extra, we just have to give you the heads up for legal reasons. Click away!