Paper Girls brought a mix of '80s nostalgia and time-traveling to life in its first season. Many fans praised the show for staying true to the comics' aesthetics and overall narrative. And the strong performances of the four leading girls really brought it home. While they are stars in the making, Paper Girls wasn't without established names to bolster its power. Actress and comedian Ali Wong stepped into this strange world in a striking Paper Girls role that deeply departs from her typical fare, taking on the 2019 version of protagonist Erin Tieng. Adult Erin is forlorn, alone, and struggling financially—all things that her 12-year-old self never thought she would be. We caught up with Ali Wong to talk about her relationship with the Paper Girls comic, the dynamic between the two Erins, and her childhood dreams.
Nerdist: What was it about Paper Girls and the role of Erin that made you really want to be a part of it?
Ali Wong: Jason Mantzoukas (who plays Grandfather) happens to be a very close friend of mine… [We] always kind of fantasized and talked about what a dream it would be if we could play Alana and Marko from Saga, which is one of Brian K. Vaughan's other acclaimed series. But we're too old to play those characters! Plus I don't know if [a live-action Saga show or movie] is ever going to actually get made.
So it was kind of this joke, but we had given up on that dream a long time ago. And then during quarantine, Jason was so thoughtful and such a good friend. He sent me this huge box of comics. I remember him sending me Spinning and another book. And then he sent me all six [volumes] of Paper Girls. And at the time I think I was visiting my family in San Francisco and I was just holed up in a bedroom, reading them. I finished the entire series in maybe a day or two.
Wow! That's a lot of story to take in.
Wong: Yeah! And I called him afterwards and I said, "This series is so great. And I'm so moved by it. I had no idea that it centers around a young Asian American girl. [Erin] meeting her older self is so interesting." And I said, "Well, what do you think about me playing older Erin? Because I heard that they're making it into a series." And he said, "They are indeed making a series. And I think that you would be fantastic." So I reached out and the Paper Girls team asked me to read for the role.
Jason said, "Okay, I think they're going to have a hard time seeing you as older Erin, because older Erin is somebody whose dreams did not come true. And you, Ali Wong, are a person whose dreams all came true. So it is really good that they're having you read for it because they need to see that this is possible."
What people forget is that Baby Cobra, my first standup special, came out in 2016. It's 2022 right now. I have only been semi-famous for six years. And I started standup when I was 22. So there was a long time where if I had met my younger self, she would've been pretty bummed out about what was happening.
So that helped you relate to older Erin, right?
Wong: I absolutely did relate to that character. And it wasn't hard for me to reach to that place and time where I was an adult feeling like, "this is not what I wanted. And this is not what I wanted for myself. This is not what my younger self would've wanted for me." …I still can't believe it happened. [Jason and I] unfortunately had no overlapping scenes or anything but—let me say this—him and I would not be in this project if we weren't friends, for sure… he introduced me to the whole series and he encouraged me to do it, so I encouraged him to do it too. And it's like a really beautiful thing… I think that it's just such an interesting coming-of-age story with these girls.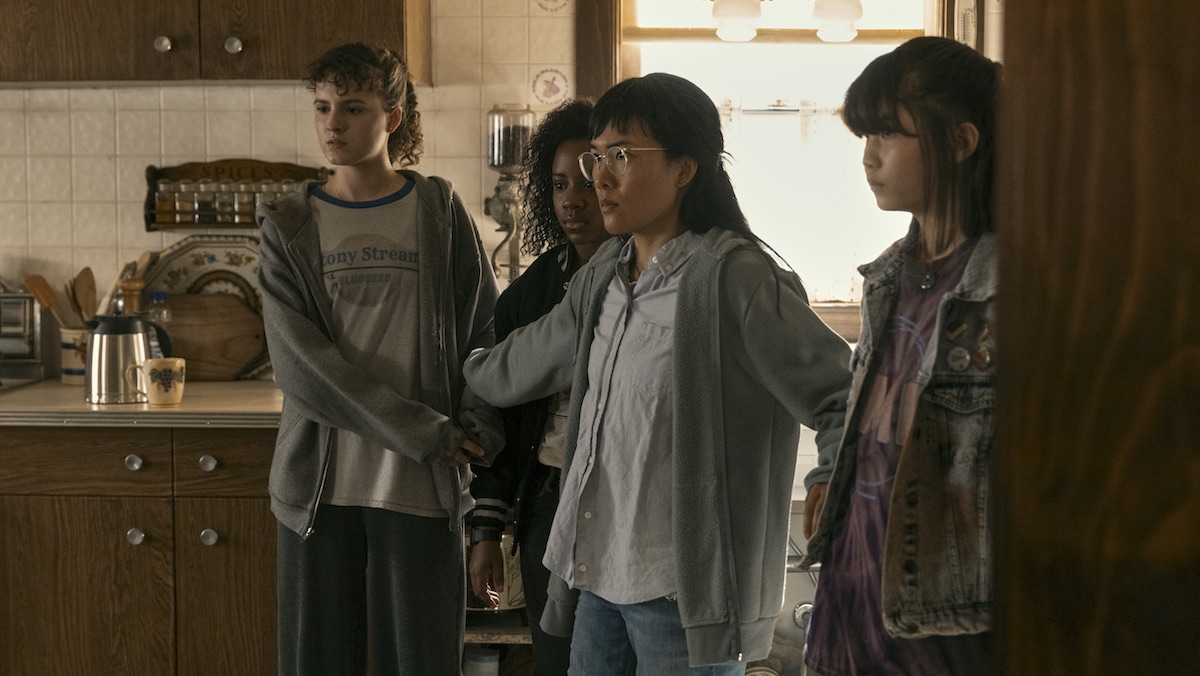 We definitely got more of the older Erin in the series than the comics. What was the most exciting part about taking that comic foundation and expanding on it in your own way?
Wong: I've just never played a character like that before, who's so stripped down, who's just so disappointed in herself. And also the dynamic between her and younger Erin and the journey that they go on. I mean, I'm really like a supporting cast member, and those girls are the main part of the show. They're the main events. So for me, it just means so much.
I care so much about Riley [Lai Nelet], and it means so much to support her as an individual, but also her character. The journey that we go on, where [Erin]'s so resentful and pissed at [older Erin] in the beginning, to the end where I'm about to sacrifice myself for them. And she has the hardest time saying goodbye to me, and is begging me not to leave. It's beautiful… the journey of earning that, you know what I mean? From her being so spiteful towards me, to her sobbing and begging me not to go in just a couple of episodes.
I love that. You said that before you became famous, your 12-year-old self would have been disappointed. What did you actually want to be when you were 12?
Wong: I think I sincerely wanted to be a doctor, because I was specifically interested in surgery, for whatever reason ever since when I was that age, and I would work with my hands. Everyone would comment on how I had such steady hands. And then my dad was a doctor, and so everyone thought I had this natural talent for possible surgery. So I think I wanted to be a surgeon. It's hard to even remember. Yeah, but I think I wanted to be a doctor and I'm happy I'm not.
Catch Ali Wong in Paper Girls season one on Prime Video.
Editor's Note: Nerdist is a subsidiary of Legendary Digital Networks.