Welcome, Wednesday Warriors! It's the best day of the week, the one day we all feverishly look forward to! That's right—it's new comic book day, and we are pumped for all the awesomeness hitting the shelves! Get thee to the comic store and bring some joy into your life. But first, arm yourself with a few recommendations, including the debut of some new series and a finale that will leave your jaw on the floor! Or, if you are a big spender, we also have a complete list of this week's releases. There are some seriously terrific comics coming out this week, so it's a perfect time to try something new!
As usual, we will touch on a plot detail or two below, which means you are officially entering spoiler territory. You can't get mad at us if you continue to read, you only have yourself to blame.
BLACK SCIENCE #43
Image Comics
Written By: Rick Remender
Art By: Matteo Scalera
Colors By: Moreno Dinisio
Letters By: Rus Wooton
After six years, the story The Anarchist League of Scientists has come to a close with this final issue of Black Science. Of course, this being a comic series that is essentially about infinity, things don't really end, and that's a big part of what makes this series so good. Rick Remender and Matteo Scalera, without a doubt, stick the landing on their science fiction masterpiece. It's dark, heartbreaking, and emotional; a truly stunning issue that delivers one hell of a gut punch on its final pages. This issue essentially solidifies Black Science as one of the greatest comics of the modern era. Remender, Scalera, colorist Moreno Dinisio, and letterer Rus Wooton have consistently delivered one of the most gorgeous, rich, and exciting comics on the stands and you can tell they poured their hearts into this book. There is blood, sweat, and tears on these pages. We're sad to see Black Science end but utterly amazed at the grace and beauty of the book's finale. This is as good as comic books get, folks.
HARLEEN #1
DC Comics
Written By: Stjepan Sejic
Art By: Stjepan Sejic
Colors By: Stjepan Sejic
Letters By: Gabriela Downie
Ever since her debut in Batman: The Animated Series, Harley Quinn has been a popular character. Fans love her and adore her complicated place in the Batman mythology. When the character is done well, she's one of the most human aspects of the DCU; a villain, a victim, a lover, a leader, she's all these things and more. Harleen by Stjepan Sejic is a deep dive into Harley Quinn's origin and it focuses on her as a person, detailing her life and work before she falls into a well of insanity. It's deep engaging stuff and Sejic is clearly one of the most creative storytellers working in the medium today. Regardless of how you feel about this retelling – there's bound to be some anger at another retooling of Quinn's past – you'll definitely marvel at the visuals in this book. There are so many "wow" moments in this thing, from the spread of Harley arriving at Arkham to the perfectly laid out final page, Harleen is packed full of interesting stuff and it's definitely a book people will be talking about.
BLOODSHOT #1
Valiant Comics
Written By: Tim Seeley
Art By: Brett Booth
Colors By: Adelso Corona
Letters By: Dave Sharpe
Bloodshot comics are always a good time. Over the last few years, there have been several great runs on the character that ranged from slow-burn military thriller to insane superhero drama. We've enjoyed them all – like we said, always a good time – but there's clearly something special about this relaunch from Tim Seeley and Brett Booth. These guys have taken Bloodshot, a character who is an unstoppable war machine thanks to a body filled with nanities that give him superhuman abilities like enhanced healing, and just cranked things to eleven. This is a big, bloody action book that features lots of mayhem and explosions. It moves like a 90's action film and that's basically the biggest compliment we can give a comic. There's a big-budget movie on the horizon starring Vin Diesel and if it's anything like this comic, we'll be there opening night. Just inject this carnage right into our veins, please.
DOCTOR MIRAGE #2
Written By: Magdalene Visaggio
Art By: Nick Robles
Colors By: Jordie Bellaire
Letters By: Dave Sharpe
Magdalene Visaggio and Nick Robles' Doctor Mirage is a trip. The first issue was fantastic and this second issue elevates things to an even more surreal headspace that is equal parts heartfelt and psychedelic. There's ghosts and magic and weird cults and all sorts of bizarre delights. It's an awesome read that real showcases Visaggio and Robles' skills as storytellers. That said, the real star of this comic is Jordie freaking Bellaire. The colors in Doctor Mirage are out of this world, just absolutely ethereal and captivating. Bellaire's work in this issue should be studied for years to come, it should be put in a museum and children should have to visit it and marvel at its majesty. From the subtle blues of the undead to the total mindf*ck of the afterlife, Jordie Bellaire gives this a book a look and feel unlike any other superhero comic being published. Doctor Mirage might be Valiant's best series right now, and considering how much awesomeness they put out that is really saying something.
JUGHEAD'S TIME POLICE #4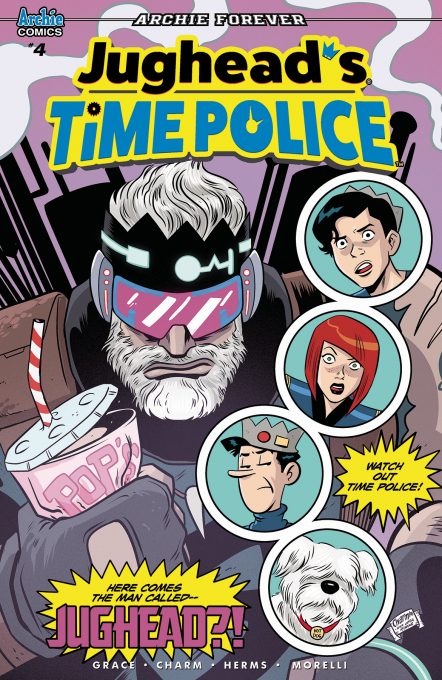 Written By: Sina Grace
Art By: Derek Charm
Colors By: Matt Herms
Letters By: Jack Morelli
The wibbly wobbly, timey wimey adventures of Jughead are getting weirder and weirder. Not only does Jughead's Time Police #4 feature the origin of the supremely rad Cable Jughead, it also features the werewolf Jughead from Jughead: The Hunger. Also, Bot Dog the robot dog sidekick of the future Cable Jughead. It's bananas stuff and the sort of story that only Sina Grace and Derek Charm can tell. Grace weaves in just about every Archie timeline you can think of while Charm and colorist Matt Herms reproduce the look and feel of each timeline perfectly. In other words, werewolf Jughead looks exactly like he does in Jughead: The Hunger, down to the sketchy linework and rugged colors. Classic Jughead has a flat, cartoony style with a simple color palette. It's tons of fun and filled with so many great Easter Eggs for longtime Archie fans. This book is a total winner and a real must-read.
That's it for us this week! Sound off in the comments on your favorite comics hitting shelves!
Featured Image: Image Comics
PREMIER PUBLISHERS


BOOM! STUDIOS

JUL198679	ANGEL #4 (2ND PTG)	$3.99
JUL198681	ANGEL #5 15 COPY FOC SLINEY INCV	$3.99
JUL191315	ANGEL #5 CVR A MAIN PANOSIAN	$3.99
JUL191316	ANGEL #5 CVR B MATTHEWS CONNECTING VAR	$3.99
JUL191317	ANGEL #5 CVR C PREORDER BUONCRISTIANO	$3.99
JUL198680	ANGEL #5 FOC SLINEY INCV	$3.99
JUL191320	ANGEL TP VOL 01	$16.99
JUN191301	AVANT-GUARDS #8 (OF 8) CVR A MAIN HAYES	$3.99
JUN191302	AVANT-GUARDS #8 (OF 8) CVR B PREORDER MCGEE VAR	$3.99
JUL191339	FAITHLESS #6 (OF 6) CVR A POPE (MR)	$3.99
JUL191340	FAITHLESS #6 (OF 6) CVR B EROTICA LOTAY VAR (MR)	$4.99
JUL198682	FAITHLESS #6 (OF 6) FOC LEE VAR (MR)	$3.99
JUL198685	JIM HENSON DARK CRYSTAL AGE RESISTANCE #1 25 COPY TONG VAR	$3.99
JUL198684	JIM HENSON DARK CRYSTAL AGE RESISTANCE #1 BLANK SKETCH VAR	$3.99
JUL191302	JIM HENSON DARK CRYSTAL AGE RESISTANCE #1 CVR A	$3.99
JUL191303	JIM HENSON DARK CRYSTAL AGE RESISTANCE #1 CVR B CONNECTING V	$3.99
JUL198683	JIM HENSON DARK CRYSTAL AGE RESISTANCE #1 FOC WARD VAR	$3.99
MAY191240	JIM HENSON DARK CRYSTAL CREATION MYTHS COMPLETE HC	$39.99
JUL191344	LUMBERJANES #66 CVR A LEYH	$3.99
JUL191345	LUMBERJANES #66 CVR B PREORDER MILLEDGE VAR	$3.99
JUL191331	MIGHTY MORPHIN POWER RANGERS #43 CVR A CAMPBELL	$3.99
JUL198687	MIGHTY MORPHIN POWER RANGERS #43 FOC MORA VAR	$3.99
JUL191333	MIGHTY MORPHIN POWER RANGERS #43 FOIL MONTES VAR	$4.99

DARK HORSE COMICS

MAY190279	ALIENS RESCUE #3 (OF 4) CVR A DE LA TORRE	$3.99
MAY190280	ALIENS RESCUE #3 (OF 4) CVR B CHATER	$3.99
MAY190278	ART OF RAGE 2 HC	$39.99
MAY190290	BERSERK TP VOL 40	$14.99
MAY190263	DISNEY CHRISTMAS CAROL STARRING SCROOGE MCDUCK TP	$10.99
JUN190366	DISNEY FROZEN HERO WITHIN #3 (OF 3) KAWAII CREATIVE STUDIO (	$3.99
MAY190295	ELFEN LIED OMNIBUS TP VOL 02	$24.99
JUL190364	ETHER DISAPPEARANCE OF VIOLET BELL #1 (OF 5) CVR A RUBIN	$3.99
JUL190365	ETHER DISAPPEARANCE OF VIOLET BELL #1 (OF 5) CVR B AZACETA	$3.99
JUL190385	FIGHT CLUB 3 #9 CVR A MACK (MR)	$3.99
JUL190386	FIGHT CLUB 3 #9 CVR B MORRIS (MR)	$3.99
JUL190405	MANOR BLACK #3 (OF 4) CVR A CROOK	$3.99
JUL190406	MANOR BLACK #3 (OF 4) CVR B SMALLWOOD	$3.99
MAY190289	MS KOIZUMI LOVES RAMEN NOODLES TP VOL 01	$10.99
MAY190270	PLANTS VS ZOMBIES HC VOL 05 BOXED SET	$29.97
JUL190389	TOMMY GUN WIZARDS #2 (OF 4) CVR A WARD	$3.99
JUL190390	TOMMY GUN WIZARDS #2 (OF 4) CVR B LOTAY	$3.99

DC COMICS

JUL190532	ACTION COMICS #1015 CARD STOCK VAR ED YOTV	$4.99
JUL190531	ACTION COMICS #1015 YOTV	$3.99
JUL190536	BATGIRL #39 CARD STOCK VAR ED YOTV	$4.99
JUL190535	BATGIRL #39 YOTV	$3.99
JUL190541	BATMAN BEYOND #36	$3.99
JUL190542	BATMAN BEYOND #36 VAR ED	$3.99
FEB190627	BATMAN BLACK AND WHITE BY MARC SILVESTRI STATUE	$80.00
JUL190520	BATMAN CURSE OF THE WHITE KNIGHT #3 (OF 8)	$4.99
JUL190521	BATMAN CURSE OF THE WHITE KNIGHT #3 (OF 8) VAR ED	$4.99
MAY190358	BATMAN NIGHTWALKER THE GRAPHIC NOVEL DC INK	$16.99
JUL190545	BATMAN SUPERMAN #2	$3.99
JUL190546	BATMAN SUPERMAN #2 CARD STOCK VAR ED	$4.99
JUL190550	BOOKS OF MAGIC #12 (MR)	$3.99
JUN190580	CRISIS ON INFINITE EARTHS 35TH ANNIV DLX ED HC	$49.99
FEB190626	DC BOMBSHELLS BATGIRL & SUPERGIRL CELEBRATION STATUE	$250.00
AUG190003	DC PREVIEWS #18 OCTOBER 2019 EXTRAS	$PI
JUN190583	DEATHSTROKE ARKHAM TP	$16.99
JUL190556	DETECTIVE COMICS #1012	$3.99
JUL190557	DETECTIVE COMICS #1012 VAR ED	$3.99
JUL190560	DIAL H #7 (OF 12)	$3.99
JUL190530	DOLLAR COMICS CRISIS ON INFINITE EARTHS #1	$1.00
JUL190569	FLASH #79	$3.99
JUL190570	FLASH #79 VAR ED	$3.99
JUL190566	FREEDOM FIGHTERS #9 (OF 12)	$3.99
JUN190595	GREEN LANTERN THE SILVER AGE TP VOL 04	$34.99
JUL190510	HARLEEN #1 (OF 3) (MR)	$7.99
JUL190511	HARLEEN #1 (OF 3) VAR ED (MR)	$7.99
JUN190600	HEROES IN CRISIS HC	$29.99
JUN190602	INJUSTICE GODS AMONG US YEAR TWO DELUXE ED HC	$49.99
JUL190583	JUSTICE LEAGUE DARK #15 VAR ED YOTV	$3.99
JUL190582	JUSTICE LEAGUE DARK #15 YOTV	$3.99
JUL190588	LOONEY TUNES #251	$2.99
JUL190594	RED HOOD OUTLAW #38 VAR ED YOTV	$3.99
JUL190593	RED HOOD OUTLAW #38 YOTV	$3.99
AUG190463	SCOOBY DOO 50TH ANNIVERSARY GIANT #1	$4.99
JUL190595	SCOOBY DOO TEAM UP #50	$2.99
MAY190359	SECRET SPIRAL OF SWAMP KID TP DC ZOOM	$9.99
APR190501	SHAZAM #7	$3.99
APR190502	SHAZAM #7 VAR ED	$3.99
JUL190608	TERRIFICS #20 VAR ED YOTV	$3.99
JUL190607	TERRIFICS #20 YOTV	$3.99
JUL190615	WONDER WOMAN #79	$3.99
JUL190616	WONDER WOMAN #79 VAR ED	$3.99

DYNAMITE

FEB191206	BETTIE PAGE TRADING CARDS BOX (12 PACKS)	$PI
FEB191205	BETTIE PAGE TRADING CARDS INDIVIDUAL FOIL PACK	$PI
MAY191054	BETTIE PAGE UNBOUND #4 CVR A ROYLE	$3.99
MAY191055	BETTIE PAGE UNBOUND #4 CVR B CHANTLER	$3.99
MAY191056	BETTIE PAGE UNBOUND #4 CVR C WILLIAMS	$3.99
MAY191057	BETTIE PAGE UNBOUND #4 CVR D OHTA	$3.99
MAY191058	BETTIE PAGE UNBOUND #4 CVR E PHOTO	$3.99
JUL191172	CHASTITY #1 ANACLETO VIRGIN CVR (MR)	$50.00
JUL191171	CHASTITY #1 BRADSHAW VIRGIN CVR (MR)	$50.00
JUL191170	CHASTITY #1 CRAIN VIRGIN CVR (MR)	$50.00
JUL191173	CHASTITY #1 NODET VIRGIN CVR (MR)	$50.00
JUL191199	DEATH-DEFYING DEVIL #2 PARRILLO HIGH END VIRGIN CVR	$50.00
APR191116	LONE RANGER DEVILS ROPE TP	$19.99
JUN191183	RED SONJA BIRTH OF SHE DEVIL #3 PARILLO VIRGIN CVR	$50.00
JUN191175	RED SONJA VAMPIRELLA BETTY VERONICA #4 DALTON VIRGIN	$50.00
JUN191176	RED SONJA VAMPIRELLA BETTY VERONICA #4 VIRGIN STAGGS VAR	$50.00
JUL191241	RED SONJA VAMPIRELLA BETTY VERONICA #5 CVR A DALTON	$3.99
JUL191242	RED SONJA VAMPIRELLA BETTY VERONICA #5 CVR B HACK	$3.99
JUL191243	RED SONJA VAMPIRELLA BETTY VERONICA #5 CVR C BRAGA	$3.99
JUL191244	RED SONJA VAMPIRELLA BETTY VERONICA #5 CVR D PARENT	$3.99
JUL191245	RED SONJA VAMPIRELLA BETTY VERONICA #5 CVR E STAGGS	$3.99
JUL191148	VAMPIRELLA RED SONJA #1 DODSON VIRGIN CVR	$50.00
JUL191149	VAMPIRELLA RED SONJA #1 TARR VIRGIN CVR	$50.00
JUL191150	VAMPIRELLA RED SONJA #1 TEDESCO VIRGIN CVR	$50.00
JUL191268	WARLORD OF MARS ATTACKS #4 CVR A JOHNSON	$3.99
JUL191269	WARLORD OF MARS ATTACKS #4 CVR B LAMING	$3.99
JUL191270	WARLORD OF MARS ATTACKS #4 CVR C VILLALOBOS	$3.99
JUL191271	WARLORD OF MARS ATTACKS #4 CVR D CALDWELL	$3.99

IDW PUBLISHING

JUN190637	CARE BEARS UNLOCK THE MAGIC #2 (OF 3) CVR A GARBOWSKA	$3.99
JUN190721	CROW HACK SLASH #3 (OF 4) CVR A SEELEY	$3.99
MAY190670	DAVID MAZZUCHELLIS DAREDEVIL BORN AGAIN ARTISAN ED TP	$49.99
APR190678	DISNEY COMICS & STORIES TP VOL 01 FRIENDS FOREVER	$14.99
JUL190818	FROM HELL MASTER EDITION #7 (OF 10) (MR)	$7.99
JUN190708	GHOSTBUSTERS 35TH ANNIVERSARY COLLECTION TP	$15.99
JUL190812	OCTOBER FACTION #1 SPECIAL EDITION	$3.99
JUL190749	RAGNAROK BREAKING OF HELHEIM #2 (OF 6) CVR A SIMONSON	$4.99
JUN198721	ROAD OF BONES #3 (OF 4) 2ND PTG	$3.99
JUL190726	STAR TREK DISCOVERY AFTERMATH #2 (OF 3) CVR A HERNANDEZ	$3.99
JUL190803	STAR WARS ADVENTURES #26 CVR A CHARM	$3.99
JUL190804	STAR WARS ADVENTURES #26 CVR B LEVENS	$3.99
JUL190737	TMNT ONGOING #98 CVR A WACHTER	$3.99
JUL190738	TMNT ONGOING #98 CVR B EASTMAN	$3.99
JUN190687	TMNT ONGOING TP VOL 22 CITY AT WAR PT 1	$19.99
JUL190743	TMNT RISE OF TMNT SOUND OFF #3 (OF 3) CVR A THOMAS	$3.99
JUL190686	TRANSFORMERS GALAXIES #1 CVR A RAMONDELLI	$3.99
JUL190687	TRANSFORMERS GALAXIES #1 CVR B ROCHE	$3.99
MAR190734	WYNONNA EARP BAD DAY AT BLACK ROCK TP	$12.99

IMAGE COMICS

JUL190096	BATTLE CHASERS ANTHOLOGY TP	$24.99
MAY190034	BLACK SCIENCE #43 CVR A SCALERA (MR)	$3.99
MAY190035	BLACK SCIENCE #43 CVR B ROBINSON (MR)	$3.99
JUN198802	BLACK SCIENCE #43 CVR C SCALERA & DINISIO (MR)	$3.99
JUL190118	CRIMINAL #8 (MR)	$3.99
JUN190035	CYBER FORCE AWAKENING TP VOL 03 (MR)	$16.99
JUL190081	DEADLY CLASS #40 CVR A CRAIG (MR)	$3.99
JUL190082	DEADLY CLASS #40 CVR B HARREN (MR)	$3.99
APR190137	EVOLUTION #18 (MR)	$3.99
JUL190105	MONSTRESS TP VOL 04 (MR)	$16.99
JUL190107	PAPER GIRLS TP VOL 06	$14.99
JUL198335	PRETTY VIOLENT #1 2ND PTG (MR)	$3.99
JUL190145	PRETTY VIOLENT #2 (MR)	$3.99
JUL190149	RIDE BURNING DESIRE #4 (OF 5) CVR A COKER (MR)	$3.99
JUL190150	RIDE BURNING DESIRE #4 (OF 5) CVR B HILLYARD (MR)	$3.99
JUL190177	SAGA ALANA BUBBLEGUM T/S LG	$30.00
JUL190176	SAGA ALANA BUBBLEGUM T/S MED	$30.00
JUL190175	SAGA ALANA BUBBLEGUM T/S SM	$30.00
JUL190178	SAGA ALANA BUBBLEGUM T/S XL	$30.00
JUL190179	SAGA ALANA BUBBLEGUM T/S XXL	$33.00
JUL190180	SAGA ALANA BUBBLEGUM T/S XXXL	$33.00
JUL190078	SFSX SAFE SEX #1 (MR)	$3.99
JUL198362	WHITE TREES #1 (OF 2) 2ND PTG (MR)	$4.99
JUL190173	WHITE TREES #2 (OF 2) (MR)	$4.99

MARVEL COMICS

JUL198305	ABSOLUTE CARNAGE #1 (OF 5) 4TH PTG BAGLEY NEW ART AC	$7.99
JUL198306	ABSOLUTE CARNAGE #2 (OF 5) 2ND PTG STEGMAN VAR AC	$4.99
JUL190905	ABSOLUTE CARNAGE MILES MORALES #2 (OF 3) AC	$3.99
JUL190907	ABSOLUTE CARNAGE MILES MORALES #2 (OF 3) CONNECTING VAR AC	$3.99
JUL198307	ABSOLUTE CARNAGE VS DEADPOOL #1 (OF 3) 2ND PTG FERREIRA VAR	$3.99
JUL191126	ADVENTURES OF SPIDER-MAN GN TP SPECTACULAR FOES	$12.99
JUL190892	AMAZING SPIDER-MAN #30 AC	$3.99
JUL190894	AMAZING SPIDER-MAN #30 OTTLEY IMMORTAL WRAPAROUND VAR AC	$3.99
JUL190947	AVENGERS #24	$3.99
JUL190948	AVENGERS #24 LAND IMMORTAL WRAPAROUND VAR	$3.99
JUL190945	AVENGERS LOKI UNLEASHED #1	$4.99
JUL190946	AVENGERS LOKI UNLEASHED #1 LIM VAR	$4.99
JUL191009	BLACK PANTHER #16	$3.99
JUL190951	CAPTAIN AMERICA #14	$3.99
JUL190952	CAPTAIN AMERICA #14 ZIRCHER IMMORTAL WRAPAROUND VAR	$3.99
JUL191107	CAPTAIN AMERICA TP VOL 02 CAPTAIN OF NOTHING	$17.99
JUL198311	CAPTAIN MARVEL #8 3RD PTG CARNERO VAR	$3.99
JUL191018	FEARLESS #3 (OF 4)	$4.99
JUL191019	FEARLESS #3 (OF 4) FRISON CONNECTING VAR	$4.99
JUL198308	GHOST-SPIDER #1 2ND PTG BENGAL VAR	$3.99
JUL190982	GHOST-SPIDER #2	$3.99
JUL198253	HOUSE OF X #3 (OF 6) 2ND PTG LARRAZ VAR	$4.99
JUL190958	IMMORTAL HULK DIRECTORS CUT #4 (OF 6)	$4.99
JUL191115	INCREDIBLE HULK EPIC COLLECTION TP IN HANDS OF HYDRA	$39.99
APR190945	MARVEL 80TH ANNIVERSARY POSTCARD BOOK HC	$19.99
JUL198312	MARVEL COMICS PRESENTS #8 2ND PTG SEQUEIRA VAR	$4.99
JUL191024	MARVEL COMICS PRESENTS #9	$4.99
JUL191025	MARVEL COMICS PRESENTS #9 RAHZZAH VAR	$4.99
MAY190940	MARVEL ILLUSTRATORS SKETCHBOOK TP	$19.99
AUG190002	MARVEL PREVIEWS VOL 04 #27 OCTOBER 2019 EXTRAS	$1.25
JUL191129	MARVEL RISING GN TP HEROES OF ROUND TABLE	$12.99
JUL191050	MARVEL TEAM-UP #6	$3.99
JUL198309	MILES MORALES SPIDER-MAN #9 2ND PTG GARRON VAR	$3.99
JUL191029	MOON GIRL AND DEVIL DINOSAUR #47	$3.99
JUL191054	NEW MUTANTS WAR CHILDREN #1	$4.99
JUL191056	NEW MUTANTS WAR CHILDREN #1 MCLEOD VAR	$4.99
JUL191055	NEW MUTANTS WAR CHILDREN #1 SIMMONDS VAR	$4.99
JUL198247	POWERS OF X #2 (OF 6) 3RD PTG SHALVEY VAR	$4.99
JUL190873	POWERS OF X #5 (OF 6)	$4.99
JUL190876	POWERS OF X #5 (OF 6) CHRISTOPHER ACTION FIGURE VAR	$4.99
JUL190880	POWERS OF X #5 (OF 6) NAKAYAMA CONNECTING VAR	$4.99
JUL190877	POWERS OF X #5 (OF 6) SCHITI CHARACTER DECADES VAR	$4.99
JUL190874	POWERS OF X #5 (OF 6) WEAVER NEW CHARACTER VAR	$4.99
JUL190878	POWERS OF X #5 (OF 6) YOUNG VAR	$4.99
JUL191005	PUNISHER KILL KREW #3 (OF 5)	$3.99
JUL191110	SECRET WARPS TP	$17.99
JUL191012	SON OF SATAN MARVEL SPOTLIGHT #12 FACSIMILE EDITION	$3.99
APR190946	SPIDER-MAN POSTCARD BOOK HC	$19.99
JUL190987	SPIDER-MAN VELOCITY #2 (OF 5)	$3.99
JUL191073	STAR WARS AOR KYLO REN #1	$3.99
JUL191075	STAR WARS AOR KYLO REN #1 GREATEST MOMENTS VAR	$3.99
JUL191074	STAR WARS AOR KYLO REN #1 MCKONE PUZZLE PC VAR	$3.99
JUL191085	STAR WARS JEDI FALLEN ORDER DARK TEMPLE #2 (OF 5)	$3.99
JUL191082	STAR WARS TARGET VADER #3 (OF 6)	$3.99
JUL190842	STRIKEFORCE #1	$3.99
JUL190844	STRIKEFORCE #1 DEODATO VAR	$3.99
JUL190847	STRIKEFORCE #1 HORN VAN VAR	$3.99
JUL190843	STRIKEFORCE #1 YARDIN IMMORTAL WRPAD VAR	$3.99
JUL190989	SUPERIOR SPIDER-MAN #11	$3.99
JUL198310	SYMBIOTE SPIDER-MAN #5 (OF 5) 2ND PTG LAND VAR	$3.99
JUL191040	THANOS #6 (OF 6)	$3.99
JUL191121	TOMB OF DRACULA COMPLETE COLLECTION TP VOL 03	$39.99
JUL190967	TRUE BELIEVERS HULK DEVIL HULK #1	$1.00
JUL190970	TRUE BELIEVERS HULK OTHER HULKS #1	$1.00
JUL190968	TRUE BELIEVERS HULK RED HULK #1	$1.00
JUL191046	WOLVERINE ANNUAL #1	$4.99
JUL191047	WOLVERINE ANNUAL #1 CHRISTOPHER CONNECTING VAR	$4.99
JUN191067	X-MEN MILESTONES TP X-TINCTION AGENDA	$34.99

COMICS & GRAPHIC NOVELS

JUL191468	ADV OF MR CRYPT & BARON RAT #2 (OF 3)	$1.50
JUL192553	AFTER RAIN GN VOL 05	$19.95
JUL192554	AJIN GN VOL 13	$12.95
JUN191832	ALBERT EINSTEIN POETRY OF REAL HC	$19.99
JUL191581	B & V FRIENDS JUMBO COMICS DIGEST #274	$7.99
JUL191434	BAD RECEPTION #2	$3.99
JUL192043	BALLAD OF YAYA GN VOL 03 CIRCUS	$9.99
JUL192051	BATTLECATS VOL 2 #5	$3.99
JUL192042	BEZKAMP GN	$14.99
JUL191955	BLASTOSAURUS MALLOWEEN SPECIAL	$3.99
JUL191690	BLOOD AND DRUGS GN (MR)	$15.00
JUL192282	BLOODSHOT (2019) #1 CVR A SHALVEY	$3.99
JUL192283	BLOODSHOT (2019) #1 CVR B JOHNSON	$3.99
JUL192284	BLOODSHOT (2019) #1 CVR C TEMPLER	$3.99
JUL192285	BLOODSHOT (2019) #1 CVR D B&W & RED MEYERS	$3.99
JUL192286	BLOODSHOT (2019) #1 CVR E BLANK	$3.99
JUL192288	BLOODSHOT (2019) #1 CVR G #1-12 PRE-ORDER BUNDLE	$3.99
APR192063	BLOODSHOT CLASSIC OMNIBUS HC VOL 01 (RES)	$99.99
JUL191458	BRONZE AGE BOOGIE #6	$3.99
JUL192162	CATEGORY ZERO #5	$3.99
MAY191385	CAVEWOMAN TARGET ANKHA ONE SHOT CVR A MASSEY (MR)	$3.99
MAY191387	CAVEWOMAN TARGET ANKHA ONE SHOT CVR C  MASSEY NUDE  (MR	$PI
MAY191388	CAVEWOMAN TARGET ANKHA ONE SHOT CVR D  BUDD ROOT NUDE	$PI
MAY191389	CAVEWOMAN TARGET ANKHA ONE SHOT CVR E  BUDD ROOT NUDE	$PI
JUL191561	CHILLING ADVENTURES OF SABRINA OCCULT ED HC	$29.99
JUL192106	CHRIS WARE RUSTY BROWN HC GN	$35.00
MAY191950	DAN DARE HC EVIL ONE (RES)	$39.99
AUG192059	DEATH OF THE MASTER GN	$19.95
FEB191711	DF AVENGERS NO ROAD HOME #6 GOLD SGN WAID	$89.99
FEB191710	DF AVENGERS NO ROAD HOME #6 SGN WAID	$29.99
JAN191843	DF BATMAN WHO LAUGHS GRIM KNIGHT #1 GOLD SGN SNYDER	$89.99
JAN191842	DF BATMAN WHO LAUGHS GRIM KNIGHT #1 SGN SNYDER	$49.99
JAN191844	DF BATMAN WHO LAUGHS GRIM KNIGHT #1 SGN TYNION IV	$49.99
JUL191873	DF BLACK CAT #1 HUGHES SKETCH ART EXC	$29.99
APR191675	DF DCEASED #1 SGN CAPULLO	$49.99
JAN191837	DF DETECTIVE COMICS #1000 1980S MILLER VAR SGN MILLER	$299.99
JAN191841	DF DETECTIVE COMICS #1000 2000S JOCK VAR SGN JOCK	$59.99
JAN191840	DF DETECTIVE COMICS #1000 2010S CAPULLO VAR GOLD SGN CAPULLO	$80.00
JAN191839	DF DETECTIVE COMICS #1000 2010S CAPULLO VAR SGN CAPULLO	$49.99
JAN191831	DF DETECTIVE COMICS #1000 GOLD SGN SCOTT SNYDER	$80.00
JAN191829	DF DETECTIVE COMICS #1000 GOLD SGN TOM KING	$80.00
APR191691	DF ELECTRIC BLACK #1 SGN SCHMALKE & WOODALL	$19.99
MAY181637	DF JUSTICE LEAGUE DARK SGN TYNION IV	$49.99
APR191670	DF SUPERMAN YEAR ONE #1 GOLD SGN MILLER	$399.99
APR181535	DF WALKING DEAD #180 BLOOD RED SGN GAUDIANO	$29.99
AUG181881	DF WALKING DEAD #181 GAUDIANO LTD PINK SGN	$69.99
APR191672	DF YEAR OF VILLAIN #1 SGN SNYDER	$49.99
JUL192289	DOCTOR MIRAGE #2 (OF 5) CVR A TAN	$3.99
JUL192290	DOCTOR MIRAGE #2 (OF 5) CVR B DORAN	$3.99
JUL192291	DOCTOR MIRAGE #2 (OF 5) CVR C IANNICIELLO	$3.99
MAY191947	ELRIC STORMBRINGER DLX ED HC (RES)	$29.99
APR191805	FABULOUS FURRY FREAK BROS COMPENDIUM TP	$13.99
JUL192509	FAIRY TAIL BOX SET VOL 01	$120.89
JUL191371	FIVE YEARS #4	$3.99
JUL191945	FROGCATCHERS GN	$22.99
JUL191470	GODS AND GEARS #1 (OF 4)	$1.50
JUL191463	GOON TP VOL 01 RAGGED RETURN TO LONELY STREET	$17.99
JUL192143	GREY AREA TP VOL 02 LONG WAY HOME	$19.99
JUN192058	GRIMM FAIRY TALES #31 CVR A  MARIA	$3.99
JUN192059	GRIMM FAIRY TALES #31 CVR B RICHARDSON	$3.99
JUN192060	GRIMM FAIRY TALES #31 CVR C BIFULCO	$3.99
JUN192061	GRIMM FAIRY TALES #31 CVR D GEORGE	$3.99
JUL191379	HERALD LOVECRAFT AND TESLA BUNDLES OF JOY #2	$3.99
JUL192052	HONOR AND CURSE TP VOL 01 TORN	$17.99
DEC181913	I AM HERMES HC	$18.99
JUL192525	I HEAR THE SUNSPOT GN VOL 04 LIMIT 2	$12.95
JUL191471	ICYMI #9	$0.99
JUL192513	IF I COULD REACH YOU VOL 01 (MR)	$12.99
JUL192514	IM STANDING ON MILLION LIVES GN VOL 03 (MR)	$10.99
JUL192515	INTERVIEWS WITH MONSTER GIRLS GN VOL 07	$12.99
JUL192091	INVADER ZIM #47 CVR A C	$3.99
JUL192092	INVADER ZIM #47 CVR B CAB	$3.99
JUL191358	IRON MANTICORE ONE SHOT	$4.00
JUL192176	ISADORA GN	$24.99
JUL192207	JOHN CARPENTERS TALES FOR A HALLOWEENIGHT TP	$24.99
JUL192208	JOHN CARPENTERS TALES OF SCIENCE FICTION TP TWITCH	$19.99
JUL191572	JUGHEAD TIME POLICE #4 (OF 5) CVR A CHARM	$3.99
JUL191573	JUGHEAD TIME POLICE #4 (OF 5) CVR B ISAACS	$3.99
JUL191574	JUGHEAD TIME POLICE #4 (OF 5) CVR C SCHKADE	$3.99
JUL192023	JUNIOR HIGH HORRORS #7 CVR A  PET SEMETARY PARODY	$4.99
JUL192024	JUNIOR HIGH HORRORS #7 CVR B CHILDREN OF CORN PARODY	$4.99
JUL192025	JUNIOR HIGH HORRORS #7 CVR C NIGHTMARE PROM STREET	$4.99
MAY191848	KAIJUMAX TP VOL 04 SEASON FOUR SCALY IS NEW BLACK	$19.99
JUL191906	KEEPING SCORE GN  (MR)	$PI
JUL192209	KING SHAKA ZULU LEGEND GN	$23.95
FEB192279	KISS ME AT STROKE OF MIDNIGHT GN VOL 09	$12.99
JUL191435	KNIGHTS TEMPORAL #3	$3.99
JUL191770	LADY DEATH (ONGOING) #14 WONDERCON VIP (MR)	$8.99
JUL191755	LADY DEATH (ONGOING) #15 ECCC VIP (MR)	$8.99
JUL191735	LADY DEATH (ONGOING) #7 SAN DIEGO VIP (MR)	$8.99
JUL191720	LADY DEATH APOCALYPSE #0 CENTURY A	$15.99
JUL191722	LADY DEATH APOCALYPSE #0 CENTURY C	$15.99
JUL191723	LADY DEATH APOCALYPSE #0 CENTURY D	$15.99
JUL191724	LADY DEATH APOCALYPSE #0 CENTURY E	$15.99
JUL191750	LADY DEATH APOCALYPSE #1 KICKSTARTER VIP PREMIUM (MR)	$8.99
JUL191745	LADY DEATH ORIGINS ANNUAL #1 NEW YORK VIP (MR)	$8.99
JUL192473	LAID BACK CAMP GN VOL 07	$13.00
JUL192516	LAND OF THE LUSTROUS GN VOL 09	$12.99
AUG191523	LIFE OF VICE GN (RES) (MR)	$12.99
JUL192046	MAE TP VOL 02	$14.99
JUL192517	MAGUS OF LIBRARY GN VOL 02	$12.99
JUL192323	MALL #2 (MR)	$3.99
JUL191925	MARGO INTERGALACTIC TRASH COLLECTOR #1 (OF 3) CVR A WHITING	$3.99
JUL191926	MARGO INTERGALACTIC TRASH COLLECTOR #1 (OF 3) CVR B STATON V	$4.99
JUL192003	MEYER TP	$17.95
JUL192518	MISSIONS OF LOVE GN VOL 18	$10.99
JUL192007	MUSE HC (MR)	$24.95
JUL191787	NO ONES #4	$3.99
JUL191461	OKAY WITCH GN	$12.99
JUL198445	OMNI #1 2ND PTG (MR)	$3.99
JUL192001	OMNI #2 CVR A MCKONE (MR)	$3.99
JUL192002	OMNI #2 CVR B RICHARDSON (MR)	$3.99
JUL192318	PLOT #1 CVR A (MR)	$3.99
JUL192319	PLOT #1 CVR B (MR)	$3.99
JUL198026	PLOT #1 CVR C (MR)	$3.99
MAY192258	PLUS SIZED ELF GN VOL 03 (RES) (MR)	$12.99
JUL191693	PSYCHO LIST #2	$3.99
JUL192325	QUEEN OF BAD DREAMS #4 (MR)	$3.99
JUL192519	QUINTESSENTIAL QUINTUPLETS GN VOL 05 (MR)	$10.99
JUL192169	RED WINTER #3	$3.99
JUL192320	RELICS OF YOUTH #1 CVR A	$3.99
JUL192321	RELICS OF YOUTH #1 CVR B	$3.99
JUL192326	RESONANT #3 (MR)	$3.99
AUG191970	REVENGER AND THE FOG GN (FLOATING WORLD ED) (MR)	$18.95
JUL192094	RICK & MORTY #54 CVR A ELLERBY	$3.99
JUL192095	RICK & MORTY #54 CVR B SEARS	$3.99
JUL192045	RISE ZELPHIRE HC BOOK 02 PRINCE OF BLOOD	$14.99
JUN191682	RIVER AT NIGHT HC (MR)	$34.95
JUN191397	ROCKY & BULLWINKLE BEST OF DUDLEY DORIGHT #1 LTD RETRO CVR	$9.99
JUN191396	ROCKY & BULLWINKLE BEST OF DUDLEY DORIGHT #1 MAIN CVR	$3.99
JUN191560	ROLLED A ONE GN	$13.00
JUL191691	ROOFTOP STEW GN (MR)	$12.00
JUL192476	SACRIFICIAL PRINCESS & KING BEASTS GN VOL 07	$13.00
JUL191553	SCRATCHER #1	$3.99
JUN191386	SCRIMSHAW VOL 2 #4 (OF 4) TEARS OF SONORAN SEA	$1.50
JUL192327	SERA & ROYAL STARS #3	$3.99
JUL192520	SEVEN DEADLY SINS GN VOL 34	$10.99
AUG192157	SILVER AGE CLASSICS OUTER SPACE HC VOL 02	$45.99
JUL192178	SLEEPWALKING GN (MR)	$5.00
JUN191937	SNOWPIERCER HC VOL 04 EXTINCTION	$19.99
JUN191908	SOLAR FLARE SEASON THREE #6 (RES)	$3.99
JUL191592	SOULFIRE VOL 8 #4 CVR A FORTE	$3.99
JUL191593	SOULFIRE VOL 8 #4 CVR B OUM	$3.99
JUN191897	SOUTHERN NIGHTGOWN #8 (RES)	$3.99
JUL192150	SPOOK TP	$12.95
JUN191969	STAR WARS TP ROGUES SCOUNDRELS AND BOUNTY HUNTERS	$24.99
JUL192004	STRANGELANDS #3 (MR)	$3.99
JUN191439	STRONG BOX BIG BAD BOOK OF BOON #3 (OF 8)	$3.99
JUL192341	TALES OF TERROR BRIDGEWATER TRIANGLE #1 CVR A VITORINO	$5.99
JUL192342	TALES OF TERROR BRIDGEWATER TRIANGLE #1 CVR B ERIC J	$5.99
JUL192343	TALES OF TERROR BRIDGEWATER TRIANGLE #1 CVR C DOONEY	$5.99
JUL192344	TALES OF TERROR BRIDGEWATER TRIANGLE #1 CVR D COLAPIETRO	$5.99
JUL192345	TALES OF TERROR BRIDGEWATER TRIANGLE #1 CVR E BLANK SKETCH	$10.00
MAY191946	TANK GIRL COLOUR CLASSICS HC VOL 02 1990-1992 (MR)	$24.99
JUL191700	TAROT WITCH OF THE BLACK ROSE #118 HALLOWEEN WITCH (MR)	$2.95
JUN191898	THEORY OF MAGIC #6 (RES)	$3.99
JUN191413	THREE STOOGES FOUR COLOR 1959 #1 LTD ED B&W PHOTO CVR	$9.99
JUN191414	THREE STOOGES FOUR COLOR 1959 #1 MAIN CVR	$3.99
JUN191335	VAMPBLADE SEASON 4 #5 CVR A YOUNG (MR)	$4.99
JUN191336	VAMPBLADE SEASON 4 #5 CVR B YOUNG RISQUE (MR)	$4.99
JUN191337	VAMPBLADE SEASON 4 #5 CVR C CHATZOUDIS (MR)	$4.99
JUN191338	VAMPBLADE SEASON 4 #5 CVR D CHATZOUDIS RISQUE (MR)	$4.99
JUN191339	VAMPBLADE SEASON 4 #5 CVR E STANLEY (MR)	$4.99
JUN191340	VAMPBLADE SEASON 4 #5 CVR F STANLEY RISQUE (MR)	$4.99
JUL192364	VAN HELSING SWORD OF HEAVEN TP	$19.99
JUL191418	VORACIOUS APPETITE FOR DESTRUCTION #5 (OF 5) CVR A MUHR	$3.99
JUL191419	VORACIOUS APPETITE FOR DESTRUCTION #5 (OF 5) CVR B GONZALEZ	$3.99
JUN191442	WALL MIGHT FIRST TERM PT 2 ONE SHOT	$4.99
JUL191525	WALLACE THE BRAVE YA GN VOL 02 SNUG HARBOR STORIES	$9.99
JUN191444	WILLIAM LAST SHADOWS OF CROWN #2	$3.99
JUL192179	YOUR BLACK FRIEND ONE SHOT MINI (MR)	$5.00
JUL191911	ZAPPED BY GOD OF ABSURDITY HC BEST PAUL KRASSNER	$26.99