Here at Nerdist, we're big fans of both Mondo and Godzilla, so we were incredibly excited when the former announced a gallery show at SXSW inspired entirely by the former. Sadly, SXSW was cancelled, but Mondo is still releasing the gorgeous posters, and today we're excited to exclusively reveal the final selection of amazing artwork!
Mondo, Francesco Francavilla
Mondo, Francesco Francavilla
Each of the final four posters comes in a classic and variant Japanese edition, and the trio centers on some of the most iconic and beloved Godzilla films. The first is the stunning Francesco Francavilla's take on the original Godzilla film, which was recut for American audiences and released as Godzilla King of the Monsters. These two masterpieces are joined by Shan Jiang's brooding take on Godzilla vs Destoroyah, the 1995 monster-mash-up classic.
Mondo, Shan Jiang
Mondo, Shan Jiang
Next up are Paul Mann's radical posters for Destroy All Monsters. My personal favorite Godzilla flick, this 1968 gem centers on a massive monster fight featuring he titular terror, Rodan, Mothra, Manda, King Ghidora, and a whole bunch more, which is instigated by a race of maniacal female aliens. It also features Godzilla's lovely chubby child Minilla. What more could you want?
Mondo, art by Paul Mann; layout by Chris Bilheimer
Mondo, art by Paul Mann; layout by Chris Bilheimer
The Japanese variant is different than the others in the show as it doesn't feature the original release native title.
Destroy All Monsters
was re-released in Japan in 1972 with a tighter edit from original director Honda under the title
Gojira: Dengeki Taisakusen
. Mondo went this direction for Mann's variant as the film's original Japanese title from 1968 didn't have Godzilla in it. Its original title was
怪獣総進撃
, essentially Attack of the Stomping Kaiju. It's fun being able to add Godzilla in Japanese in the title on the poster as it's one of the few words non-Japanese speaking fans might be able to recognize and read.
The last poster in the collection is Attack Peter's take on Godzilla vs. The Smog Monster A.K.A. Godzilla vs Hedorah. These beautiful posters are totally unique as they're handcrafted linocut artwork printed on Lokta paper.
Mondo, Peter Attack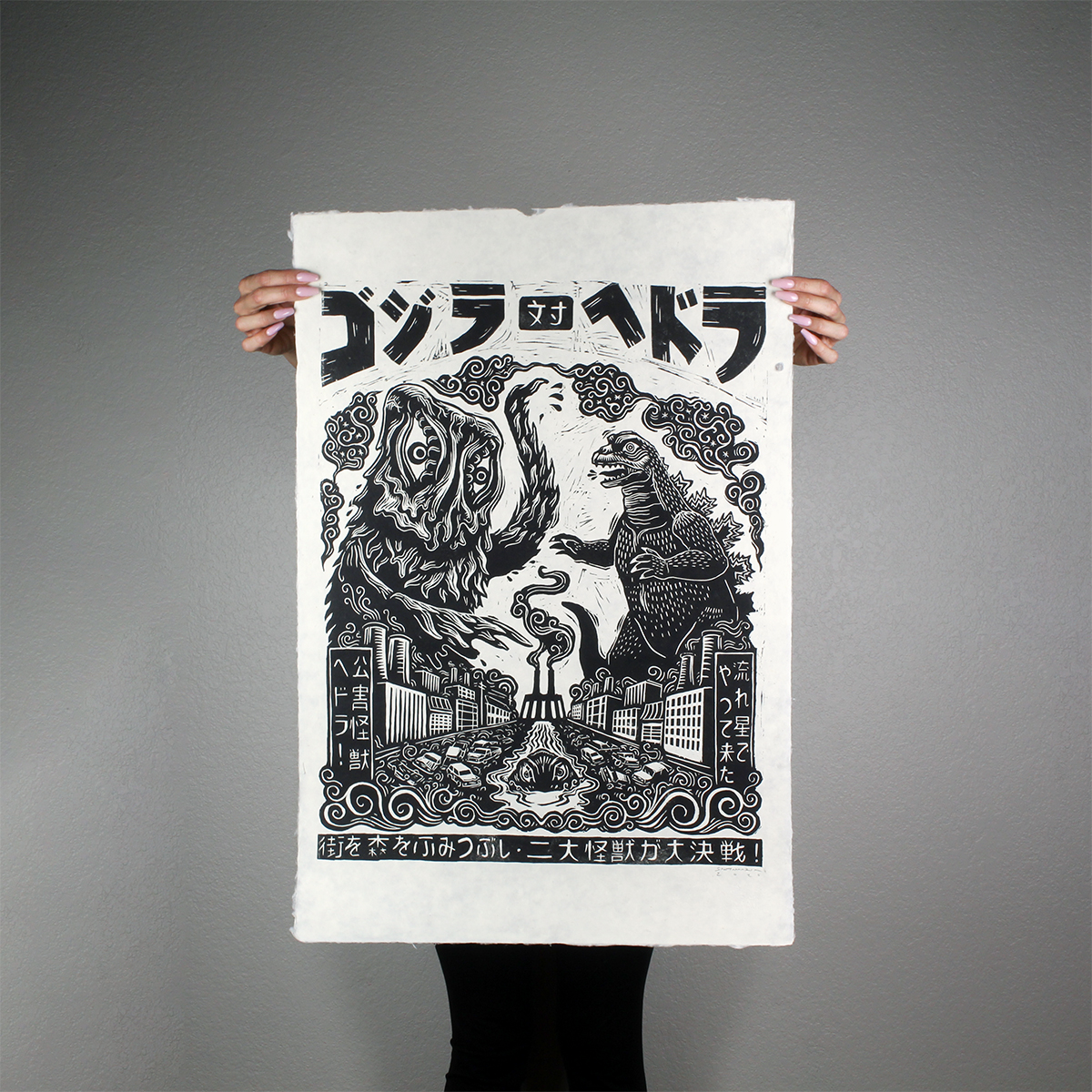 Mondo, Peter Attack
In the original press release for the now-canceled show, Mondo's Creative Director of Toys and Collectibles, Brock Otterbacher stated of Godzilla:
"He's been many things over his many years–a symbol of the horrors of war, nature's wrath, a hero, a villain, and even the collection of angry souls taking revenge on the living. One thing he's always been, however, is beloved across many generations of fans, children, and adults alike. Dozens of fantastic artists bring their appreciation to the various eras of Toho's monster movies, and I, as a huge fan myself, feel there's something for every kind of Godzilla fan. Whether you have love for Jet Jaguar, Mothra, Gigan, Destoroyah, or Godzilla himself, I think you'll be stoked for what we have in store for you!"
You'll be able to purchase these gorgeous Godzilla posters from Mondo from Tuesday 31st.
Featured Image: Mondo, Francesco Francavilla