Dwayne Johnson was right when he said, "The hierarchy of power in the DC universe is about to change." He was just wrong about who would end up on top. Power now rests in the hands of new co-heads of DC, James Gunn and Peter Safran. We've wondered what their ascension would mean for the superhero franchise since the moment they got hired. But we don't have to wait any longer. Gunn has announced "Chapter 1" of projects in a unified DC universe, or what is known as the DCU.
Gunn shared the plan for the new DC Universe that he and Safran have devised for the first 8-10 years of their regime. That will include a space for other projects that don't fall under the main DC Universe purview. Films like The Batman Part 2, Teen Titans Go, and Joker: Folie à Deux will fall under the DC Elseworlds banner, same as in DC comics.
Movies already in the works like Shazam: Fury of the Gods, The Flash, Blue Beetle, and Aquaman 2, will lead to Gunn and Safran's new unified DC Universe. (Notably, Gunn said The Flash "resets the entire DC Universe.") That singular universe will encompass film, television, and gaming. Gunn said characters will even move between animation and live-action, with the same actors playing the voices for the former.
But the biggest news from Gunn is the slate of new films and television shows DC is calling "Chapter 1: Gods and Monsters." Below, we break down what we know about these DCU entries so far.
DC UNIVERSE CHAPTER ONE MOVIES
Superman: Legacy: The film side of the new DCU will kick off on July 11, 2025 with Superman: Legacy. Gunn is writing the script, which he says is "the true beginning" of this new unified era.
According to a release, the Superman movie will "focus on Superman balancing his Kryptonian heritage with his human upbringing."
You can check out everything we know about Superman: Legacy here:
The Authority: Gunn's "passion project" is a "big movie" that will introduce a very different group of superheroes. They believe the world is broken and needs saving. But they will also interact with all of the franchise's other big characters.
A release shares more about this DC Universe movie, It notes "WildStorm characters will join the DCU as members of The Authority take matters into their own hands to do what they believe is right."
The Brave and the Bold: Batman will come to the DCU in a story based on Grant Morrison's comic series. It will feature Batman's actual son, Damian Wayne, as Robin.
According to Gunn, "This is a story of Damian Wayne, who's Batman's actual son that he didn't know existed for the first eight to ten years of his life. He was raised as a little murderer and assassin. He's my favorite Robin."
Supergirl: Woman of Tomorrow: Tom King (and Bilquis Evely)'s comic book series from last year is getting turned into "a big science fiction epic film."
Gunn shares, "In our story, we have Superman, who was sent to Earth and raised by incredibly loving parents. Kara was on Krypton. She was on a piece of Krypton that drifted away from the planet, and she lived there for the first fourteen years of her life in a horrible situation where she watched everyone around her die. So, she's a much harsher and more f*cked up Supergirl than you've been used to thus far."
It was recently reported that Ana Nogueira will write the DCU's Supergirl: Woman of Tomorrow movie.
Swamp Thing: Though "tonally outside the rest of the DCU," the origin story of Swamp Thing will still feed into the rest of the DC Universe's stories.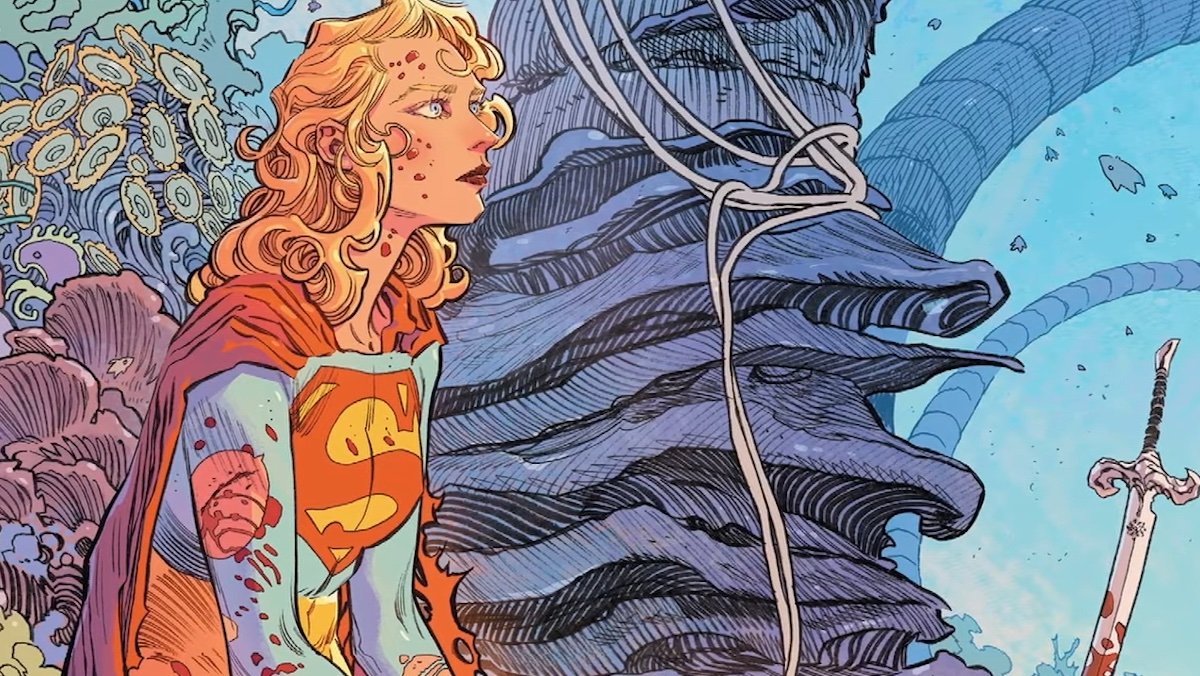 DCU CHAPTER ONE TELEVISION SHOWS
Creature Commandos: The first project for the new DCU is an animated series based on characters first introduced in 1980.
A release shares that this show will be "a seven-episode animated show in which Amanda Waller creates a black ops team out of monstrous prisoners; Gunn wrote all the episodes of the first season." Gunn further shares, that team will include, "Rick Flag, Sr. He's going to show up in other stuff. Then Nina Mazursky. Doctor Phosphorus, a Batman villain. Frankenstein—Eric Frankenstein, specifically. The Bride of Frankenstein, who's the lead. Finally, G.I. Robot and Weasel."
Waller: The second series from Gunn and Safran is Waller, a live-action spinoff from Peacemaker. It will see Amanda Waller teaming up with members from the Peacemaker team.
Christal Henry (Watchmen) and Jeremy Carver (Supernatural) will write this entry in the DC Universe.
Lanterns: Gunn says Lanterns will be a big HBO series starring Hal Jordan and John Stewart. The "terrestrial-based" show will be akin to True Detective. The two will investigate a "terrifying mystery" that has huge ties to the entire franchise.
Paradise Lost: Paradise Lost will take place on Themyscira, home of Wonder Woman. Gunn says it has a lot in common with Game of Thrones. A release shares this entry into the DC Universe "focuses on the genesis and political intrigue of an island of all women."
Booster Gold: Booster Gold might be DC's most popular loser. He's a hero who travels back in time with technology from the future that lets him be a superhero. That tech is also getting him his own show.
Even more exciting for DC fans? Gunn says these are just the stories he can tell us about right now. But this slate is enough to know the hierarchy in the DC universe really has changed.
Originally published on January 31, 2023.