By day, he's a mild-mannered archaeology professor with longstanding daddy issues. By night—and, actually, also plenty of daylight hours—he's a jet-setting, whip-wielding adventurer with a yen for preservation. He, of course, is Henry Jones, Jr., a.k.a. Indiana (after the dog). And he's gearing up for a fifth cinematic adventure, more than 40 years after his first.
And the action still remains the same despite the time passage, as we see in this new Super Bowl spot.
It will apparently be the last round for this intrepid hero, according to Ford himself. Here's what he told Variety recently: "I wanted to do the rest of the story to see the end of his career… It's the last time for me."
Hopefully, this last time will be a great time. Here's everything we know about Indiana Jones 5.
Title
The title of Indiana Jones 5 is officially Indiana Jones and the Dial of Destiny.
Indiana Jones 5's Plot
Happily, we finally know a little bit more about what will happen in Indiana Jones 5. According to Empire, Indiana Jones 5 "finds Indy in 1960s-era New York City." And he'll be taking on his most hated foes, the Nazis, once again.
Inspired by the film, the subscriber cover for Empire's Indiana Jones 5 issue finds Indy in 1960s-era New York City, bathed in golden light, whip in hand. Illustrated exclusively for Empire by Sam Hadley.

READ MORE: https://t.co/LMIMWIF8CS pic.twitter.com/vdP0Y6HvxY

— Empire Magazine (@empiremagazine) November 18, 2022
Mads Mikkelsen will, of course, play the villain in the movie, the nefarious Voller. Empire reveals that Indiana Jones 5 "finds our hero in 1969, living against the backdrop of the space race – but the American effort to beat the Russians to the moon brings with it some uncomfortable truths for Indy."
Director James Mangold also shares of Indiana Jones 5 as a whole:
It became really important to me to figure out how to make this a movie about a hero at sunset. The issues I brought up about Indy's age were not things I thought were being addressed in the material being developed at the time. There were 'old' jokes, but the material itself wasn't about it. To me, whatever you greatest liability, you should fly straight towards that. If you try to pretend it's not there, you end up getting slings and arrows the whole way.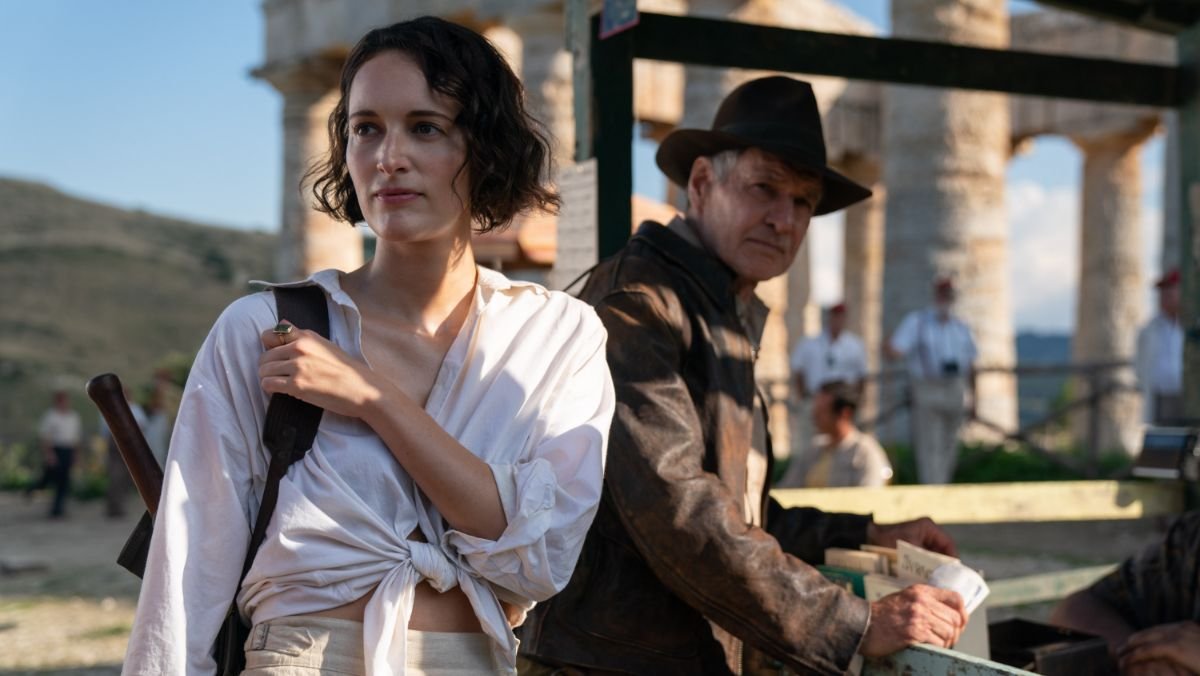 Joining Indy on his adventure will be his goddaughter, Helena, played by Phoebe Waller-Bridge. Waller-Bridge notes of Helena, "She's a mystery and a wonder." Meanwhile, director James Mangold offers that she's a "slippery, charming, the girl next door, a grifter." While Ford adds that Helena is "a pioneer in ethical accounting." Well, all in all, that doesn't really tell us much. But we're excited to stay tuned for more.
When it comes to Indiana himself, Indiana Jones 5 will feature a digitally de-aged Harrison Ford that harkens back to the Indiana Jones of the original trilogy. According to Empire, the opening sequence of the movie "dials the clock back to 1944, set in a castle swarming with Nazis. Through the miracle of de-ageing technology, we're going back towards Raiders-era Indy." And then, the clock will fly forward, and the audience and Indy will land in 1969.
The de-aged Indiana Jones will come to life thanks to archival footage of a younger Harrison Ford. This footage will then be matched with newly shot material. Apparently, the original Raiders jacket even came out of storage for the occasion. While de-aging can so often go wrong, the creators of Indiana Jones 5 hope that fans will see this as a technological marvel and a chance to turn back the clock.
You can take a look at all these ideas in action in Indiana Jones' first teaser trailer.
Behind the Scenes
The prospect of a fifth Indiana Jones movie has been underway, formally or otherwise, since shortly after the fourth film. Indiana Jones and the Kingdom of the Crystal Skull released in 2008; middling reception notwithstanding, Steven Spielberg maintained the intention to carry forth with another story.
Given Harrison Ford's alleged skepticism about the project, early rumblings suggested the graduation of Shia LaBeouf to the starring role; LaBeouf had portrayed sidekick Mutt in Crystal Skull. For one reason or another—or both, or all, or every conceivable—that idea died out before long.
Further development stalled up through Disney's acquisition of Lucasfilm in 2012. Another three years passed before Kathleen Kennedy confirmed development on Indy 5, just shy of The Force Awakens' release. (And overwhelming box office success.) Lucasfilm originally scheduled the movie for a 2019 release. However, further shakeups behind the scenes preempted that plan…
The first big switcheroo involved replacing original screenwriter David Koepp. Koepp was enlisted for the script after writing Crystal Skull. In 2018, Koepp left the project and the team brought in Jonathan Kasdan, son of Lawrence Kasdan and co-writer of that year's Solo: A Star Wars Story. However, Kasdan's draft was eschewed in favor of a new turn by Dan Fogelman.
Most fans expected that Spielberg, director of every Indy film so far, would return to helm the fifth installment; in fact, it seemed as though Spielberg was considering the job for some time. However, in 2020, the still-unproduced movie fell into the hands of a different director: James Mangold.
At this point, the screenplay saw yet another change of hands. Mangold took the reins in this department alongside screenwriting partners and brothers Jez and John-Henry Butterworth. In a more harmonious fashion (in more ways than one), John Williams is returning to score the picture.
Indiana Jones 5's Cast
Early resistance notwithstanding, Harrison Ford ultimately signed on to revive the character of Indy proper. This time, he's be joined by a slew of exciting costars. Topping the list: Fleabag creator and No Time to Die writer Phoebe Waller-Bridge, who costarred in the aforementioned Solo; and Mads Mikkelsen (per Deadline), ever the welcome entry in any anticipated project. Also on board (per The Hollywood Reporter): Narcos' Boyd Holbrook and the MCU's Shaunette Renée Wilson and Thomas Kretschmann. (She played a Dora Milaje; he played Baron von Strucker.) The latest high-profile casting for the movie is Antonio Banderas, per Deadline.
Recently, Banderas revealed a bit more about his role, but it sounds like he will only play a small part in Indiana Jones 5. The actor shared:
My character is very little; it's almost a cameo[…] He's just a friend of Indiana's character, and he's looking for him because he needs something from his friend. But he just takes up very little time of the movie, but very happy to be part of a saga that is of the history of motion pictures, obviously.
Indiana Jones 5's Release Date
Indiana Jones 5 is set to arrive in theaters on June 30, 2023.
Recently we learned that production on the movie wrapped.
Featured Image: Sony Pictures Classics
Originally published on May 14, 2021.
This post has affiliate links, which means we may earn advertising money if you buy something. This doesn't cost you anything extra, we just have to give you the heads up for legal reasons. Click away!