This news might pose a danger to your bank account. However, after some cold, dispassionate calculations we've deemed the risk acceptable. Star Wars' most resilient villain finally returned to the galaxy far, far away on Ahsoka. Now he is ready to come to your home with Hot Toys' new Grand Admiral Thrawn figure. Only this version of the Imperial Chiss won't arrive with an entire catacomb of mysterious cargo.
Hot Toys' latest 1/6 scale Ahsoka figure is an "ultra-detailed" recreation of Lars Mikkelsen's blue-skinned, red-eyed character. He recently made his live-action debut on the Disney+ series, and this figure looks like he walked right off the screen.
The miniature Thrawn, which stands nearly 12 feet 6 inches, features 30 points of articulation. It also has a hand-painted head sculpt and comes with Hot Toys' "innovative rolling eyeball system which allows fans to adjust the figure's gaze, creating more nuanced and lifelike poses.' (If you thought Thrawn was imposing before just wait until someone in your house moves his eyes without telling you. That'll be fun to realize the Grand Admiral is actually staring you down.)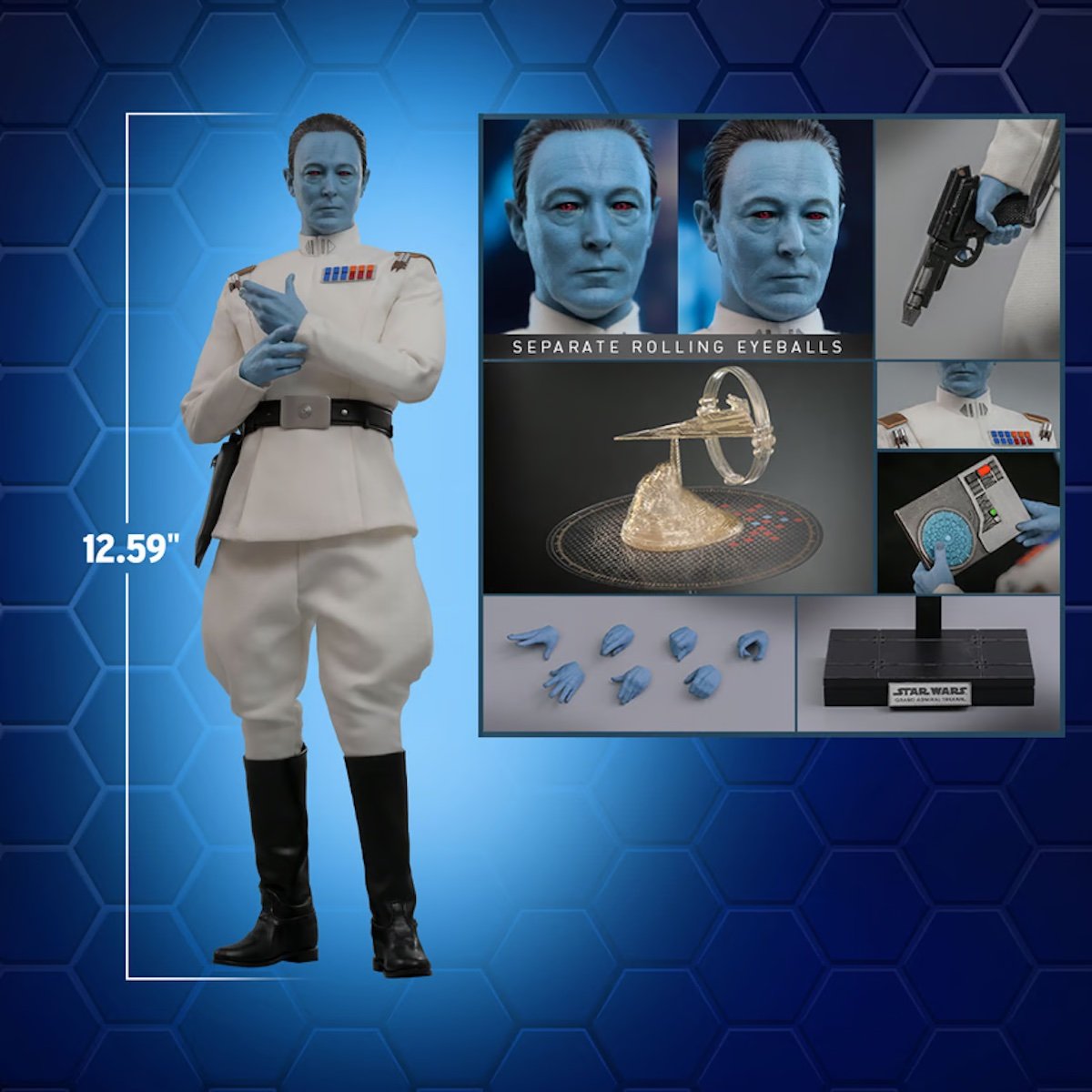 This figure also wears a screen-accurate pristine white Imperial officer's uniform that includes a belt, boots, and blaster holster. The set comes with a Star Destroyer hologram miniature, a blaster pistol, datapad, and a specially designed figure stand that has the Star Wars logo and character nameplate. And the Grand Admiral has seven interchangeable hands for you to choose from for your display.
Pre-orders are already available ($255). Unfortunately you'll have to wait to get your hands on your figure. While it won't take nearly as many years to ship as it did for Thrawn to get a ride back to his own galaxy, this collectible won't arrive until March 2025.
A lot can change with that much time, we know. Empires can fall and rise in less time. But don't worry about Thrawn not showing up. The Grand Admiral is a survivor.